For immediate release ‐ January 23, 2018
Contact: Jon Pishney, 919.707.8083. Images available upon request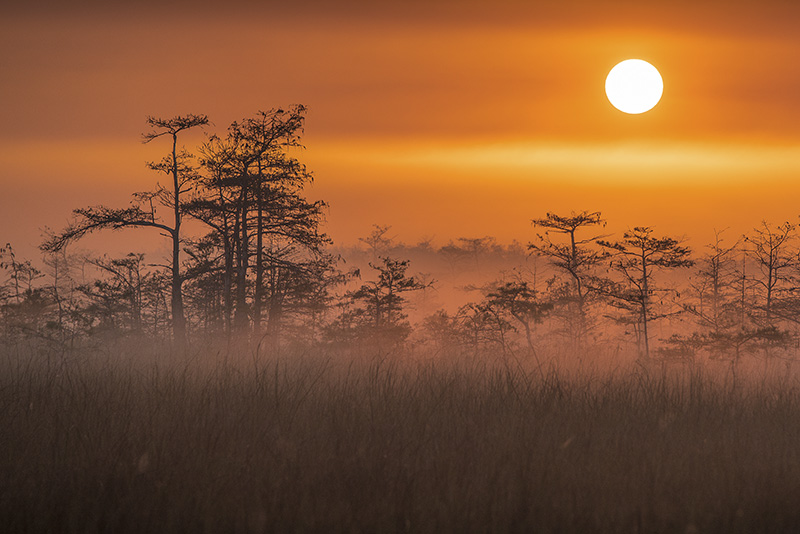 (RALEIGH, N.C.) — Driven by a 2017 resolution to "do something better," wildlife photographer and outdoors columnist William Howard set off to capture images of the country's National Parks. The results of the Wilson, N.C. native's year-long quest are featured in "Acadia, The Badlands and Other National Parks," on exhibit at the North Carolina Museum of Natural Sciences' Nature Art Gallery Feb. 2–25. A Gallery reception for the artist will be held Saturday, Feb. 3, 2–4 p.m. All exhibited art is for sale.
"I chose to focus on the national parks to remind people about the beauty this country holds," says Howard. "The majority of these parks can be driven to in one long day's drive from this very location. My hope and resolution for 2018 is not just more of the same, but to inspire others to seek their own experiences in these great natural wonders."
Howard has won several photography awards, with his "Everglades in the Mist" image garnering overall wins in several competitions, including one with Outdoor Photographer magazine. The social media website Reddit ranked the image as one of the top 100 nature images in its group all-time. When he is not looking for the next landscape photograph, Howard occasionally shoots photos for the NC State Men's Basketball team or travels throughout the country for his next assignment.
The Nature Art Gallery is located inside the Museum Store. Hours are Monday through Friday, 10 a.m. to 4:45 p.m.; Saturday, 9 a.m. to 4:45 p.m.; and Sunday, noon to 4:45 p.m. Admission to the Gallery is free. All exhibited art is for sale. For more information about the Nature Art Gallery, call 919.707.9854.
---
The North Carolina Museum of Natural Sciences in downtown Raleigh (11 and 121 W. Jones St.) is an active research institution that engages visitors of every age and stage of learning in the wonders of science and the natural world. Hours: Monday–Saturday, 9 a.m.–5 p.m., and Sunday, noon–5 p.m. General admission is free. Emlyn Koster, PhD, Director. For more information, visit naturalsciences.org.