For immediate release ‐ September 19, 2019
Conservation, Entertainment, Features editors, Science
Contact: Jessica Wackes, 919.707.9850. Images available upon request
by Jon Pishney, Head of Communications. Facilitated by Jess Wackes, PR & Marketing Coordinator. Photos by Karen Swain, Web Editor.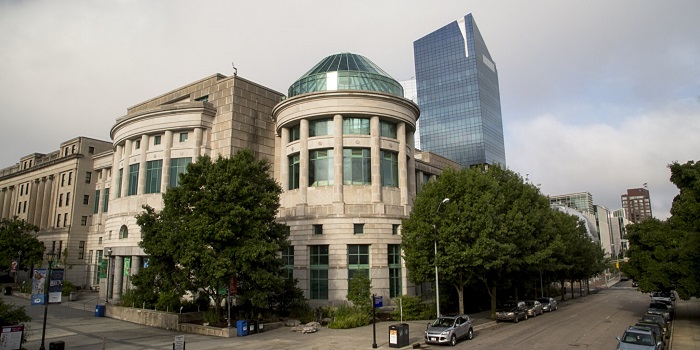 More times than I can tell, I've heard visitors say that our Museum is so big they can't see everything in one day. I've been working here 16 years and I still run across things that I've never seen before.
With that in mind, I asked Museum staff to highlight a few of their favorite things to serve as a unique guide for anyone from newcomers to regulars. The "results" are in, and this week, we're sharing staff favorites in the Nature Exploration Center. We'd also like to hear from you! If you'd like to share your favorite thing in the Museum, Tweet at us or share it on Instagram tagging @naturalsciences or #visitNCMNS!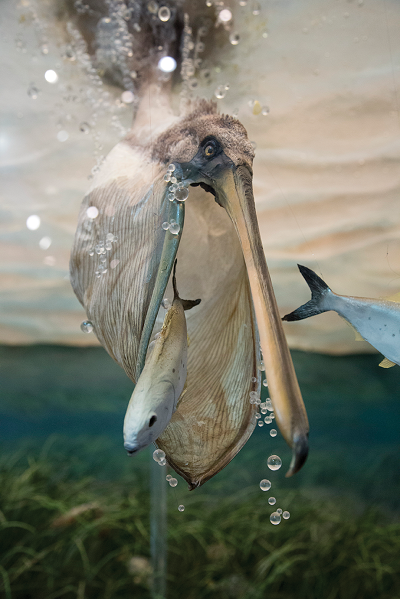 Diving Pelican, Coastal Hall Exhibit (1st floor)
This one is personal. According to Research Curator of Ornithology John Gerwin: "I was instrumental in putting it together! Literally. I had to arrange for a carcass in good shape, from one of our coastal wildlife rehabilitators. I then got it to a local taxidermist. And then when it was time to install the bird, we couldn't.
"The exhibits contractor first needed to pour the plastic material to create the water. The crew left a hole for the pelican neck and made the material look like water is supposed to when an object has fallen into it. They then had to use an electric saw to cut the head and neck of the pelican off, put the body on top of the fabricated water and the neck/head under the water, and then glue them back together. The 'splash motion' effect of the water hides the seam."
Interested in birds? Check out the article "4 Things You Didn't Know About the NCMNS Ornithology Collection"!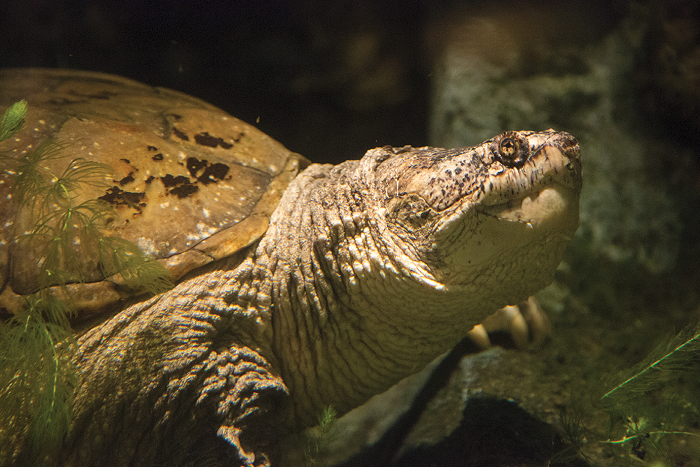 (Un)common Snapping Turtle (2nd floor)
"Yes, it's alive. Although some visitors speculate otherwise. And it has an interesting back story. Not only is this the largest common snapping turtle ever reported in North Carolina (65 pounds worth), but it was brought to the Museum by a fisherman in 2012. Unfortunately, the turtle had a fishhook in its guts. Fortunately, the Museum has a full-time veterinary staff who were able to nurse the turtle back to health." – Donna H.
Learn about a few other animals at NCMNS here!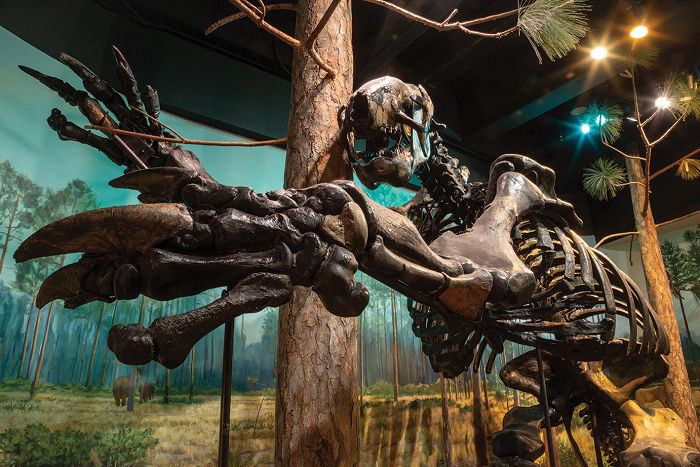 "I'd never even heard of that animal before working at the Museum and it's crazy to me that it was roaming around what is now North Carolina up until 11,700 years ago (give or take)." – Jon P.

"I'm from the Sandhills of North Carolina and spent lots of time outdoors in similar terrain when growing up, but I never saw (or knew about) glass lizards until I started working at the Museum. Now I know they are most active in the morning, and I always stop by on my way into the office to see if they are lounging on top of the sand, mostly buried, drinking from their water dish, or on the hunt for crickets. Oh yeah, and it's really not a snake, it's a lizard with no legs." – Catherine C.

"I love how this exhibit brings our past and present together and gives us a sense of where we came from and how amazing North Carolina must have been back then. It also gives us a call to action so that we can protect what is still left so it doesn't disappear forever. And that Mola mola (ocean sunfish) is just awesome." – Kari W.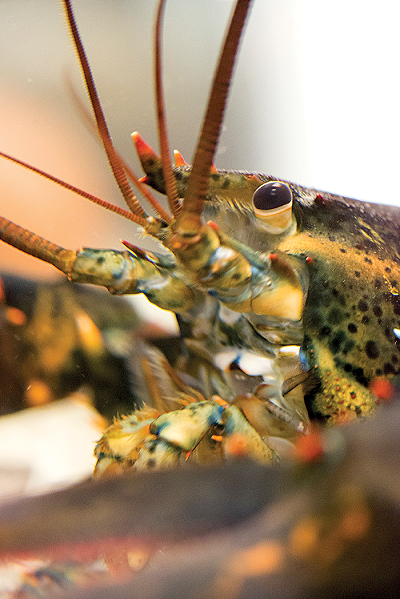 Maine Lobster, Arthropod Zoo (4th floor)
"I love our lobster! I recently learned that lobsters have a special enzyme that repairs their telomeres after cell division, allowing them to live for hundreds of years. This science is being used to help us fight aging and disease in humans now too." – Mona F.
Telomeres, by the way, are the caps at the ends of each strand of DNA that protect our chromosomes, like the plastic tips at the end of shoelaces.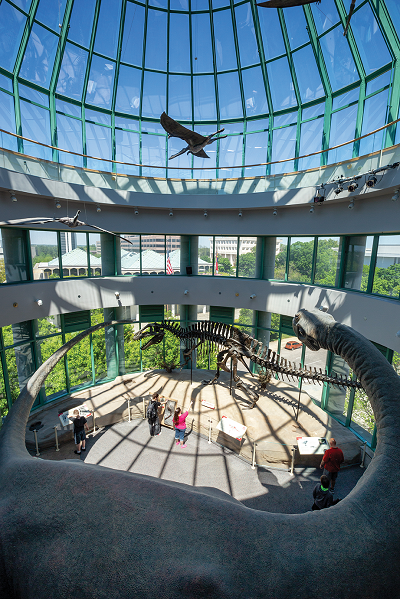 "This is a great, quiet(ish) spot to really observe and enjoy the scene." – Nate E.
Want to know about staff favorites in other parts of the Museum? Read about our top 5 picks in this blog, "5 Staff Favorites at the Museum, NRC Edition"!
---
For more information about our upcoming activities, conservation news and ground-breaking research, follow @NaturalSciences on Instagram, Twitter and Facebook. Join the conversation with #visitNCMNS.