For immediate release ‐ June 08, 2021
Contact: Jessica Wackes, 919.707.9850. Images available upon request
An interview with Brian O'Shea, PhD, Collections Manager for Ornithology
By Will Clayton, NCMNS Marketing Intern and Micah Beasley, PR & Marketing Coordinator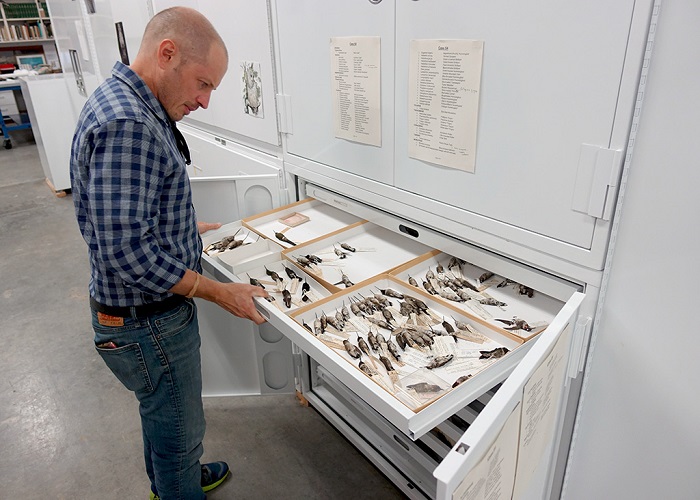 Brian O'Shea, NCMNS Ornithology Collections Manager, looks at a collection of bird specimens.
Tucked away in the basement of the North Carolina Museum of Natural Sciences lives a vibrant scientific collection of over 27,000 individual specimens that visitors rarely get a glimpse of.
For over 140 years, the NCMNS ornithology collection has housed preserved bird specimens, from seabirds to hummingbirds, for scientific education and research.
What is special about the ornithology collection at NCMNS? Why is the preservation of bird specimens crucial to scientific research? How can visitors interact with the collection?
Since 2011, Brian O'Shea has been the NCMNS collections manager for ornithology. We recently sat down with him to find out more about this collection and what it can teach us today.
Q: What is unique about the NCMNS ornithology collection?
A: Every bird collection is unique. In our case, the history of our collection begins in 1879 with H.H. Brimley (NCMNS founder) and his brother, who spent a lot of time exploring North Carolina, collecting birds and bringing them back and preparing them as specimens.
Ever since that time, our collection's growth has reflected our geographic location. Our collection is designed to document the birds of the southeastern United States and that's really what our strength is and the direction we continue to build toward.
Building a collection like this also has a lot to do with the expertise and interests of the curators who have come since the late 1800s. For instance, David Lee (Curator of Birds at NCMNS from 1975-2003) had a strong interest in seabirds, so now we have one of the world's largest western Atlantic seabird collections.
Beyond that, we have partnered with museums worldwide to obtain representatives of species not found in the southeastern United States, which has been vital to enhancing the geographic extent of our collection.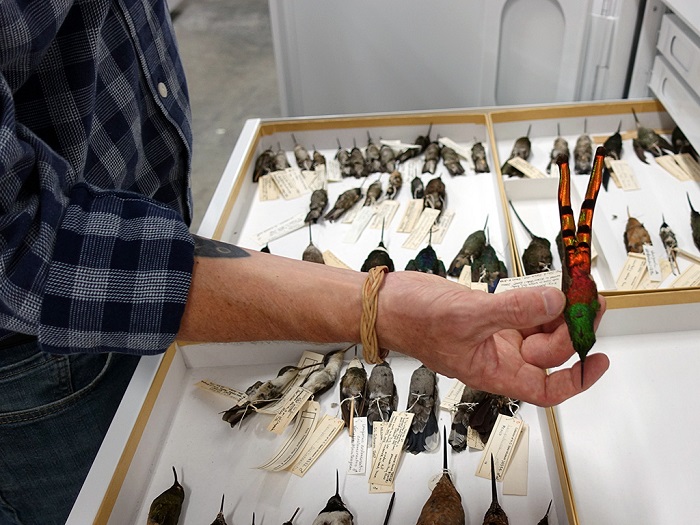 O'Shea shows a vibrant hummingbird specimen.
Q: What is important about the preservation of these specimens?
A: You can't go back in time. These specimens are irreplaceable and so much is contained in them. For instance, we can now extract DNA from dry skin samples, as well as examine contaminants in different parts of the birds and eggs that wasn't possible at the time most of these specimens were collected.
In many cases, these specimens are the only way we have to assess what the environment was like at the time, especially before widespread recording of environmental conditions. That, in and of itself, continues to affect public policy and conservation. Take the famous story about Bald Eagles and their eggshells thinning due to DDT in the 1970s — that was discovered because scientists looked at a series of eggshells and could see the evidence of them thinning over time, allowing them to hypothesize that DDT was indeed the cause.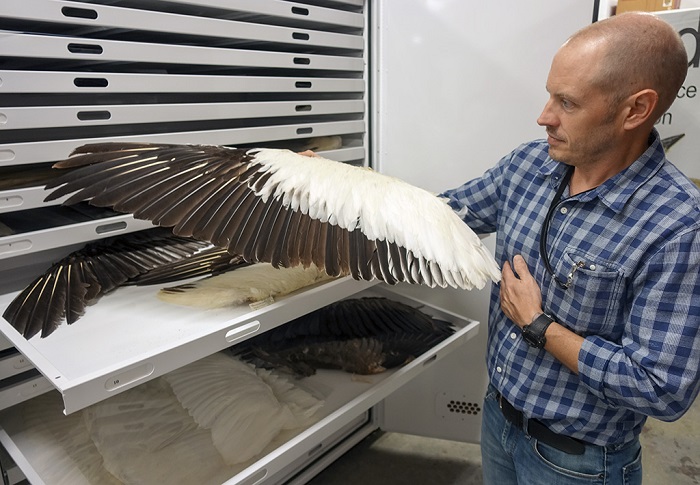 O'Shea holds a White Pelican wing. NCMNS has one of the largest seabirds specimen collections in the world.

Q: How can visitors interact with the collection here? 
A: The number one way for the public to interact with the collection here is to contribute to it. We build our collection mainly on donations from the public, with around 300 to 400 birds being brought to us each year.
People who want to contribute to the collection can bring specimens to us if they know the date and can note the locality as precisely as possible. We will prepare the specimen and their name will be on the tag forever. So, if you want to be immortalized in the NCMNS bird collection you can bring us a specimen and your name will live on in the collection.
Q: What is one thing you want the public to know about ornithology?
A: I would like the public to know this collection exists and that museum-based studies are still very relevant to modern day science and modern-day conservation. We are critical repositories for biological material collected at this moment in time, reflecting current environmental conditions in a rapidly changing world.
It's imperative that we continue to collect and maintain this material over time. These specimens may well have uses for which we don't even know yet. So, it's important for the public to recognize this and support museums and the work that we do. We're not a dusty place with a bunch of dead bird skins – these things are really vibrant and useful research material. There is great research being done now, and a lot that we can do with these specimens that we are just beginning to learn about.
---
For more information about our upcoming activities, conservation news and ground-breaking research, follow @NaturalSciences on Instagram, Twitter and Facebook. Join the conversation with #visitNCMNS.