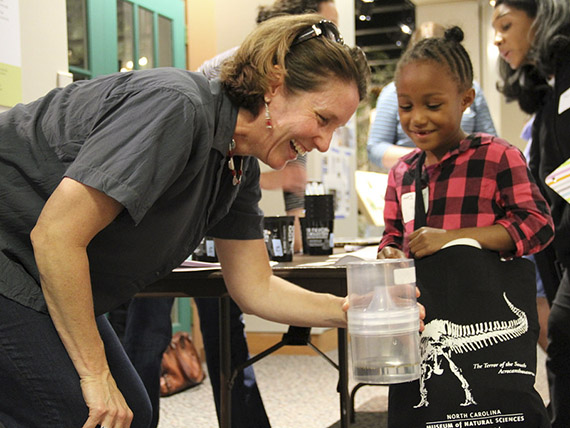 The SciREN Triangle Networking Event and Museum Open House is an information exchange night just for educators! This special night invites scientists and teachers from the Triangle/Piedmont region to interact in a relaxed environment. The event showcases the wide array of Museum programs and opportunities for both teachers and students available both on- and offsite. Educators can preview exhibits and activities while working out the logistics of a school fieldtrip, talk directly with education and research staff about onsite programs, and find out first-hand about distance learning, outreach, and professional development opportunities. Through a partnership with SciREN (Scientific Research and Education Network), educators can meet more than 60 local scientists ready to distribute curriculum-centered lessons based on their research! This is an excellent way to rejuvenate teaching methods, integrate relevant and real science to student learning, and reach out into the community.
WHAT TO EXPECT
Free, curriculum-correlated K–12 lesson plans.
Opportunities to talk directly with scientists.
Information about the registration process for field trips and classes, virtual education programs, outreach programs, and more.
Opportunities to explore the Museum's interactive galleries and exhibits.
Opportunities to sign up for professional development workshops both on-site and in the field.
Free food!
Event information
FREE, but registration is required. Register through SciREN's website. Please note that you must create a login on SciREN's website in order to register. Creating your login does not mean that you have completed your registration; you must both create a login and submit a registration in order to successfully register for the event.
Location:
Nature Exploration Center (main Museum building)
11 West Jones Street
Raleigh, NC 27601
For additional information about this event, contact Megan Davis at megan.davis@naturalsciences.org or 919.707.9905