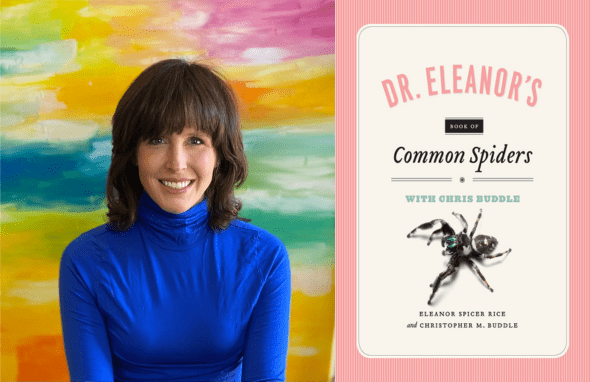 Grab a bite from the Daily Planet Cafe and join host Chris Smith and special guests for the Science Cafe. On the 3rd Thursday of every month at 7pm, gather with other curious minds at this after-hours event for an informal presentation and conversation about current science topics with guest experts.
The Daily Planet Cafe is open 5–8pm with a full menu during the Science Cafe.
Tonight's Presentation
Join us to talk about the sex lives of spiders in connection with our special exhibition, Spiders: Fear to Fascination! When your mate would rather eat you than greet you, creative courtship can ensue. Come hear Eleanor Spicer Rice (author of the book, "Dr. Eleanor's Book of Common Spiders") share strange tales of spider sex, from sweet love songs to deadly somersaults.
Tonight's Expert
Eleanor Spicer Rice, PhD, is an entomologist and science writer, as well as the author of seven books, including "Dr. Eleanor's Book of Common Spiders," "Ants: Workers of the World," and her most recent middle-grade book, "Unseen Jungle: The Microbes That Secretly Control Our World," illustrated by Rob Wilson (Candlewick/MIT Press).
As a scientist, she presents her award-winning research at conferences across the United States. As a communicator, she writes about science for popular audiences for many publications, including Our State Magazine and American Scientist. Her books have been featured in publications such as The New York Times' Science Times, The Wall Street Journal, National Geographic, and more.
She makes frequent television and radio appearances, and in addition to being a regular expert on the popular Discovery and Science Channel television show, "What on Earth," she has made guest appearances on multiple radio shows, including NPR's "Science Friday," CBC's "Quirks and Quarks," and is a "guest favorite" on "Nobody Listens to Paula Poundstone."
She often speaks to children's library groups and elementary classrooms, sharing her love of the natural world and of insects, in particular.
About the Exhibition
Did you know spiders can swim, jump and even "fly" hundreds of miles? "Spiders: Fear to Fascination" spins an immersive tale, revealing how this incredibly diverse group of animals has evolved and survived for 300 million years. Through augmented reality and video projection technology, guests of all ages will encounter more than 250 real and preserved specimens (from the Trinidad chevron tarantula to the Australian golden huntsman).
Get closer than ever to some of the more than 48,000 known spider species in this amazing interactive experience.
Spiders: Fear to Fascination is open now through October 8, 2023, Tuesday–Sunday, 10AM–5PM (last entry at 4PM).