5:30pm–7pm: Live music and science stations.
6pm–7pm: Food available for purchase
7pm: Movie begins in the WRAL 3D Theater, followed by commentary.
Beetlejuice (1988)
"'Live people ignore the strange and unusual'. I myself am strange and unusual." — Lydia
Adam and Barbara are a normal couple … who happen to be dead. They have given their precious time to decorate their house and make it their own, but unfortunately, a family is moving in, and not quietly. Adam and Barbara try to scare them out, but end up becoming the main attraction to the money-making family. They call upon Beetlejuice to help, but Beetlejuice has more in mind than just helping.
Join us for a strange and unusual adventure on October 14 for this month's installment of Museum Movie Night: Beetlejuice!  As always, there will be food, live music and science stations!
Beetlejuice is rated PG. Parental discretion advised due to some strong language and mature themes.
About our expert:
Robin Simonton has been the Executive Director of Historic Oakwood Cemetery since November of 2011. Robin holds a BA in US history from the University of Hawaii and an MA in historical administration from Eastern Illinois University.  Robin served as the researcher of the book "Oahu Cemetery: Burial Ground & Historic Site," written by Nanette Napoleon in 1997, and wrote a case study in the book, "Cemetery Tours and Programming" in 2017 by Rachel Wolgemuth.  She and Cemetery Historian Bruce Miller co-authored "Images of America: Historic Oakwood Cemetery" in 2017.  In 2022, her essay, "Life and Death in Oakwood Cemetery" will be published in Loren Rhoads' book, "Death's Garden Revisited: Personal Relationships with Cemeteries." Currently, Robin is a member of the Board of Directors for the Association of Gravestone Studies and the Wake County Historical Society. Robin and her husband Jeff live in Rolesville with their son, Cullen.
Check out the upcoming movies and learn more about Museum Movie Night: Where Science Meets the Cinema.
---
Beetlejuice — Rated PG
Michael Keaton, Academy Award winner Geena Davis, Alex Baldwin and Winona Ryder star in director Tim Burton's comic twist on supernatural horror tales — "Beetlejuice." When a couple of nice, young homebody ghosts (Baldwin and Davis) try to haunt the pretentious humans who have moved into their house, they ask for help from a demonic wraith (Keaton) they cannot control in this comic fantasy that mixes the quick and the dead with a laugh and a fright.
---
SCIENCE STATIONS (5:30–7PM)
Giant Snakes
Hollywood thinks giant snakes are bloodthirsty killers but what does science say? Check out the relative sizes of real giant snakes and see how big you are compared to "Titanoboa," the largest snake that has ever lived!
Shrinky Dinks
Inspired by the shrunken heads in "Beetlejuice," we'll be shrinking our own creations!
Superflies
Flies, it seems, are everywhere we are on Earth and they have an enormous impact on our health and on the health of the natural environment. Mosquitoes, house flies, fruit flies, gnats and horse flies are only a few of the thousands of kinds of flies that are companions with us on the planet. At this table explore flies and fly diversity with a close look at their biology, behavior, and tiny intricate and bizarre eyes, hairs and wings.
Ectoplasm
Create some spooooky ectoplasm to take home!
X-Ray Craft
Do you know how X-rays work? Come learn about the science of radiographs and make a fun X-ray craft of your own!
Decomposers
Come check out some beetles and beetle larvae eating something a bit strange and unusual — Styrofoam!
---
MUSIC (5:30–7PM)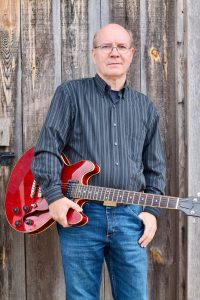 William Woltz (voice, guitar, mandolin) is a North Carolina native who's all over the map musically. He grew up loving both the Beatles and Buck Owens, and has studied jazz and classical guitar. Over the last four decades he has played a lot of blues, beach music and singer/songwriter material as well as playing in the pit orchestra for community theater productions. Will performs with Sara Monroe and Jim Loos in the trio Loos Change, based in Raleigh, and violinist and songwriter Angela DiPaolo.
---
FOOD & DRINK (6-7pm)
Available for purchase will be hotdogs, Greek salad, chips, pastries and popcorn!