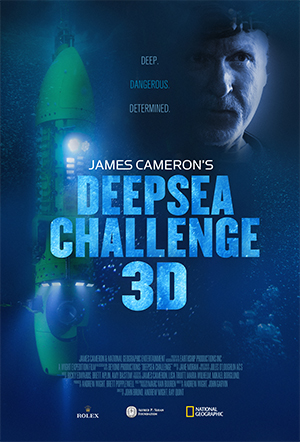 DeepSea Challenge 3D
As a boy, filmmaker James Cameron dreamed of a journey — to the deepest part of the ocean. "James Cameron's DeepSea Challenge 3D" is the dramatic fulfillment of that dream. The film chronicles Cameron's solo dive to the depths of the Mariana Trench — nearly seven miles beneath the ocean's surface — piloting a submersible he co-designed and co-engineered.
Spectacular 3D effects capture the exhilaration of exploration in the haunting, lunar-like landscape of the Mariana Trench and the bizarre, alien-like sea creatures Cameron observes in the ocean depths, from gelatinous holothurians to shrimp-like amphipods. This bold expedition is an inspiring reminder that there is still much left to explore on this planet and that we learn exciting things when we push our human boundaries.
40 minutes.
DeepSea Combo: Add a DeepSea Challenge 3D movie ticket to any regularly priced Challenging the Deep special exhibition purchase for just $3.
Buy Combo Ticket.