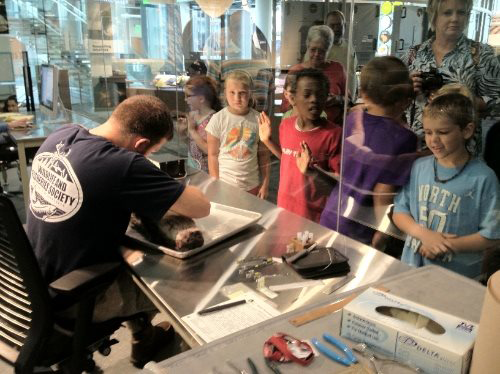 Overview
Scientists in the Biodiversity Lab study plants, animals and microbes to discover the ecology and evolution of our planet. We explore the unknown in North Carolina, around the world, and sometimes even on our own bodies. The Lab serves as our headquarters where we prepare for expeditions, send live updates from the field, and return with data and specimens documenting our discoveries. Visitors to the NRC can see Museum staff, collaborators from local universities, and volunteers at work in the Biodiversity lab doing things like:
Sorting insect samples
Identifying camera trap photographs
Preparing mammal skeletons
Making bird skins
Using satellite imagery to survey global forests
Measuring properties of leaves
Wild Animals Podcast
Crazy stories about animals, told by the people who study them.
---
Staff
Fields of Research