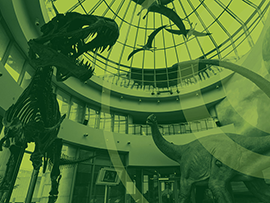 Support Your Museum Today!
We are grateful for each and every person in our Museum family. Please help us keep science education and research going strong by making a special donation now. Every gift is greatly appreciated. Your charitable contribution to the Friends of the Museum supports groundbreaking research, exceptional exhibits, mind-opening programs and educational events which inspires 1 million visitors per year.
---
DUELING DINOSAURS
The Friends of the Museum are thrilled to bring the Dueling Dinosaurs, a magnificent pair of the world's most popular dinosaurs, Tyrannosaurus rex and Triceratops, to downtown Raleigh! The fossils will reside in a new 3,800 square-foot space on the ground floor of the Nature Research Center. It will include high-tech exhibit spaces, an area where visitors can explore the tools and techniques used by paleontologists, and an exemplary science laboratory dubbed the "SECU DinoLab." You can learn more about the project and follow along for real-time scientific discoveries here.
Help make this dream a reality by donating to the Dueling Dinosaurs campaign here!
---
New Welcome Center at Prairie Ridge
The Museum is excited to announce an initiative to build a Welcome Center at Prairie Ridge! The new facility will enhance our services and amenities year-round and increase the number of visitors we can accommodate. You can learn about the initiative and see the plans for the building here.
Donate to the Mary Ann Brittain Welcome Center at Prairie Ridge
The Welcome Center will be named in memory of Prairie Ridge's founding director, Mary Ann Brittain, an innovative educator whose passion for nature inspired countless others to incorporate the outdoors into their classrooms.
---
Passionate about supporting the Museum's mission even after your lifetime? It's not only possible, it's easy to do with a planned gift. Creating a bequest or charitable gift annuity, or giving appreciated stock, may offer better tax savings for you than an outright gift of cash. In addition, some planned gifts can give you guaranteed income for life.
---
Educators of Excellence Fund
The Educators of Excellence Fund empowers educators by improving their teaching skills and inspiring them to remain committed to the profession of teaching.
The Fund:
Provides a stable funding source for the Museum to continue and to expand opportunities for experience-based teacher education.
Enables outstanding educators to experience the natural world firsthand.
Teaches students about our many ecological connections to the rest of the world by informing and empowering their teachers.
Maintains a network for exceptional educators across the state for support and continued learning.
Become a Supporter of Excellence! Gifts of $1,500 (may be paid over three years) include recognition as a Supporter of Excellence in the Educators of Excellence Fund brochure and on the Educators of Excellence program application. For information, please contact Melissa Dowland (melissa.dowland@naturalsciences.org) at 919.707.9898 for information.
Donate to the Educators of Excellence Fund
---
Brimley Society - $1000 and above
The Brimley Society, named after the founding fathers of the North Carolina Museum of Natural Sciences, celebrates the Museum's remarkable success and its ambitious vision for the future. Proceeds from the Brimley Society sustain the Friends of the Museum's support for educational programs, research and exhibits.
Brimley Society members receive an array of benefits in appreciation of your support. Visit Brimley Society for more information about the Society and its benefits, or contact the development office at development@naturalsciences.org.
---
Corporate Partners Program
Corporate Membership
Corporate Members of the North Carolina Museum of Natural Sciences enjoy a unique menu of benefits while supporting the mission of an internationally recognized nature and science museum. From special events exclusively for employees and their families to networking and client development opportunities, partnership with the Museum enhances your company brand and enables the Museum to provide high-quality programming. For more information, contact the development office at development@naturalsciences.org.
Corporate Sponsors
The Museum hosts a number of featured traveling exhibitions and other interesting programs and projects. If you are interested in putting your company's name on an exhibition and demonstrating your commitment to cutting edge science education, with benefits that may include tickets, logo placements, and more, please contact the development office at development@naturalsciences.org.