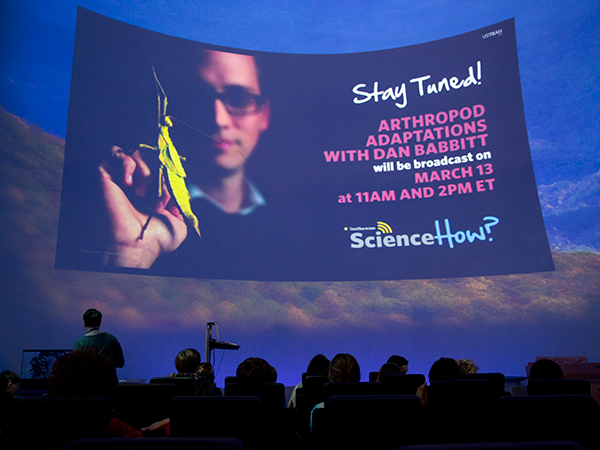 Virtual Outreach
Connect with a Museum educator online for an interactive learning experience that incorporates natural history replicas and specimens. Using videoconferencing technology, students from kindergarten through high school can enjoy a variety of program topics designed to cover curriculum requirements.
Registration: Participants must have some form of videoconferencing equipment or software to participate. Programs must be scheduled four weeks in advance. Programs are free, but donations are encouraged.
For more information contact Martha Fisk, Coordinator of Community and Digital Outreach, at 919.707.9883 or martha.fisk@naturalsciences.org.
*These programs can be supplemented with a discovery kit that will be sent to your location prior to the program. Discovery kits include specimens, replicas, and pictures for in-class observations and discussions.
Butterflies and Moths*
Grades K–5
Explore the lifecycle of insects through a close examination of butterflies and moths. Students will practice their observation skills to learn more about the adaptations of these scale-winged creatures.
Frog Files
Grades K–5
Why do frogs make a springtime chorus? How do they adapt in our changing environment? Students will answer these questions, meet freaky frogs, and become amphibian experts during this virtual program.
Fossil Discoveries*
Grades K-8
Our understanding of dinosaurs and prehistoric life is constantly changing with new discoveries. This program will introduce students to fossils and the field of paleontology using natural specimens and replicas to tell the story of Earth's history.
Coastal Carolina*
Grades 4–5
Form meets function as students investigate how our coastal animals adapt and interact with their environment. Using specimens and replicas students will learn about a variety of habitats found in the coastal plain of North Carolina.
Meet the Unhuggables
Grades K–8
Learn about some of nature's most misunderstood and feared animals. Students will get to meet some of the Museum's live animal ambassadors and learn about the important roles these critters play in their environment.
Exploring Museum Careers
Grades 3–12
Working at a science museum is never dull! Just ask our naturalists, geologists, ornithologists, and other experts at the North Carolina Museum of Natural Sciences. During this virtual program, students connect with an expert to ask questions, hear tales from the field (or lab!), and learn about careers in the museum world.
Citizen Science Explorers
Grades 3–12
Students can become citizen scientists by participating in the iNaturalist project. To collect data, students will head outdoors to search for wild plants and animals. They will record their discoveries with pictures and videos. Afterwards, they'll connect with a Museum expert to discuss results and learn about their impact on scientific research. Pre-program lesson plans are provided.
---
Staff