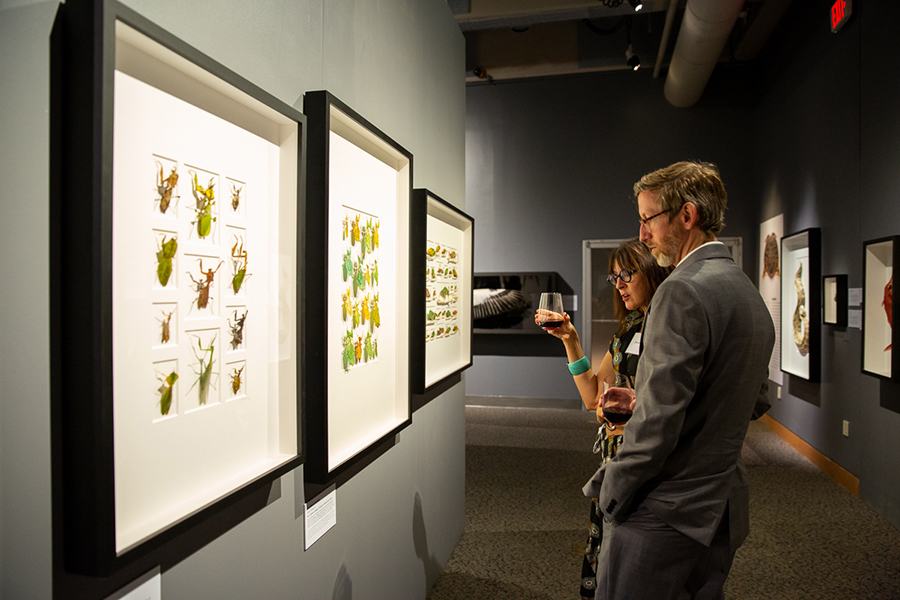 SPECIAL EXHIBITION GALLERY
Now showing "Exquisite Creatures: The Art of Christopher Marley"
Exquisite Creatures is a collection of 350 stunning three-dimensional displays of rare (and real) organisms from all over the world, including scarlet macaws, jewel-toned beetles and more. Using organisms and minerals as his medium, artist Christopher Marley explores our need to connect with the natural world on a personal level. It's your chance to experience how awe-inspiring the natural world can be.
Exquisite Creatures is the picture-perfect supplement to your private event. Your VIP Experience includes:
Four-hour museum rental from 6PM – 10PM*
Full access to all the mind-blowing, permanent exhibits on the Nature Exploration Center, 2nd level
Private admission to the Special Exhibition Gallery, exploring the instinctive imagination of "Exquisite Creatures: The Art of Christopher Marley" **
Exquisite Creatures Store shopping experience
A limited number of tables and chairs
And much, much more…
Add a cocktail reception featuring custom, chef-prepared dining options from award-winning Rocky Top Catering for an additional fee.
* Upgrade your experience to include an extra hour (additional fees apply)
** Tickets to the gallery included for up to 200 guests. Additional fees for groups larger than 200.
Price: $2,200
Limited time only: Available until March 20, 2022
Book your Exquisite Creatures VIP Experience today.
---
ELOPEMENT PACKAGE
Elope today with the Friends of the North Carolina Museum of Natural Sciences.
Let US help YOU Get Away. We invite you and up to 10 guests to a VIP Wedding celebration.
What You'll Get:
A safe, intimate wedding ceremony and reception venue for two hours.*
Private admission to one floor of the Museum's world-class permanent exhibits.*
Custom, chef-prepared dining options from award-winning Rocky Top Catering featuring fresh, sustainable, local cuisine. Includes your choice of:

Three (3) hors d'oeuvres and one (1) grazing station
Petite desserts
Wine and beer selections.*

A one-year Museum membership for you and your future spouse.
Tables, linens, chairs and disposable ware are included in rental fee.
Cost — $1,650
*Additional fees for featured add-ons:
Champagne toast — $30
Floral arrangements — $50
Science programming — prices vary
Additional Museum floors — $150 per floor
Extended hour — $100
Audiovisual for music and microphones — $50
Book your Elopement Package today.
For questions regarding rentals, please visit Rental Events Inquiries