NATURE EXPLORATION CENTER, 4th FLOOR
6–7pm: Whiskey University
Mystic Farm & Distillery
Explore the history of whiskey from the ancient sands of Arabia to the American Bourbon tradition. Taste whiskeys from Scotland, Ireland, Canada and the United States. Learn how the process unique to each whiskey produces that style's distinctive flavor characteristics and discover the equipment and process used at Mystic Farm & Distillery in Durham. Space is limited. VIP Ticket: $100, $90 members
Requires VIP ticket. Registration fee includes whiskey workshop from 6 to 7pm, liquor samples, light refreshments and general admission to Adult Night: Speakeasy from 7 to 10pm.
---
All activities are from 7 to 10pm unless otherwise noted.
NATURE RESEARCH CENTER, 1st FLOOR
7–8pm: Hidden in Plain Sight
Catalyst and Friends of the Museum members get exclusive access to a private Speakeasy entrance behind the Daily Planet globe with our secret password and a free gift. Current Museum members who are registered to attend will receive an email by February 19 with the password and instructions. Not a member yet? Join today!
8–8:15pm: Hatchetations with Carry Nation
NC Historic Sites
When theatrical temperance speaker Carry A. Nation toured North Carolina in 1907, she did not like what she observed. She saw a state where alcohol was widely used, claiming that Salisbury, NC, was second only to Chicago as "the whiskeyest-soaked city in the United States." Nation was a fiery temperance speaker, known internationally for her "hatchetations" — speeches where she traveled to bars and saloons to smash fixtures and merchandise with her hatchet. Engage in a spirited debate with Nation while she tries to save you from a drunkard's fate before wielding her infamous hatchet to destroy our bar in this lively reenactment.

Smokin' Swing
8–8:20pm: Dance Lesson
8:30pm: Dance Exhibition
Mark & Erin McIntire
Catch the dance craze with 1920s favorites the Charleston and the Lindy Hop. Learn the basic steps in our East Coast Swing instruction, led by Friends of the Museum Board Chair Mark McIntire, from 8 to 8:20pm. Enjoy an exhibition of all three dance styles mixed with the Balboa at 8:30pm. Then show off your moves and dance the night away with Sidecar Social Club.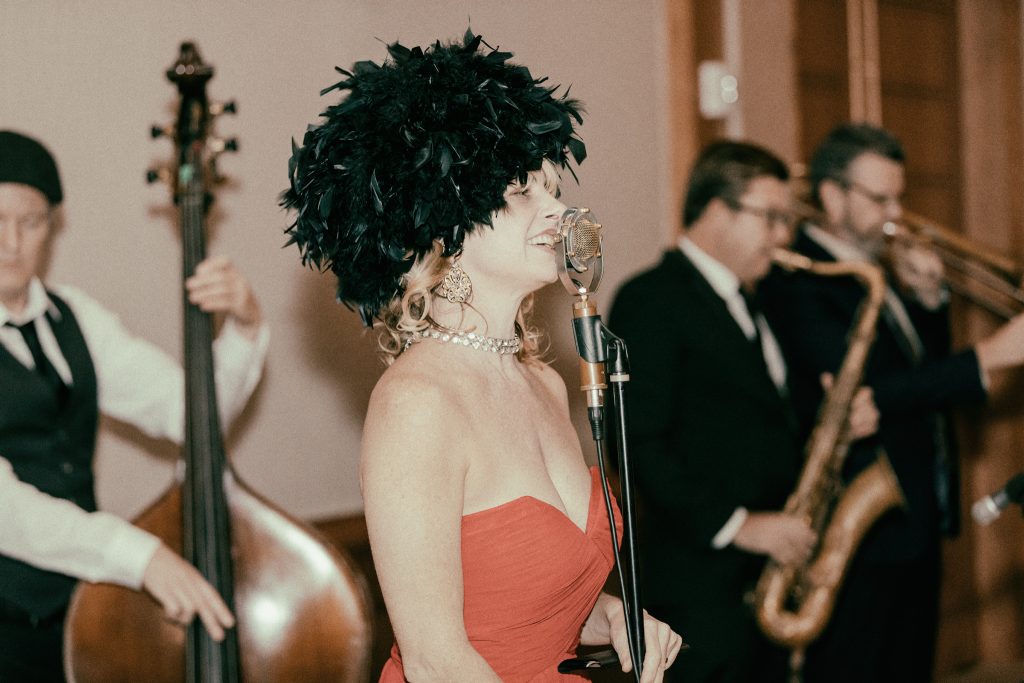 Dance Party in the Globe
Show us your best Charleston, Fox Trot, Lindy Hop or Harlem Shake to live jazz by Sidecar Social club.
Yates Mill and the Whiskey Still
Historic Yates Mill County Park
Explore the history of brewing and distilling and discover the ingredients used through time that create a variety of alcoholic beverages. Learn about the processes that have traditionally been used in North Carolina and check out a real copper still that was seized and foiled by revenuers.
"Choose Your Side" Photo Booth
NC Historic Sites
Choose a side in the Prohibition debate! Would you rather imbibe and partake in the revelry at your local gin joint or are you a "home defender" fighting to save others from a "drunkard's fate"? Take a souvenir photo with a flapper or a temperance worker (or both) and learn more about unique experiences the Division of State Historic Sites has to offer at 27 sites across North Carolina.
NATURE RESEARCH CENTER, 2nd FLOOR
Bee's Knees
The Naturalist Center
Prohibition-era slang was filled with references to animals. Stop by the Naturalist Center to learn how to "jaw like an egg" while exploring natural history specimens.
Animals on a Toot
Humans aren't the only members of the animal kingdom to get liquored up; insects, birds and other mammals take advantage of alcohol as well. Find out why other animals get "spifflicated" and "fried to the hat" with our drunk animal superlatives game.
Dirigibles
Once thought of as the future of air travel, dirigibles (blimps) were widely popular during the Prohibition era. Enjoy live science demonstrations and learn how dirigibles use the principle of buoyancy to stay aloft.
Pillow Talk
Center for Biological Diversity
Learn about your carbon footprint and the unlikely way you can save endangered species: by having safe sex.
NATURE RESEARCH CENTER, 3rd FLOOR
Hubble and Beyond
Astronomy & Astrophysics Research Lab
The expansion of the Universe started billions of years ago, but astronomers made history when they discovered it in the late 1920s. Meet Museum astrophysicists and find out how early 20th century astronomers changed how we think about our place in the cosmos. Find out what we're learning about stars and galaxies today.
The Distillery
Micro World iLab
The Great Molasses Flood of 1919 took over the city of Boston. Step into The Distillery to see if you could outrun the flood, play Prohibition roulette and more.
Bootlegger's Brain: Booze and Cognitive Interference
Duke Institute of Brain Sciences
Compete with fellow guests in the Stroop Task, which measures cognitive interference by testing your ability to overcome the written word to describe the color the word is written in. See how the influence of alcohol can increase your latency to answer and incorrect trials.
The Secret Underground Hideouts of Ants
Evolutionary Biology & Behavior Research Lab
Do ants have speakeasies? See elaborate nests built by ants right under your feet!
Science of Distilling
Oak City Amaretto
Discover how distillers convert grain into your favorite liqueur and use science to extract all the right flavors and alcohol components. Engage your senses by smelling different distillation byproducts and sample the finished product from Oak City Amaretto.
Prohibition: From the Bathtub to the Pharmacy
Person Street Pharmacy
How did Bathtub Gin yield a pharmacy prescription? Who profited from Prohibition: the physician or the pharmacy? Discover why Prohibition backfired from a healthcare perspective.
NATURE RESEARCH CENTER, 4th FLOOR
Investigating your Chemo Sense
Learn how our chemical sense adds to our sense of taste by sampling a commonly consumed spirit.
Aviator Aerobatics
Create your own nifty paper airplane and attempt a transatlantic flight, à la Charles Lindbergh and Amelia Earhart.
Inkblot Interpretations
Hermann Rorschach created his inkblot test in 1921. Make your own inkblot and find different ways to interpret it.
Reach for the Sky!
Join the "Rubber Band Gang" and take aim with our sharp-shooting Tommy Gun as you learn about the Prohibition Era's infamous weapon and the beginnings of forensic ballistics.
Up and Over
Grab a booze catapult and see how far your bootleg barrels fly! Can you land your contraband without getting caught?
NATURE RESEARCH CENTER, ALL FLOORS
Inflamed by Spirits
NC Historic Sites
In North Carolina, statewide prohibition legislation was enacted nearly a decade before federal Prohibition. Examine North Carolina's role in the temperance movement, how a moral and social movement led to legislative action and how the years of Prohibition changed alcohol culture in North Carolina and throughout the country.
---
WATTS & WARD
10pm–2am: After Party
Watts & Ward, 200 S. Blount Street
Keep the party going at Watts & Ward, Raleigh's newest craft cocktail speakeasy, with an exclusive specialty drink for Adult Night registrants only. Enjoy an "Old Time's Saké" featuring gin, saké, peach nectar, ginger syrup and egg white for $8.