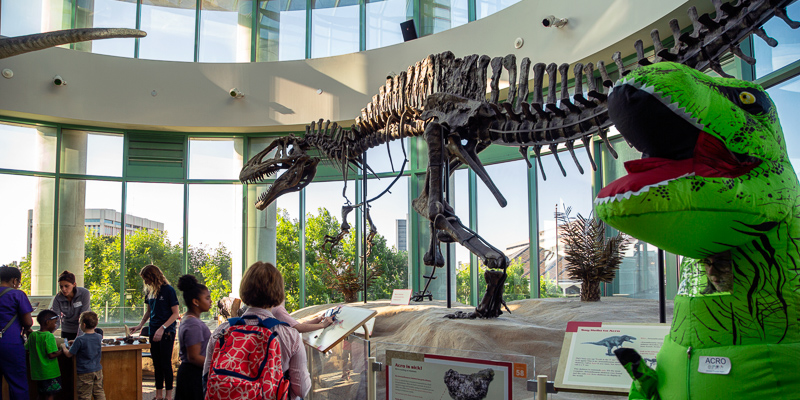 Sensory Friendly Afternoon Homepage Activities: You Are Here!
---
NHL Mascot Madness
NC Museum of Natural Sciences
From the weird to the wild, many NHL mascots are based on real animals. See and feel natural history specimens that relate to these fan favorites.
Animals Alive!
NC Museum of Natural Sciences
Come and meet some of the Museum's live animal ambassadors.
Trilobites and Their Mysterious Eyes
NC Museum of Natural Sciences: Exhibit Hall Experiences Group
See the world through the eyes of a 500-million-year-old trilobite. Learn about the one that had a SUPER-compound eye! Then discover how modern insects and horseshoe crabs have similar vision.
The Miracle League of the Triangle
The Miracle League of the Triangle
This is a resource table with information about their program, examples of the equipment they use and some giveaways.
Living Conservatory: The Butterfly Room
NC Museum of Natural Sciences
Immerse yourself in a Central American tropical dry forest filled with living plants and animals. Encounter butterflies, turtles, tarantulas, snakes and even a two-toed sloth. Discover a vanilla orchid, pineapple plant, cashew tree and more. Explore North Carolina's connection to the tropics through migration, shared species and products.
Fun with GiGi's!
GiGi's Playhouse
"Come play with us and get to know GiGi's!" They'll have a dino dig in rice, and some playdough activities.
Dinosaur Painting Demonstration: Exploring Texture
Stacy Lewis Studio
Stacy Lewis will be demonstrating mixed media techniques to create touchable, textured, colorful dinosaur paintings.
Early Childhood STEM-inspired Play
The Wonder Lab
Join The Wonder Lab for hands-on STEM activities for the youngest learners! Take a robot on a test drive, roll some balls down a ramp and get your hands into their sensory bin.
Museum Teen Programs
NC Museum of Natural Sciences
Explore sensory and tactile objects from the Museum's educational collections and learn about current and upcoming middle and high school programs & volunteer opportunities.
Disability & Autism Information & Resources
Triangle Disability & Autism Services
Triangle Disability & Autism Services will provide general information and resources to special needs families on their programs and services as well as other general information about navigating the intricate world of disability services.
Discovery Room
NC Museum of Natural Sciences
The Discovery Room is a special place for families and visitors of all ages to explore the natural world up close. Engage your senses by touching animal furs, feeling bird wings, smelling tropical scents, playing with kinetic sand and more. Try on costumes, play with puppets and find hidden animals in our dead tree critter hotel.
Terrific T. rex Medals
Arts Access North Carolina
This exhibit will include resource materials and a wearable medal craft made of paper & ribbon which you can color with crayons.
Freshwater Mollusks: Life Underwater
NC Museum of Natural Sciences, Mollusk Section
Freshwater mollusks include both snails and clams. These animals are some of the most endangered species in North America. Some have already become extinct.
Animal Bites
NC Museum of Natural Sciences
This table will display various teeth and jaws of the animal kingdom. It will highlight how animals have different jaw/teeth shapes based on their diet.
HANDS On Fun
HANDS Center For Autism Center
This exhibit will feature sensory-friendly items for grade school children.
Cool Measuring Tools
NC Museum of Natural Sciences
Guests will learn different measuring techniques to measure the body length of a snake, a turtle, or a microscopic organism, as well as the size of a snail shell, using measuring tape, calipers and tactile 3D imaging.