For immediate release ‐ February 20, 2018
Contact: Jon Pishney, 919.707.8083. Images available upon request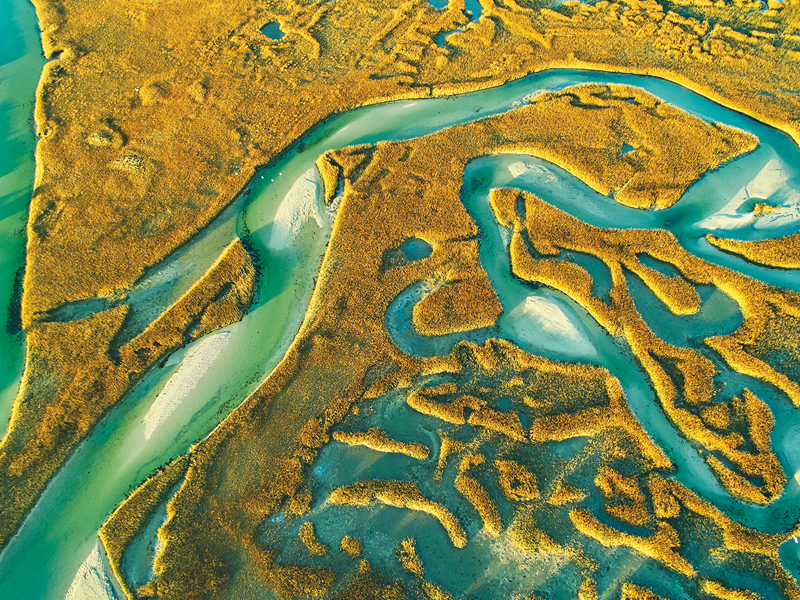 (RALEIGH, N.C.) — For the second straight year, the Wildlife in North Carolina Photo Competition produced a "first." In 2016, Frank Ellison became the first photographer to win the Grand Prize two years in a row. The 2017 Photo Competition ended with the first Grand Prize photograph taken with a drone after Kevin Nestvogel took home top honors with his shot of the salt marsh in New Hanover County. Nestvogel's image joins 30 other winning images on display at the North Carolina Museum of Natural Sciences beginning Feb. 24.
"I have been droning for about two and a half years," said Nestvogel, a 25-year-old Wilmington resident who beat out roughly 1,800 entries to win the Photo Competition. "I've never won a photo contest before, so I'm stoked!" The winning photograph was taken from a drone roughly 350 feet off the ground. Look closely, and white birds are visible in the picture. Nestvogel said he repositioned the drone after spotting the birds so that he could capture them against a water backdrop. "The photo was taken right behind Wrights­ville," he said. "It's so well-preserved. It's like some remote place."
"Like every year we have many amazing images submitted to the competition," said Wildlife in North Carolina Art Director and competition judge Marsha Tillett. "The winning photograph for this year grabbed the attention of all the judges. Maybe it was the unique perspective, a look at the world in a different way, or the well uti­lized light. But we were all drawn to it. This photograph is dynamic."
The other judges for this year's competition included staff graphic designers Amy Friend and Bryant Cole and staff photographer Melissa McGaw. Also serving as judge was Mike Dunn, a retired senior manager of outreach at the N.C. Museum of Natural Sciences and a veteran nature photographer.
All winning photographs will be on exhibit at the N.C. Museum of Natural Sciences through August and on the Wildlife Resources Commission website at ncwildlife.org.