For immediate release ‐ May 12, 2022
Contact: Jonathan Pishney, 919.707.8083 and Haviv Avrahami, hmavraha@ncsu.edu. Images available upon request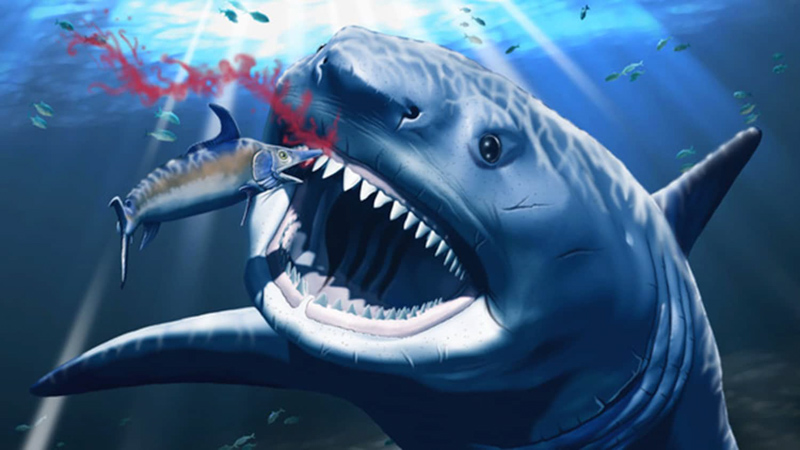 A hunt gone wrong! Artistic reconstruction Otodus megalodon feeding upon an ancient swordfish ~11 – 3.7 million years ago. A puncture injury to the tooth gum such as this may have caused gemination of the developing tooth buds. Image: Jorge Gonzalez
Did the world's largest prehistoric shark need an orthodontist, or did it just have a bad lunch?
Researchers from North Carolina State University and the North Carolina Museum of Natural Sciences examined a deformed tooth from an Otodus megalodon shark in a search for the root cause: was it developmental, or related to feeding? The work could give paleontologists more insight into the developmental processes associated with tooth injury in ancient sharks, as well as feeding behavior.
At issue is an abnormality referred to as double tooth pathology, in which a single tooth appears "split." There are several possible causes: during tooth development two tooth buds can fuse into one or one tooth bud can split into two (a process called gemination). Gemination and fusion can be caused by disease, genetics or physical injury to the tooth bud.
---
For more information about our upcoming activities, conservation news and ground-breaking research, follow @NaturalSciences onInstagram,TwitterandFacebook.Join the conversation with #visitNCMNS.