For immediate release ‐ August 18, 2017
Contact: Jon Pishney, 919.707.8083. Images available upon request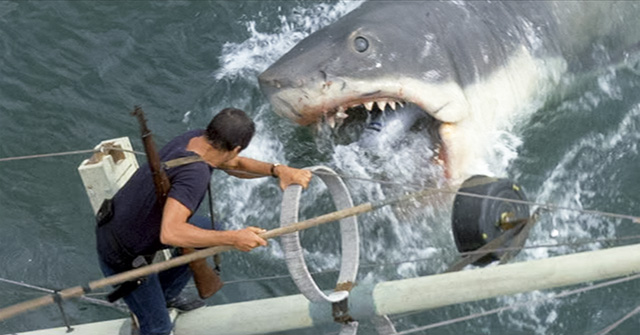 (RALEIGH, N.C.) — Didn't get enough Shark Week? Still ticked you tuned in to watch Michael Phelps "race" a great white? You can still satisfy your shark cravings when the North Carolina Museum of Natural Sciences shows the original "Jaws" on the big screen, Final Friday, August 25, 5:30-9 p.m. Plus, you can explore the science of shark behavior with an ichthyologist (fish expert) and peruse shark-related science stations. Learn what makes a shark brain tick and discover why people are so frightened of an animal that annually kills fewer people than vending machines do.
Amity Island had everything. Clear skies. Gentle surf. Warm water. People flocked there every summer. Unfortunately, it was also the perfect feeding ground for a monstrous great white shark. "Jaws" (PG, 1975) stars Roy Scheider as Police Chief Martin Brody, Robert Shaw as shark hunter Quint, and Richard Dreyfuss as marine biologist Matt Hooper. The fun really begins after the testy trio sets out to find and destroy the creature that is terrorizing the tiny tourism-driven community.
Scheider's role in "Jaws" is arguably his most popular, but some of his best performances came in "The French Connection" (1971) alongside Gene Hackman and "Marathon Man" (1976) with Dustin Hoffman. Dreyfuss was just coming off a starring role in George Lucas' "American Graffiti" (1973) and followed "Jaws" with a memorable role as a mashed-potato-carving lineman in "Close Encounters of the Third Kind (1979). The mid '70s were good to Shaw as well, who appeared with Paul Newman and Robert Redford in "The Sting" (1973) and with Sean Connery and Audrey Hepburn in "Robin and Marian" (1976). Unfortunately, "Avalanche Express" (1979) was his last film, as he passed away from a heart attack in 1978, months before the film was released.
Beginning at 5:30, you can check out shark-themed science stations, enjoy live music, or fill up on sliders and drinks — including local craft beers. At 7 p.m., the Museum shows "Jaws" on the big screen, then after the show, hear from Museum ichthyologist Alex Dornburg to find out what the movie got right or wrong, scientifically speaking.
Final Fridays take place on the last Friday of each month. A/V Geeks' Skip Elsheimer provides a fun night of trivia and tongue-in-cheek commentary on popular science-themed movies as well as samples from his vault of 24,000+ short films. Movies are also complemented by experts and hands-on science stations related to each night's theme. Dinner (such as sliders or tacos), drinks (including NC beer and wine) and popcorn will be available for purchase before the show. Doors open at 5:30 p.m., movies and presentations begin at 7 p.m. Admission: $5/person. For more information, a list of future Final Fridays, or to buy tickets, visit naturalsciences.org/finalfridays.
---
The North Carolina Museum of Natural Sciences in downtown Raleigh (11 and 121 W. Jones St.) is an active research institution that engages visitors of every age and stage of learning in the wonders of science and the natural world. Hours: Mon.– Sat., 9 a.m.–5 p.m., and Sun., noon–5 p.m. General admission is free. Visit the Museum online at www.naturalsciences.org. Emlyn Koster, PhD, Museum Director.