For immediate release ‐ December 10, 2020
Contact: Jon Pishney, 919.707.8083. Images available upon request
From the forests of northeastern Cambodia, another frog species new to science is scientifically named!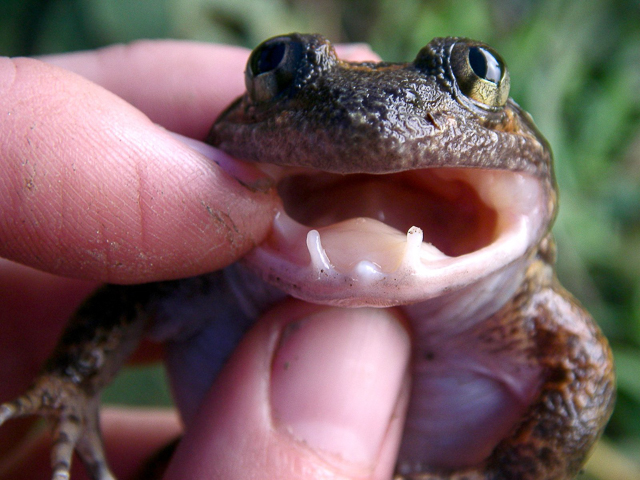 Males of the Cambodian Fanged Frog (Limnonectes fastigatus) have long pointed 'fangs'. Photo © Jodi Rowley. Click to enlarge.
The Fanged Frogs of Southeast Asia are truly remarkable beasts. Males have a particularly large, muscular head and sport "fangs" (actually projections of their jaw bone) used to battle it out with each other for the best stream territory. Whilst rather fantastic frogs, many species of fanged frogs look very similar to each other; this has resulted in an underestimation of just how many fanged frogs are out there. With forests rapidly disappearing in Southeast Asia, this has serious implications for species such as Fanged Frogs, which are dependent on forested streams.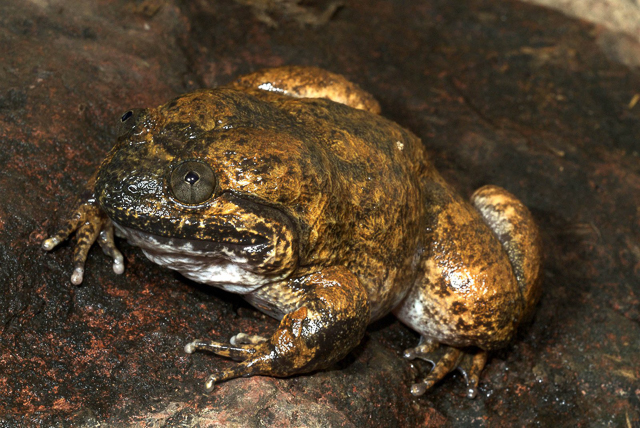 A particularly large male Cambodian Fanged Frog (Limnonectes fastigatus). Photo © Jodi Rowley. Click to enlarge.
---
---
Dr Jodi Rowley, Curator, Amphibian & Reptile Conservation Biology, Australian Museum Research Institute & UNSW Sydney.
Dr Bryan Stuart, North Carolina Museum of Natural Sciences, USA.
---
More information
Stuart, B. L., Schoen, S.N., Nelson, E.E.M, Maher, H., Neang, T., Rowley, J.J.L., McLeod, D.S. (2020). A new fanged frog in the Limnonectes kuhlii complex (Anura: Dicroglossidae) from northeastern Cambodia. Zootaxa 4894 (3): 451–473.