For immediate release ‐ April 09, 2018
Contact: Jon Pishney, 919.707.8083. Images available upon request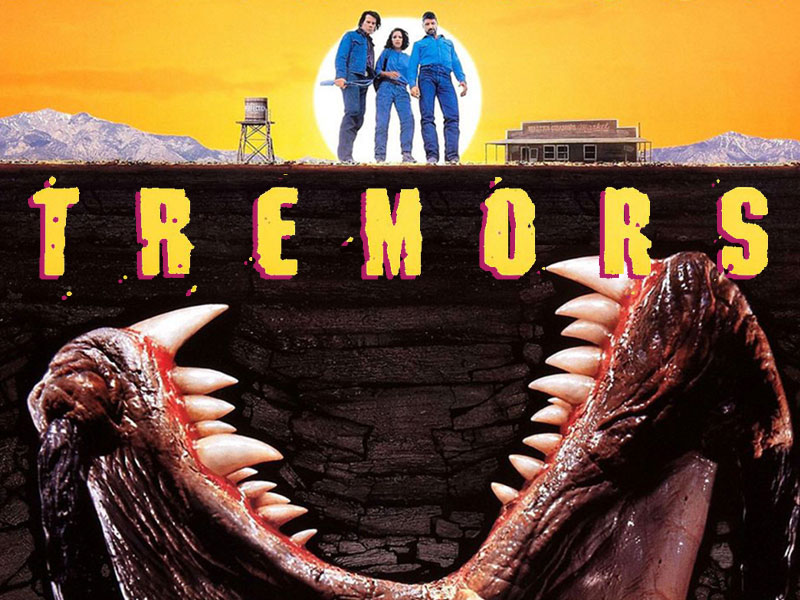 (RALEIGH, N.C.) — They say there's nothing new under the sun. But under the ground … uhh. Welcome to the small, isolated town of Perfection, Nevada, where something has awakened under the surface. Quiet and deadly, the graboids have arrived, and you'll only know they're nearby when you feel the ground shake. Watch if you dare, as the North Carolina Museum of Natural Sciences shows "Tremors" (1990, PG-13) Friday, April 20 at 7 p.m.
"Tremors" features Kevin Bacon (shocking!) as Valentine McKee and Fred Ward as Earl Bass, two local handymen-turned-heroes that help the townspeople exterminate the pesky graboids. Fun- and gun-loving couple Burt and Heather Grummer — enthusiastically portrayed by Michael "Family Ties" Gross and country music star Reba McEntire — are critical and extremely well-armed members of the extermination team. Bacon's best-known role is probably (and unfortunately) as (26-year-old) teenage rebel Ren in "Footloose" (1984). As for Ward, well, anyone remember "Remo Williams: The Adventure Begins" (1985)?
Prior to the movie, beginning at 5:30, check out movie-themed science stations, where visitors can learn everything they ever wanted to know about discovering new species, deadly animals, earthquakes and worms, and hear from an expert who will help separate the science from the fiction following the film.
This event features the A/V Geeks' Skip Elsheimer guiding a fun night of trivia and tongue-in-cheek commentary on popular science-themed movies as well as samples from his vault of 24,000+ short films. Movies are also complemented by experts and hands-on science stations related to each night's theme. Dinner (such as sliders or tacos), drinks (including NC beer and wine) and popcorn will be available for purchase before the show. Doors open at 5:30 p.m., movies and presentations begin at 7 p.m. Admission: $5/person, $2/member. For more information or to buy tickets, visit naturalsciences.org/calendar/finally-friday/.
---
The North Carolina Museum of Natural Sciences in downtown Raleigh (11 and 121 W. Jones St.) is an active research institution that engages visitors of every age and stage of learning in the wonders of science and the natural world. Hours: Monday–Saturday, 9 a.m.–5 p.m., and Sunday, noon–5 p.m. General admission is free. Emlyn Koster, PhD, Director. For more information, visit naturalsciences.org.