For immediate release ‐ April 24, 2020
Contact: Jessica Wackes, 919.707.9850. Images available upon request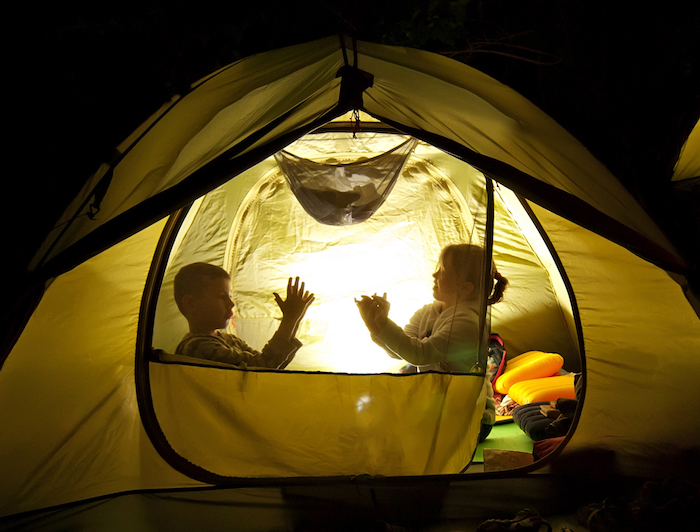 Recently, a colleague of ours lamented that every time she starts to sit at her computer, her young daughter begins to cry. Our constantly divided attention between work and home seems to frustrate even the most even-keeled among us! Maybe it's time to unplug and give our complete attention to our families.
While we can't jump into the car and head for the Great Outdoors, we can put down our phones, turn off our computers and walk out the door to the Great Backyard! Treat yourself and your family to an escape from the constant distractions of housework, homework and telework and go camping in your backyard!
Ready to unplug and get outside for some nature therapy? Check out our tips and suggestions for having a backyard camp out filled with s'mores, stargazing and other no-tech-needed activities.
Materials Needed
Tent
Sleeping bags or bed roll: blankets, pillows and sheets.
Sleeping pad; air mattress (or even couch cushions will work)
Flashlight
Water bottle
Food
Bag for extra clothes, towel, tent games, teddy bears, etc.
Bug repellant and/or sunscreen
Camera
Binoculars or telescope for stargazing
Sense of Adventure
Let everyone's opinion count. Make your adventure a family activity. Walk through the planning and action steps together.  Give family members a chance to try a new skill.
Check the weather. Camping is fun in all kinds of weather, but severe weather conditions should be avoided even with the house in sight. Weather conditions, especially temperature and wind direction will help you decide the layers of clothing you need, the type of cooking you do, and the location of your tent.
Plan a menu. Traditional camp-out food like hot dogs, baked beans and s'mores are always fun, but if you'd like to try something new, check out these recipes from the National Park Service. Keep it simple, the fewer trips back to kitchen the better!   Plan on keeping food in a sturdy storage container out of your tent; this will keep uninvited guests (ants, bears, family pets) from looking for a midnight snack in your tent. 
Pack a bag: just the essentials for sleeping outdoors, flashlight, sleeping clothes, a warm layer for after the sun goes down.  Card games are great for tents; board games are too easy to jostle.
Claim your tent site. Scope out a site that is flat and not on top of any animal homes especially fire ants or yellow jackets.  Decide the direction of your tent door and look around for any lights that might shine in campers' eyes later at night. Think about midnight trips to the bathroom, how easy a route would your crew need. Walk through your site several times, removing sticks and rocks.
Set up tent. Nothing builds communication and group skills like putting up a tent together; let someone new take the lead.  It is very satisfying to see that pile of fabric turn into a house in a manner of minutes. Now turn it into a home with your pillows, sleeping bags and bed rolls, and of course, teddy bears.
Cook your dinner. If the wind is calm and you have a good spot for a fire ring, open fire cooking where everyone can roast their own hot dogs and marshmallows is wonderful.  Just be aware of your proximity to buildings and or flammable hazards.
Watch the sunset. Begin the stargazing.  Take some time and notice the lengthening shadows, the position of the setting sun, the first star and planets you see.  Note their position; how does it change?
Take a Child Outside Activities. Check out a list of things to do, day and night!
Stargaze. Check out this NASA Night Sky Planner!
Sleep Time. Do a quick tick check before tucking into sleeping bag and bed rolls.  Then listen.  As the ground cools at night, sound waves refract downward towards the Earth's surface, so we can hear noises from further away. Read why sounds might be louder at night! 
Listen for frogs calling from nearby ponds; even in very suburban areas the Cope's Gray Treefrog will trill robustly from small ponds and rain gutters. Learn more about the frogs in North Carolina!
Owls, too, roam our forested greenways and backyards; listen for the hooting of the Great Horned Owl, the "Who Cooks for You All" of the Barred Owl and the melodic trill of the diminutive Eastern Screech Owl. 
Now whisper sweet good nights and snore!
HAVING FUN?
We want to see! Tag @naturalsciences on social media to join the conversation! Show us your awesome camp setup and the fun you're having in your own backyard!
---
For more information about our upcoming activities, conservation news and ground-breaking research, follow @NaturalSciences on Instagram, Twitter and Facebook. Join the conversation with #visitNCMNS.