For immediate release ‐ October 07, 2021
Contact: Jon Pishney, 919.707.8083. Images available upon request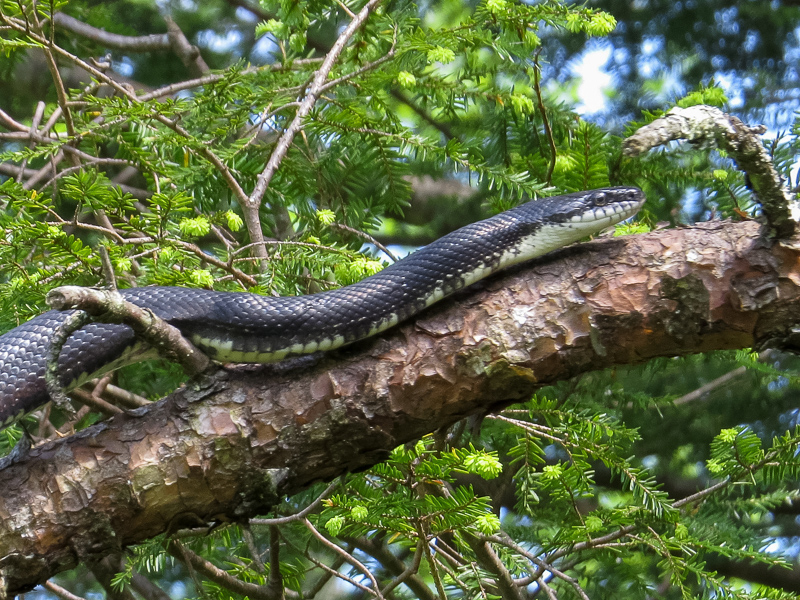 Eastern rat snake (Pantherophis alleghaniensis). Photo: Jeff Beane.
A new paper co-authored by Museum herpetologist Jeff Beane represents the first report of gastrointestinal helminths (parasitic worms) found in the eastern rat snake from North Carolina. In fact, 13 different helminth species were discovered and recorded in 20 of the 28 snakes examined by lead author and NC State University parasitologist James Flowers. Of these, eight represent new host records and one represents a new state distributional record – the first record of the nematode Serpentirhabdias eustreptos from NC.
"This paper helps illustrate just how woefully understudied parasitic organisms really are," says Beane. "The parasitic helminths of North Carolina snakes are very poorly known; fewer than a third of the state's snake species have had any helminth parasites reported in the literature. This paper makes 10 species of snake out of the 38 we have in the state for which any have been reported."
The paper – "Helminths of the Eastern Rat Snake, Pantherophis alleghaniensis Holbrook (Squamata: Colubridae), from North Carolina, U.S.A." – was published August 25 on BioOne Complete.
---
For more information about our upcoming activities, conservation news and ground-breaking research, follow @NaturalSciences on Instagram, Twitter and Facebook. Join the conversation with #visitNCMNS.