For immediate release ‐ May 18, 2023
Contact: Micah Beasley, 919.707.9970. Images available upon request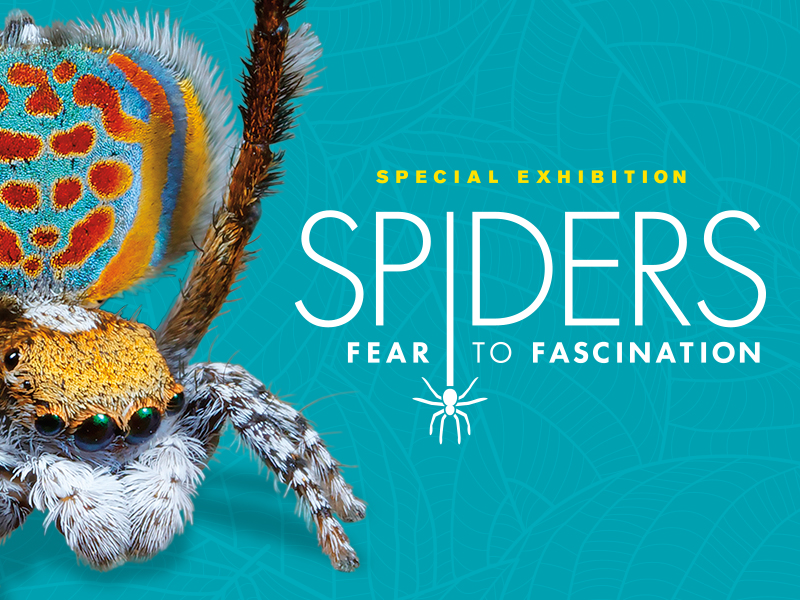 [RALEIGH, N.C.] — Did you know spiders can swim, jump and even "fly" hundreds of miles? This incredibly diverse group of animals has evolved and survived for 300 million years. Venture into their amazing world when "Spiders: Fear to Fascination" opens at the North Carolina Museum of Natural Sciences on Saturday, June 17.
Often seen as formidable and frightening, these extraordinary creatures aren't as dangerous as some might think. Explore this immersive and amusing special exhibition that reveals the secrets — and the lighter side — of these enigmatic critters through interactive games, augmented reality, hundreds of preserved specimens and dozens of live spiders.
Get up close and personal with fascinating arachnids like the fishing spider that walks on water and the ogre faced spider that catches prey by casting its web like a net. Learn to wiggle and dance like a peacock spider trying to attract a mate. Discover how spiders detect danger (and dinner) by the number of vibrations they feel on their web. You can even color in your own spider and watch it come to life on a giant screen.
Visit the Old Spiders + New Technology section highlighting a fresh take on 100-year-old jumping spider specimens collected by one of the Museum's first scientists that have recently been transformed into 3D scans using photogrammetry.
Come explore the superb skills of these amazing arthropods. Discover their diversity and biogeography, their wildly fascinating hunting techniques, and the surprising steel-like strength of spider silk. Face your fears and embrace the science behind these gnarly marvels of nature.
This exhibition is offered in English and Spanish and runs through October 8. Admission: Museum members get in free; Adults $14; Children (3-12) $10. Purchase your tickets online at naturalsciences.org/spiders or on site at the Museum Box Office. "Spiders: Fear to Fascination" was created by the Australian Museum and is sponsored by SECU (State Employees Credit Union).
---
About the NC Museum of Natural Sciences
The North Carolina Museum of Natural Sciences in downtown Raleigh (11 and 121 W. Jones St.) is an active research institution that engages visitors of every age and stage of learning in the wonders of science and the natural world. In addition to two downtown buildings showcasing seven floors of world-class exhibits, the Museum runs Prairie Ridge Ecostation, a 45-acre outdoor education and research facility in west Raleigh, as well as satellite facilities in Whiteville, Greenville and Grifton (Contentnea Creek). Our mission is to illuminate the natural world and inspire its conservation. Downtown Raleigh Hours: Tuesday–Sunday, 10 a.m.–5 p.m. General admission is free. For more information, visit www.naturalsciences.org.
---
About the North Carolina Department of Natural and Cultural Resources
The N.C. Department of Natural and Cultural Resources (DNCR) manages, promotes, and enhances the things that people love about North Carolina – its diverse arts and culture, rich history, and spectacular natural areas. Through its programs, the department enhances education, stimulates economic development, improves public health, expands accessibility, and strengthens community resiliency.
The department manages over 100 locations across the state, including 27 historic sites, seven history museums, two art museums, five science museums, four aquariums, 35 state parks, four recreation areas, dozens of state trails and natural areas, the N.C. Zoo, the N.C Symphony, the State Library, the State Archives, the N.C. Arts Council, the African American Heritage Commission, the American Indian Heritage Commission, the State Historic Preservation Office, the Office of State Archaeology, the Highway Historical Markers program, the N.C. Land and Water Fund, and the Natural Heritage Program. For more information, please visit www.ncdcr.gov.
---
For more information about our upcoming activities, conservation news and ground-breaking research, follow @NaturalSciences on Instagram, Twitter and Facebook. Join the conversation with #visitNCMNS.