For immediate release ‐ May 20, 2019
Contact: Jon Pishney, 919.707.8083. Images available upon request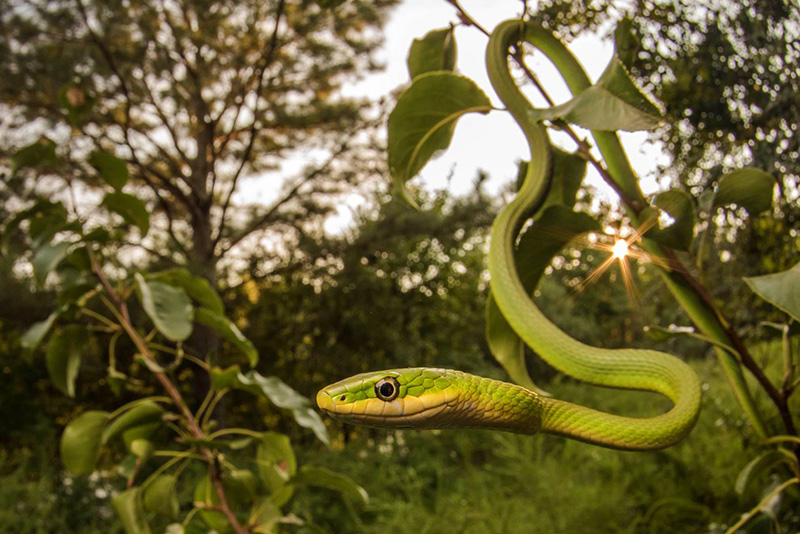 (RALEIGH, N.C.) — Many people don't like snakes. A few are ambivalent. And very few, like Anton Sorokin, truly like them. Sorokin, an East Carolina University graduate school student studying biology, said his favorite subjects when wielding his camera are reptiles and amphibians. This year, Sorokin captured top prize in the 2018 Wildlife in North Carolina Photo Competition for his photo of a rough green snake. Sorokin's photo, titled "Snake Eye," is among 31 winning images from the Competition currently on display at the North Carolina Museum of Natural Sciences.
"It was late evening when I saw a rough green snake hidden in the foliage of a low branch in Pitt County," said Sorokin. "I was using a wide-angle lens so I could include the habitat in the photo, which meant that I needed to get close to the snake. Moving slowly so as not to startle the snake, I got into position. Rather than being startled, the snake moved closer to investigate the lens. I was able to get the photo that I had in mind by framing the image to include the snake's whole body and making sure that the sun wasn't obscured by leaves or branches." Sorokin made his debut in the 2017 Photo Competition with a third-place finish in Reptiles and Amphibians for his photo of a spadefoot toad and first place in Animal Behavior with a picture of Southern toads.
The annual Competition, which this year received almost 1,500 entries, aims to encourage people to participate in nature photography and to foster greater understanding and appreciation of North Carolina's wildlife and wild places. Judges for this year's contest included Marsha Tillett, art director for Wildlife in North Carolina, staff graphic designers Amy Friend and Bryant Cole, staff photographer Melissa McGaw and social media manager and photographer Thomas Harvey. Also serving as a judge was Mike Dunn, a retired senior manager of outreach at the N.C. Museum of Natural Sciences and a veteran nature photographer.
---
The North Carolina Museum of Natural Sciences in downtown Raleigh (11 and 121 W. Jones St.) is an active research institution that engages visitors of every age and stage of learning in the wonders of science and the natural world. Hours: Monday–Saturday, 9 a.m.–5 p.m., and Sunday, noon–5 p.m. General admission is free. For more information, visit naturalsciences.org.