For immediate release ‐ April 08, 2021
Contact: Jon Pishney, 919.707.8083. Images available upon request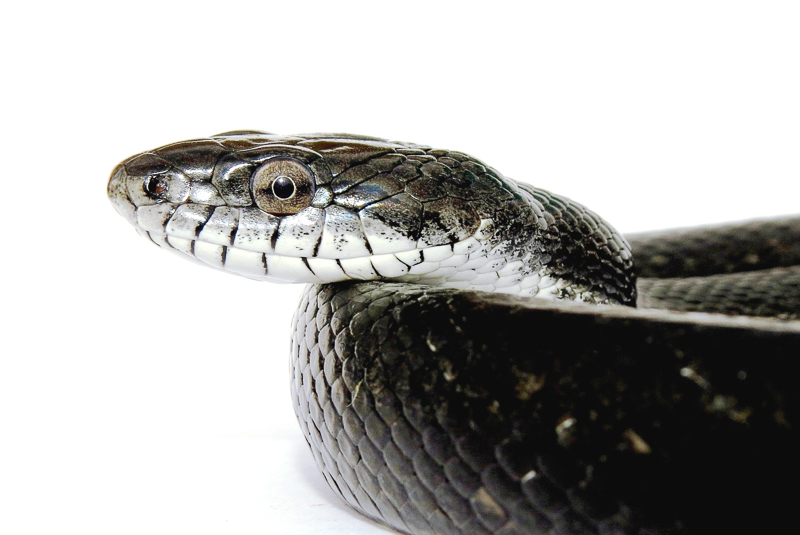 Eastern ratsnake (Panterophis alleghaniensis). Photo: Jeff Beane/NCMNS.
A recent discovery published in Herpetological Review may be short, but as co-author Jeff Beane points out, it's still very important. Why? "Because it documents a couple of unusual things," says Beane, the Museum's Collections Manager for Herpetology.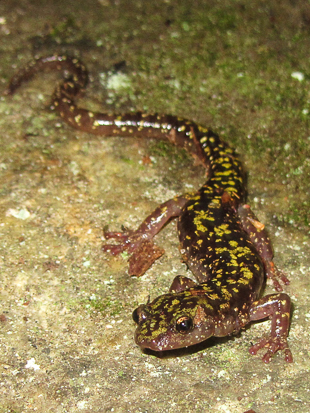 Green salamander (Aneides aeneus). Photo: Jeff Beane/NCMNS.
New Predator of Green Salamanders
Few predators have been reported for green salamanders (Aneides aeneus), and Beane believes none have been previously reported in North Carolina, where they are listed as a Threatened species. One recent report named the ring-necked snake and common garter snake as known predators outside of North Carolina. Another report listed more than 150 occurrences of at least a dozen species of potential predators of either adult Aneides or their eggs during surveys of rock outcrops in North Carolina, but predation was not directly observed.
On June 14, 2019, while monitoring a granitic outcrop known to be used as a breeding site by green salamanders, one female was found ovipositing (laying eggs) in a rock crevice. Two additional crevices on another portion of the same outcrop contained two gravid (egg-laden) female green salamanders each. When the site was checked again on June 16, 2019, the single female was attending her egg clutch, but of the two crevices containing salamanders two days prior, one was vacant, and one contained a juvenile female Eastern ratsnake (Pantherophis alleghaniensis).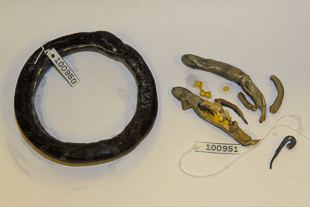 Right: Eastern ratsnake and stomach contents consisting of two gravid female green salamanders, collected in Henderson County, North Carolina, USA. Photo: Jeff Beane/NCMNS.
First Record of Ratsnake Predation of Salamanders
The snake was collected, euthanized, and later dissected to reveal it had consumed two gravid female green salamanders. To our knowledge, this is the first documented record of predation on green salamanders by an Eastern ratsnake. Moreover, while ratsnakes are known to feed on a variety of anuran species (frogs and treefrogs), this appears to be the first published record of a Pantherophis feeding on any salamander species.
"This is surprising considering the abundance and wide distribution of ratsnakes, and all the dietary and other natural history info published on them," notes Beane.
The specimens were collected under permit and are deposited in the herpetology collection of the North Carolina State Museum of Natural Sciences.
---
For more information about our upcoming activities, conservation news and ground-breaking research, follow @NaturalSciences on Instagram, Twitter and Facebook. Join the conversation with #visitNCMNS.