For immediate release ‐ October 25, 2019
Contact: Jon Pishney, 919.707.8083. Images available upon request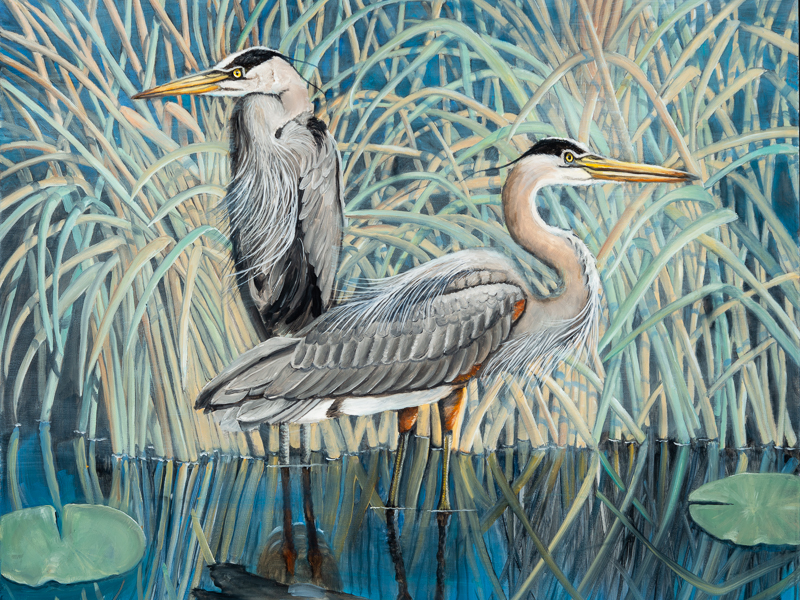 Detail of "Milky Way Crane" by Lee Mims.
(RALEIGH, N.C.) — The North Carolina Museum of Natural Sciences' Nature Art Gallery presents "Beyond Nature: From a Different Point of View," artwork by Lee Mims. The show runs Nov. 1–24, with a Gallery reception Saturday, Nov. 2, 2–4 p.m. All exhibited art is for sale.
Mims was raised on a farm in Raleigh, North Carolina, and received a Master's in Geology from the University of North Carolina at Chapel Hill. "Some might ask how I happened to become an artist after being trained as a scientist," Mims explains. "I think my childhood on a farm created in me a lifelong love of animals and the great outdoors and a desire to recreate the beauty I saw around me. Later, being a field geologist not only deepened my appreciation of the natural world but, by studying the chemistry involved in geology, I gained a deeper understanding of pigments and how to mix them and use them to achieve the effects I constantly strive for today … an approximation of life."
Like many self-taught artists, Mims started painting as a diversion from her career, which changed after her children were born from being a geologist to being a horse trainer. Requests from friends for portraits of their children, horses and various pets led her to start a small studio. Soon, she started painting wildlife and landscapes.
Her work has been exhibited in several wildlife and fine art shows, including: The East Carolina Wildlife Art Festival, NC; The Clearwater Fine Arts Festival, FL; The Federal Duck Stamp Contest, VA; North Carolina Wildlife Art Show, NC; The Wetlands Institute Wings 'N Water Fine Arts Festival, NJ; The National Aviary Wings & Wildlife Art Show, PA; Florida Wildlife Exposition, FL; John A. Logan College Museum Wildlife & Nature Art Exhibit, IL; Arts for the Parks, Jackson Hole, WY; and Indiana Wildlife & Fine Arts Exhibit, IN.
The Nature Art Gallery is located inside the Museum Store. Hours are Monday through Friday, 10 a.m. to 4:45 p.m.; Saturday, 9 a.m. to 4:45 p.m.; and Sunday, noon to 4:45 p.m. Admission to the Gallery is free. All exhibited art is for sale. For more information about the Nature Art Gallery, call 919.707.9854.
---
The North Carolina Museum of Natural Sciences in downtown Raleigh (11 and 121 W. Jones St.) is an active research institution that engages visitors of every age and stage of learning in the wonders of science and the natural world. Hours: Monday–Saturday, 9 a.m.–5 p.m., and Sunday, noon–5 p.m. General admission is free. For more information, visit naturalsciences.org.