For immediate release ‐ January 23, 2020
Contact: Jon Pishney, 919.707.8083. Images available upon request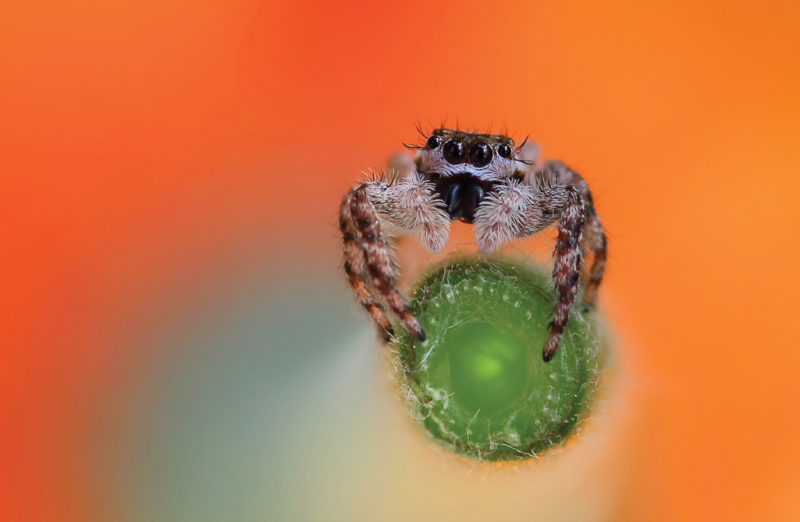 RALEIGH, N.C. — Raleigh resident Dianne Stankiewicz took a chance encounter with a jumping spider and turned it into the judges' top choice in this year's Wildlife in North Carolina Photo Competition. Stankiewicz, who works at a local pharmaceutical company as a graphic artist, says she uses nature photography as a creative outlet.
"It's my passion," Stankiewicz said. "Pretty much every weekend, my husband, dog and I go for three-hour nature walks. We are blessed to live in a state that has so much wildlife diversity, even in the city. Nature photography is meditative and inspirational."
Stankiewicz, who previously won first place in the invertebrates category in the 2018 competition, was taking a sick day at home when she learned that she had won the competition.
"Your call definitely made it the best sick day ever," she said. "I have enjoyed our subscription to Wildlife in North Carolina magazine for many years. I'm honored and humbled to have my invertebrate category submission of a jumping spider on a zinnia flower stem selected for the cover image this year."
The judges for this year's competition included Marsha Tillett, the magazine's art director, staff graphic designers Amy Friend and Bryant Cole, staff photographer Melissa McGaw and former social media manager and photographer Thomas Harvey. Also serving as a judge was Mike Dunn, a retired senior manager of outreach at the N.C. Museum of Natural Sciences and a veteran nature photographer.
"The image of the jumping spider caught the judges' attention because of the remarkably vibrant colors and interesting composition," Tillett said. "Insects make great subjects because they are often very photogenic, but that alone is usually not enough. When a photographer captures a moment that makes the viewer take notice and see something in a new and different way, then that image sets itself apart. This image was one that the entire panel of judges could agree upon as being captivating and standing out from the others in the competition."
All winning photographs, including Stankiewicz's, are currently on exhibit on the Commission's website, and will open at the N.C. Museum of Natural Sciences in Raleigh beginning in early March.