For immediate release ‐ April 20, 2023
Contact: Jon Pishney, 919.707.8083. Images available upon request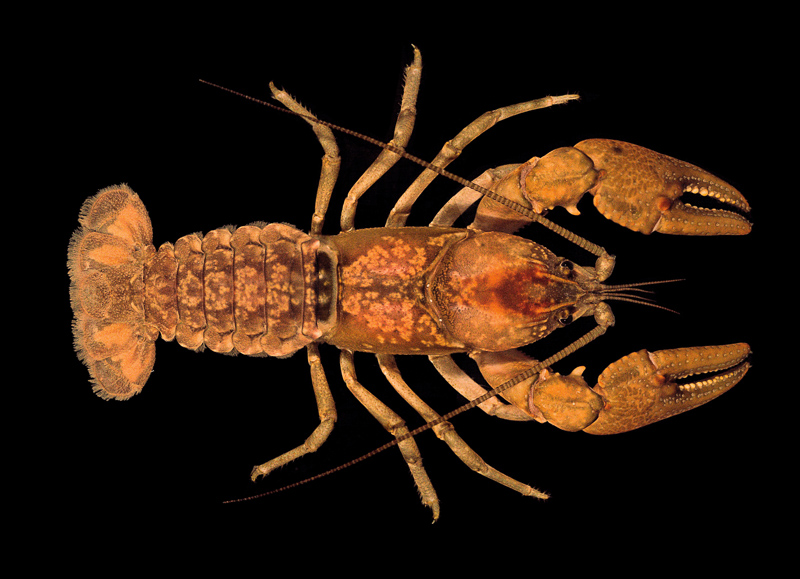 Falls crayfish (Cambarus burchfielae). Photo: Mike Perkins. Click to enlarge.
[RALEIGH, N.C.] — Tucked into the niches of neighboring streams, each draining off the Blue Ridge Mountains, reside two new species of crayfish found in North Carolina and nowhere else on the planet.
Meet Cambarus lapidosus, aka the Stony Fork crayfish, named after a small tributary of the Yadkin River in western North Carolina that harbors the entire known range of this species. Also introducing Cambarus burchfielae, aka the Falls crayfish, which occurs in the Lewis Fork drainage; its common name represents the locality from which the type series (or name-bearing specimens) were collected.
According to Bronwyn Williams – Research Curator of Non-molluscan Invertebrates at the North Carolina Museum of Natural Sciences and co-author of a new paper in Zootaxa – these new species can only be found in the upper Yadkin River basin in North Carolina. They are both considered narrow-range endemics, meaning they are highly restricted in their geographic ranges and thus acclimated to specific environmental conditions. This distinction likely makes them species of conservation concern.
"Taxonomy is essential to effective conservation," Williams notes. "If a unique biological entity does not have a formal name, it is not eligible for the resources necessary to manage and protect it."
Historically, both species were lumped in with a widespread species complex called Cambarus species C, which spans much of the Atlantic slope drainages from Philadelphia, Pennsylvania to Columbia, South Carolina. A species complex is a group of what is assumed to be closely related organisms that are similar in appearance, thereby making it difficult to separate into morphologically unique entities, or species.
But Williams and colleagues Michael Perkins and William Russ from the North Carolina Wildlife Resources Commission used morphological, genetic and biogeographic data from newly collected field specimens, as well as historic specimens housed in the Museum's Non-molluscan Invertebrates Collection, to show that the two species were actually morphologically and genetically more similar to a group that occurs in the south-central Appalachians of North Carolina — Cambarus robustus, the big water crayfish.
"This is really neat," notes Williams, "as it suggests that a previously unknown, localized, temporary, aquatic connection bridged the Eastern Continental Divide near where the headwaters of the Stony Fork and Lewis Fork are now." This phenomenon is called stream capture, or stream piracy, a well-documented geologic phenomenon whereby a waterway erodes into a divide, capturing or diverting an adjacent waterway into itself.
"From what we can tell, these particular stream captures have not previously been documented either geologically or biologically," Williams adds.
The paper, "Integrative taxonomy reveals two new narrowly endemic crayfish species (Decapoda: Cambaridae) from the Yadkin River Basin in western North Carolina, USA," was published in Zootaxa on April 20, 2023. [For a copy of the complete paper, email bronwyn.williams@naturalsciences.org.]
---
For more information about our upcoming activities, conservation news and ground-breaking research, follow @NaturalSciences on Instagram, Twitter and Facebook.