For immediate release ‐ June 10, 2021
Contact: Micah Beasley, 919.707.9970. Images available upon request
By Rachel Smith, head of Astronomy & Astrophysics Research Lab and curator of meteorites and
Micah Beasley, PR & Marketing Coordinator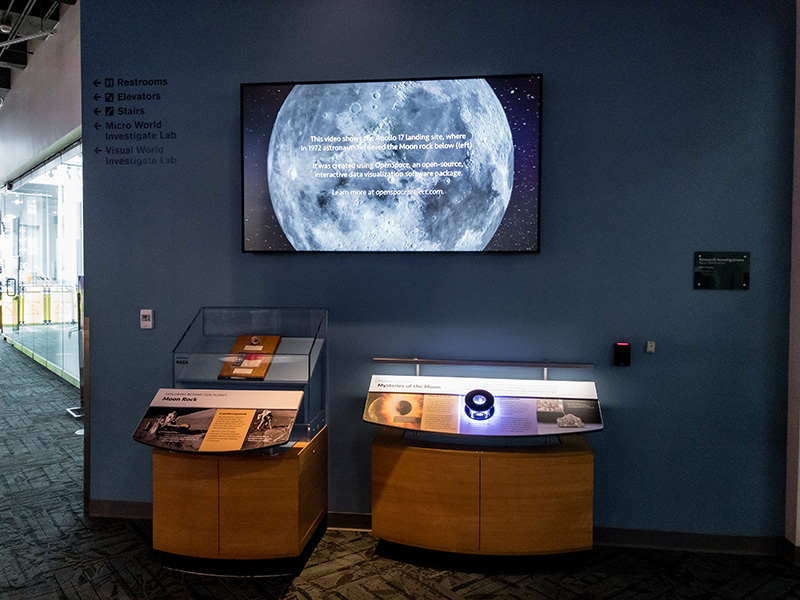 The Mysteries of the Moon exhibit at the Museum's downtown Raleigh location.
Our Moon is more than 238,000 miles from Earth, and now a small piece of it is on display at the Museum's downtown Raleigh location on the third floor of the Nature Research Center (NRC).
Thanks to the efforts of Dr. Rachel Smith, the head of the Astronomy & Astrophysics Research Lab and curator of meteorites, the Museum has recently purchased a lunar meteorite known as NWA 11474. This meteorite was found in Northwest Africa in 2017 and has been in the Museum's collections since mid-2020.
Lunar meteorites provide us with valuable information about parts of the Moon that humans have not yet visited, and help us understand early solar system history. Without access to these specimens, scientists would only be able to study a small portion of the lunar surface.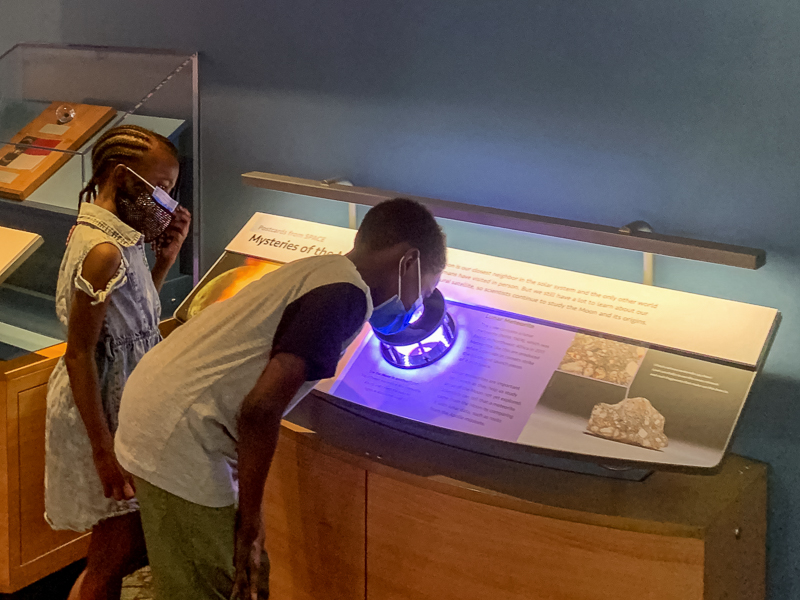 Museum guests are already enjoying the lunar exhibit. Plan your visit today!
Located just outside the Astronomy & Astrophysics Research Lab, NWA 11474 forms part of a newly-installed display entitled, "Mysteries of the Moon." The display invites guests to think about how lunar samples help us better understand our closest celestial neighbor.
In addition to the new meteorite, this display includes a video that takes visitors to the Apollo 17 landing site and follows rover trails to the general region where astronauts collected lunar samples, including the historic small rock also on display below the video. While NASA is making plans to return to the lunar surface, this 1972 mission was the last time humans set foot on the Moon.

This lunar installation was partially funded by our NASA grant, OpenSpace: An Engine for Dynamic Visualization of Earth and Space Science for Informal Education, a partnership with the American Museum of Natural History in New York.
OpenSpace is open-source, data-based software that lets you fly throughout the entire known Universe. Renderings from OpenSpace are also on display through the glass walls of the Astronomy & Astrophysics Research Lab.
In the coming months, the exhibits team will install a series of interactive video kiosks that showcase some of the many incredible locations that one can visit with OpenSpace. These will include "on demand" renderings of various planetary and celestial locations, as well as an interactive version of OpenSpace software. Using these kiosks, visitors can journey to a wide range of places throughout the cosmos!
For more information about the Mysteries of the Moon exhibit, email Dr. Rachel Smith. Visit the OpenSpace project website to learn more about this collaborative research project.