For immediate release ‐ June 02, 2023
Contact: Kerry Irish, 919.707.9823. Images available upon request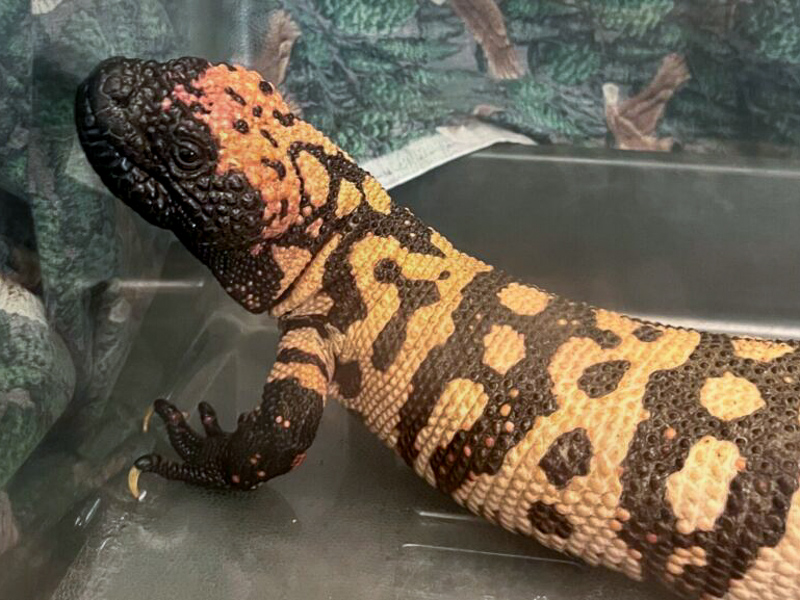 The Gila monster in its transport container. The containers are covered on their way to the Window on Animal Health to reduce stress.
By NCMNS Veterinary Sciences Intern, Emma Eldridge
Hey, everybody! My name is Emma, and I'm a rising second-year student with an intended focus in zoological and wildlife medicine. This summer I'll be sharing what it's like to work as a veterinary intern at the NC Museum of Natural Sciences! I previously interned at the museum as an undergraduate (and loved every minute of it), so I'm super excited to be back as a vet student to learn even more about captive management and exotic medicine. I also will be stationed at Turtle Rescue Team at the NC State College of Veterinary Medicine on Mondays, intaking new cases and helping teach the undergraduate interns about wildlife rehab and chelonian medicine.
This first week of my internship, we hit the ground running with a few routine wellness exams, as well as rechecks on a few animals in the collection with chronic conditions. I also had the opportunity to care for some spiders that are in quarantine before going on exhibit. Strict quarantine protocols are an incredibly important aspect of managing zoos, aquariums and museums because diseases and pests can spread through a collection very quickly.
My favorite part of this week was definitely the opportunity to observe and assist with an examination on a Gila monster, one of the only venomous lizard species in the world! Because this is a venomous species, only trained staff can handle them, and we used a large sealed tube to take radiographs.

A horizontal beam radiograph of the Gila monster, before any fluid was removed from the coelom.
This particular Gila monster has been looking very round in the middle, despite its tail and limbs looking normal or even a little decreased in body condition. The lack of organ definition on radiographs led our clinicians to believe that there was either significant fluid accumulation in the coelom or a large space-occupying mass. Although we had previously been unable to aspirate any fluid, this time we collected about 20ml to send out for culture and cytology at the NC State College of Veterinary Medicine. Hopefully we can get some answers to the Gila monster's condition soon with the help of these diagnostics. In the meantime, we can increase comfort by aspirating fluid to reduce pressure in the coelom.
---
Emma is posting weekly on the NCSU College of Veterinary Medicine's News website. This week's post features poison dart frogs and an update on our friend the Gila monster!
---
For more information about our upcoming activities, conservation news and ground-breaking research, follow @NaturalSciences on Instagram, Twitter and Facebook. Join the conversation with #visitNCMNS.