For immediate release ‐ September 02, 2021
Contact: Micah Beasley, 919.707.9970. Images available upon request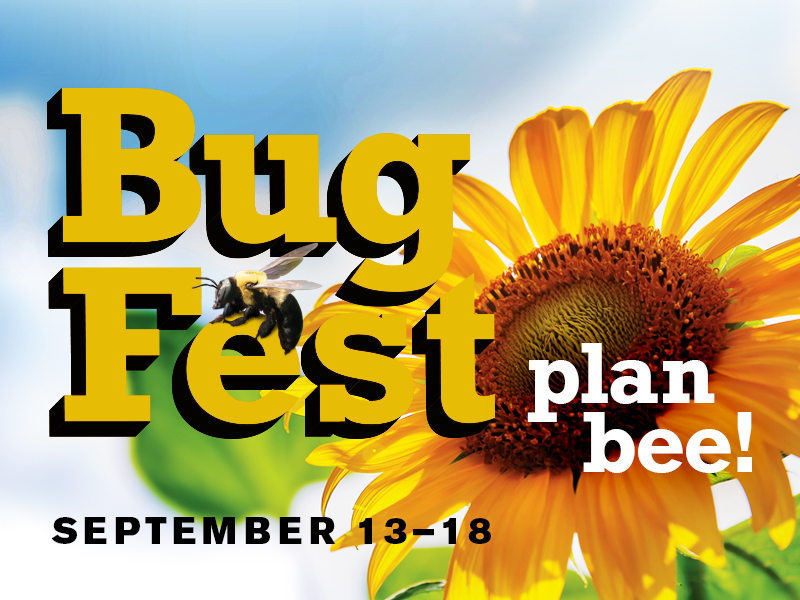 [RALEIGH, N.C.] — Like almost everything else, BugFest will be a little different this year … welcome to BugFest 2021: Plan Bee, a celebration of bees! Did you know there are more than 20,000 species of bees worldwide, and more than 4,000 in North America alone? Seventy percent of the world's agriculture depends on bees and without them, many plants would not be able to reproduce. Because they are crucial to Earth's ecosystems, it's important to protect bees and to understand our part in their survival. Discover bees as you never have before at this year's BugFest, the most popular annual educational event hosted by the North Carolina Museum of Natural Sciences. Enjoy virtual programing Monday–Thursday and head outside on Saturday for two in-person events at Prairie Ridge Ecostation, the Museum's outdoor education site in west Raleigh. All for free!
From Sept. 13-16, enjoy a selection of virtual programs: find out how Good of the Hive founder Matt Willey became inspired to hand-paint 50,000 honey bees in murals around the world; watch spectacular slow-motion flying insect videos made by Museum entomologist Adrian Smith, creator of the AntLab on YouTube; learn about the Bumble Bee Watch citizen science program, a collaborative community service effort to track and conserve North America's bumble bees; look at several species of bees, wasps as well as their look-alikes and even predators; discover more about the 4,000 bees native to North America and their critical contribution to the Earth's biodiversity; enjoy a competitive episode of bug-centered trivia and more! Prior to BugFest proper, on Sept. 10, watch speakers play Bee Simulator while they share how the game helps players become more aware of this micro world and its challenges. Visit BugFest.org for a full schedule and to register for virtual programs.
On Saturday, Sept. 18, the Museum hosts two free in-person events, both at Prairie Ridge Ecostation, the Museum's 45-acre outdoor education facility in west Raleigh (1671 Gold Star Drive).
Pollination Celebration (9 a.m.–noon)
Join us as we celebrate our favorite pollinators! Visitors of all ages can enjoy the "Grub Zone" at the Nature PlaySpace, take a walk around the prairie as you work to complete the Story Walk, then visit outdoor exhibits to engage with experts in caterpillarology, beekeeping, gardening and more. Visit our pollinator garden where you'll likely see bees performing their amazing work.
Moth Party (8:30–10:30 p.m.)
Hang out at our lights where we'll hang up sheets to check out who comes to visit! Experts will be on hand for identification and to answer any questions you have about our nocturnal arthropod friends. Bring a flashlight and join staff for night hikes through the prairie.
---
BugFest: Plan Bee is made possible through a generous donation by BASF.
---
For more information about our upcoming activities, conservation news and ground-breaking research, follow @NaturalSciences on Instagram, Twitter and Facebook. Join the conversation with #visitNCMNS.