For immediate release ‐ September 23, 2021
Contact: Micah Beasley, 919.707.9970. Images available upon request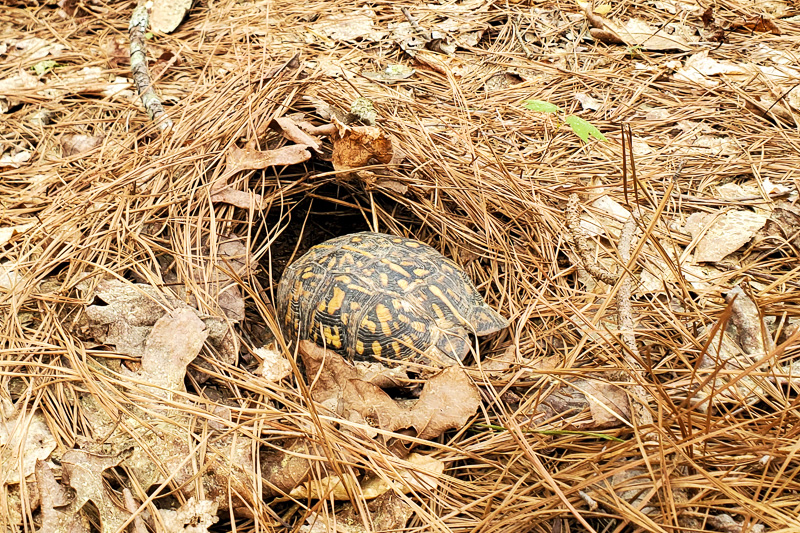 Male Eastern Box Turtle emerging from hibernation under leaf litter, April 9. Photo: Jerry Reynolds/NCMNS.
By Jerry Reynolds, Head of Outreach
April 9 was a two-turtle day on my walk in the woods behind my house in Johnston County. Two Eastern Box Turtles were emerging from their winter dormancy buried under the leaf litter. I don't often find them when they first emerge, but here I had a male and a female box turtle emerging on the same morning only about 50 feet apart. Both were dirty and somewhat sluggish as I photographed, measured and weighed them. I have been documenting box turtles in those woods and my neighborhood since 2008. These were new turtles that I hadn't seen before and were logged as my 46th and 47th individual turtles. I noticed that the male's eyes were puffy and shut. They often come out that way after their winter nap. I left them both to resume their spring emergence.
I was in the same area of the woods two days later, so I thought I would look to see if I could spot them again. It's rare that I do spot a turtle in the same area even after only a few hours, so I was very surprised when I saw the male turtle still in the same place that I left him two days earlier! I was concerned that he was in medical distress after a long winter buried under the leaves, so I decided to take him to the Turtle Rescue Team at NC State University School of Veterinary Medicine.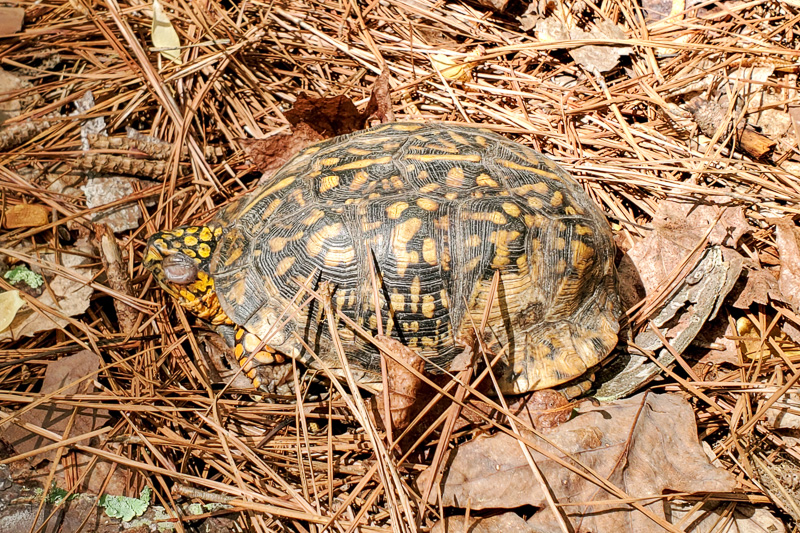 The turtle was still there on April 11, with a swollen eye. Photo: Jerry Reynolds/NCMNS.
The Turtle Rescue Team is a remarkable program run totally by the students that provides real medical experience for students while providing treatment for wild turtles that are sick or injured. The program is housed on the Vet School's campus near the NC State Fairgrounds and operates under the guidance of School of Veterinarian Medicine faculty. They only take wild native turtles in this program.
The goal is to perform the necessary procedures/treatment so the turtle can get well enough to be released back into the wild. When your turtle is ready for release, you return to pick up your turtle and take it to the same place you found it (that's an agreement you sign when you bring a turtle in). Many sick and injured turtles have been returned to the wild for a second chance at a normal life. The students help about 500-600 turtles this way each year, half of which are Eastern Box Turtles.
I knew my turtle was in good hands and I was looking forward to when he would be ready for release. The students name the turtle patients and they named mine, Teddy. When I later emailed the Turtle Rescue Team to see if Teddy was ready to be released, I learned that Teddy had escaped!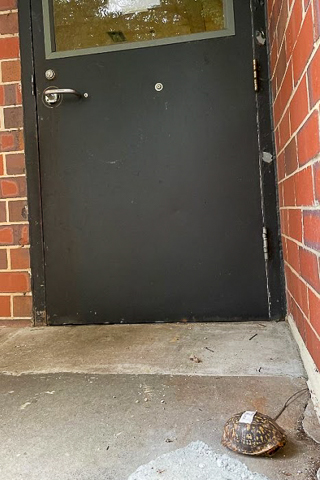 Teddy found at the lab's back door three months after escaping.
Photo: Aswini Cherukuri, Turtle Rescue Team.
Teddy had been doing great and was responding well to treatment of an eye infection. Recovering turtles are sometimes taken just outside the facility and allowed to sun. Sunshine is good for turtles which is why you see many species sunning on logs in lakes and streams. Apparently, Teddy had other plans! When his caregiver wasn't looking on April 21, he bolted for freedom. They can move surprisingly fast when they set their minds and their little legs to it! The Turtle Rescue Team students looked for him for hours and then days, but Teddy was nowhere to be found! He was almost ready to be released, but this was not the release they had planned for him.
It's a busy part of Raleigh for a turtle not familiar with the area. We hoped that he would turn up or would find a new home in the nearby pastures and woods. As time passed, we pretty much gave up hope of ever seeing Teddy again.  But Teddy had other plans! On July 18, Teddy showed up at the lab's door! I guess he'd had enough of the city life and was ready to go home. He had been on the loose for almost three months.  We have no way to know how far he wandered, but he showed up about 20 feet from where he made a run for it. A student returning to the facility was quite surprised to see a box turtle waiting outside the door, still labeled with identification tape on his shell!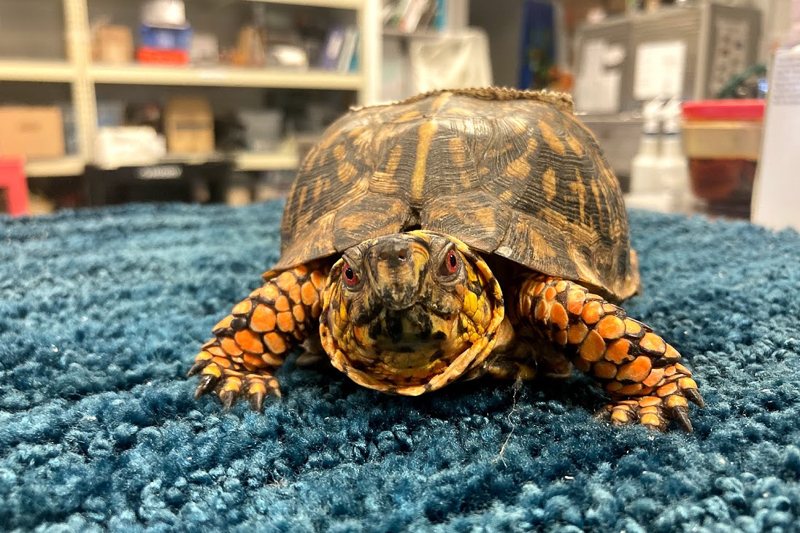 Getting the spa treatment in the lab. Photo: Rachel Carpenter, Turtle Rescue Team.
The Turtle Rescue Team contacted me with the great news! Teddy was in good condition but did have an ear abscess that needed minor surgery and treatment. He was finally ready for release again after a few more weeks in recovery.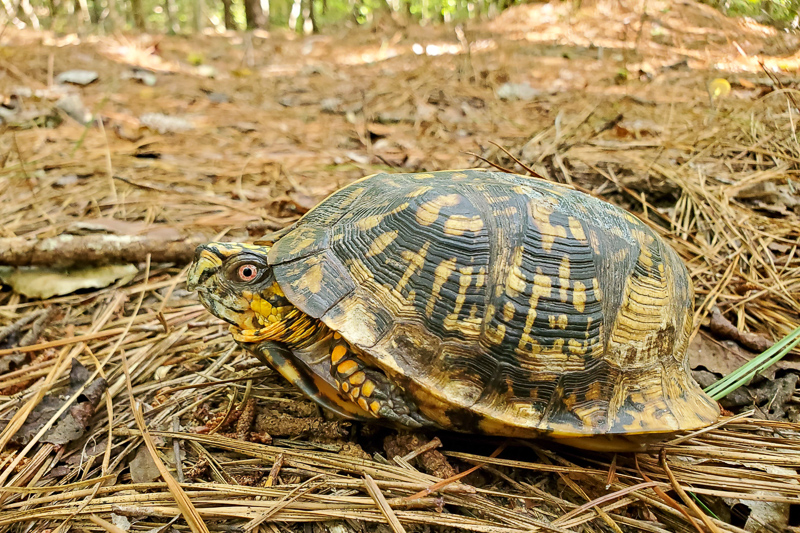 Teddy the turtle was home again on August 28. Photo: Jerry Reynolds/NCMNS.
On the morning of August 28, I returned to the woods with Teddy and set him down in the exact spot where I found him 4½ months earlier. I watched from a distance with binoculars so Teddy wouldn't know I was still nearby. He slowly raised his head up and looked around to check the area out. I wish I knew what he was thinking as he just sat there for 90 minutes looking around before finally deciding to trudge on his way. Hopefully he will remember his home after his time away in the big city. I hope that Teddy continues to live for many more years in those woods behind my house. I just wonder what stories Teddy will tell the other turtles about his adventures and "Not So Great Escape"!
---
For more information about our upcoming activities, conservation news and ground-breaking research, follow @NaturalSciences on Instagram, Twitter and Facebook. Join the conversation with #visitNCMNS.