For immediate release ‐ February 01, 2017
Contact: Jon Pishney, 919.707.8083 and Roland Kays, 919.707.8250. Images available upon request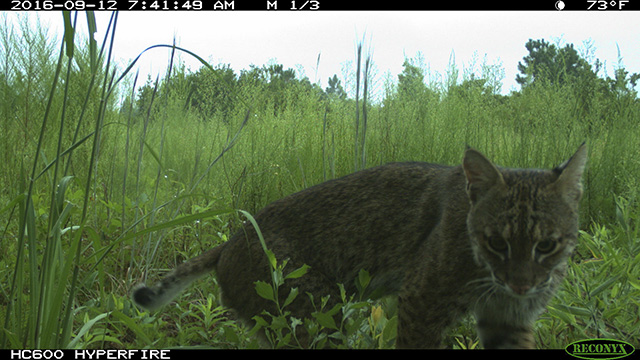 RALEIGH, N.C. — Remote cameras are a rapidly growing technology that has great potential to transform how scientists monitor the Earth's wildlife biodiversity. In a new paper published Feb. 1 in the journal Frontiers in Ecology and the Environment, researchers from the North Carolina Museum of Natural Sciences and the University of Montana say that recent advances in camera technology and methods mean that now is the time to create a global network of these remote wildlife cameras.
Roland Kays, Head of the N.C. Museum's Biodiversity Research Lab with a co-appointment at N.C. State University, along with colleagues including UM doctoral candidate and lead author Robin Steenweg, believe a large-scale, connected network that collects and manages data from remote cameras could help meet goals to conserve wildlife and other natural resources. "There is so much remote camera data being collected out there by both research scientists and citizen scientists," Steenweg says. "We just need to link it all together."
Researchers and resource managers currently use remote cameras to monitor wildlife all over the world – an estimated 20,000 cameras in 2015 – and more are added daily. For example, Kays' newly launched NC Candid Critters project (NCCandidCritters.org) aims to be the largest-ever camera trap survey. His goal for the next three years is to have 20-30,000 active sites across North Carolina capturing images of wildlife so he and the Wildlife Resources Commission can learn more about the distribution of the state's many mammal species.
Kays is already a veteran of this type of research. Last year his camera trap work reported on surveys of eight parks in North Carolina where they found almost no feral cats but lots of coyotes. "The predators seem to be protecting the natural areas from invasive cats," says Kays. His cameras also counted many thousands of dogs using parks, but almost all of them were on trails with their owners, suggesting they are having little ecological impact on native wildlife. "Our earlier work told us a lot about what's going on in those parks, but that was just a small snapshot of the region," Kays adds. "We are now working with volunteers to expand these surveys statewide, reaching all 100 North Carolina counties, to help learn about and manage our wildlife. I can't wait to see the pictures!"
The insights gained from remote cameras are powerful. Cameras are not only an alternative to expensive aerial helicopter surveys but have already been used to successfully monitor biodiversity trends at regional scales: documenting the first evidence of wolverine recolonization in California, and endangered wildlife in Montana like wolverines and fishers. In the tropics and developing countries where it is difficult to observe or capture wildlife, noninvasive cameras are transforming ecology and conservation. A global network of these cameras would not only provide real-time biodiversity data but also serve to connect people with nature.
The study is online at http://onlinelibrary.wiley.com/doi/10.1002/fee.1448/full.