For immediate release ‐ January 07, 2021
Contact: Jon Pishney, 919.707.8083. Images available upon request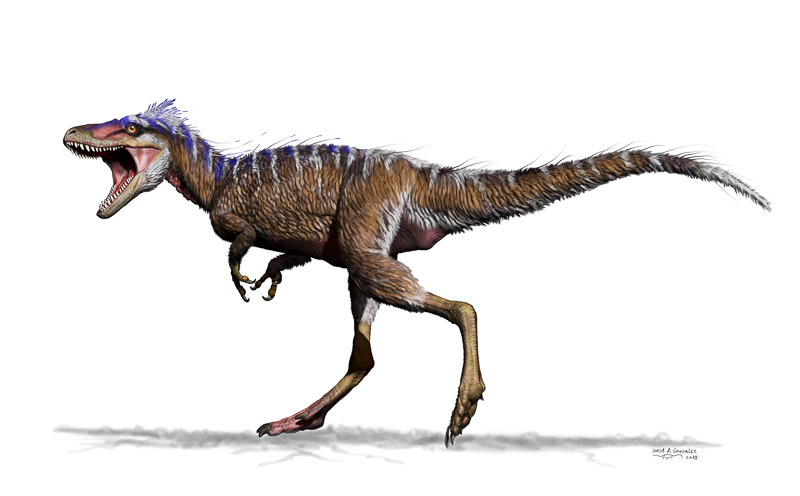 Moros intrepidus. Illustration by Jorge Gonzalez.
The Museum's Head of Paleontology, Dr. Lindsay Zanno, and colleagues have won the Eighteenth International Award in Palaeontological Research (Paleonturology 20), for her paper describing the tiny tyrannosaur Moros intrepidus. The award is selected by jury through the Fundación Conjunto Paleontológico de Teruel-Dinópolis, Spain.
The author team includes Museum and NCSU Postdoc Aurore Canoville, Museum Resident and NCSU grad student Haviv Avrahami, and Museum Adjunct and NCSU faculty member Terry Gates.
As part of the award, Zanno will write a version of the paper for readers aged 15-17 years, to be published as a popular version of the article. The award is endowed with a three-thousand Euro (3.000 €) prize that will be put toward funding the Museum's first expedition to Mongolia.
---
Zanno, L.E., Tucker, R.T., Canoville, A., Avrahami, H.M., Gates, T.A. & Makovicky, P.J. (2019). Diminutive fleet-footed tyrannosauroid narrows the 70-million-year gap in the North American fossil record. Communications Biology, https://doi.org/10.1038/s42003-019-0308-7