For immediate release ‐ July 15, 2021
Contact: Micah Beasley, 919.707.9970. Images available upon request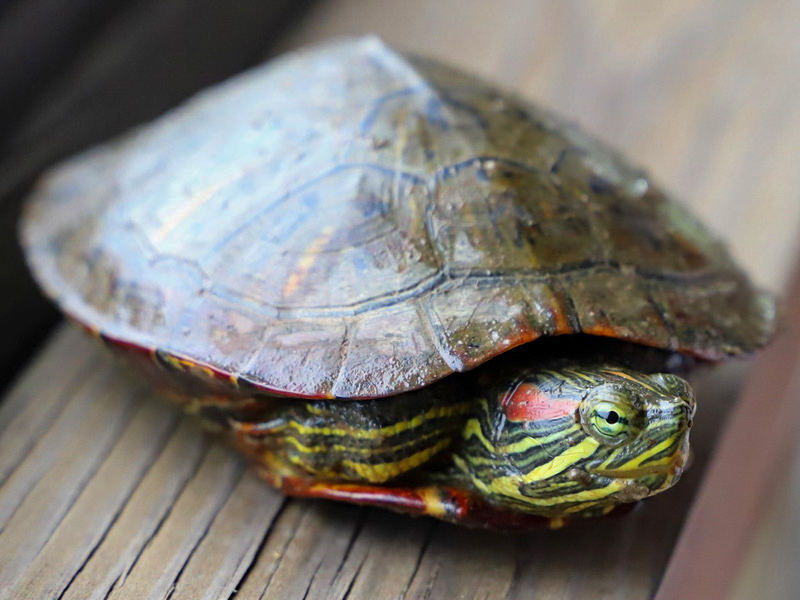 A closeup of a Red-eared Slider. Photo: Adam Prince.
The Red-eared Slider (Trachemys scripta elegans) is an invasive turtle from the Mississippi River drainage that has been released by pet owners into the wild outside of their native range. Small and cute when sold as pets, the baby turtles quickly grow to a large size and soon become messy and difficult to care for. Frustrated owners, or those simply seeking a better life for their growing pet, have released them into the wild, which has resulted in problems. It is now thankfully illegal to buy and sell them in North Carolina, but the Red-eared Slider has already established itself in many lakes and ponds in throughout the Triangle area.
Unfortunately, they are not just here in our state. In fact, they are the world's most invasive reptile, found on every continent except Antarctica where they compete with and risk spreading disease to native turtle species. They became a global concern between 1987 and 1997 when farmers and pet traders in the U.S. exported over 52 million sliders to different countries.
Here in North Carolina, there are additional problems beyond competition and disease: invasive Red-eared Sliders readily hybridize with our native Yellow-bellied Sliders (Trachemys scripta scripta). Since the Red-eared Sliders can outcompete and overpopulate Yellow-bellied Sliders' homes, this means that we may eventually lose our Yellow-bellied Sliders through "genetic pollution" if we are unable to control the spread of the Red-eared Slider in our state.
Museum herpetologist Dr. Bryan Stuart, the NCSU Vet School and the NCSU Turtle Rescue Team have partnered together to study how this hybridization may be impacting the health of North Carolina's native turtles. They want to know if the hybrids are as healthy as Yellow-bellied Sliders and also if the Yellow-bellied Sliders that live in the same ponds and lakes as Red-eared Sliders are as healthy as those that live separately.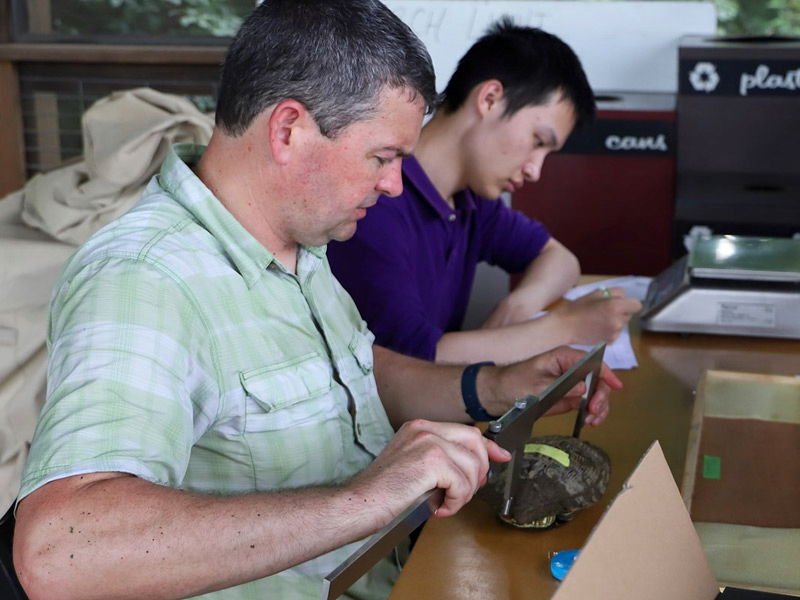 Dr. Bryan Stuart works alongside Museum intern Hiko Komatsu at Prairie Ridge. Photo: Adam Prince.
At the Museum's Prairie Ridge location, we fortunately do not have any Red-eared Sliders (and hope to keep it that way). This provides a good genetic testing area since our Yellow-bellied Sliders have not yet come into contact with the invasive Red-eared Sliders.
The team recently took measurements and blood samples from turtles at Prairie Ridge and turtles from other sites in the Triangle, including Yellow-bellied Sliders, Red-eared Sliders, and their hybrids (with Red-eared Sliders and hybrids surgically sterilized before being released back at their capture site).
Genetics and health parameters are being analyzed from the blood samples to determine how hybridization may be impacting health of our local sliders.
"The Red-eared Slider is a real problem for North Carolina without easy solutions. Finding homes for Red-eared Sliders that have been removed from our waterways is almost impossible, as few people want to keep grown sliders in captivity, the issue that started this problem in the first place," Stuart shared. "Euthanizing the sliders can be an unpopular decision. My colleagues at the NCSU Vet School are working to improve the feasibility of surgical sterilization of the invasive sliders, and I am optimistic this might offer an important compromise for stopping the spread of Red-eared Sliders. I am also glad that North Carolina has taken the first step in banning the sale of Red-eared Sliders."
---
For more information about our upcoming activities, conservation news and ground-breaking research, follow @NaturalSciences on Instagram, Twitter and Facebook. Join the conversation with #visitNCMNS.