For immediate release ‐ June 02, 2021
Contact: Micah Beasley, 919.707.9970. Images available upon request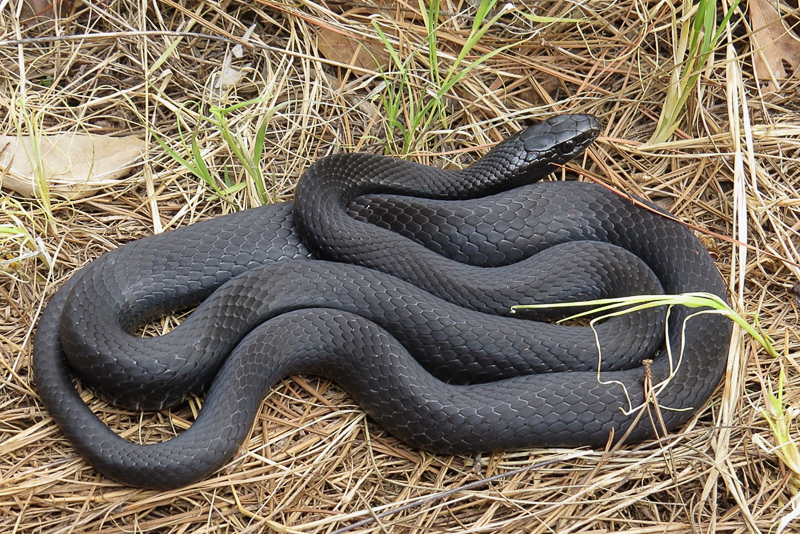 Black Racer (Coluber constrictor). Photo: Jeff Beane.
Jeff Beane embraces science communication almost as readily as he grasps wild snakes. A recent book authored by his good friend and former Virginia State Park Ranger Gary Williamson allowed Beane's varied interests to truly take hold.
"The Kauffeld Letters" is told through the eyes of a curious and ambitious young man (Williamson) who was befriended by famous zoo director and curator Carl F. Kauffeld of the Staten Island Zoo. Through correspondence that lasted from 1965 to 1974 (when Kauffeld passed away), the book chronicles friendships, adventures and snake-hunting in the Deep South.
Beane not only provided 22 photos for the book, but also did a lot of editing, planning and proofing, and provided some of the letters and other info published within, from the Museum's herpetology unit archives. Beane notes that there is even a chapter in the book called "Meeting Bill Palmer," the Museum's former curator of herpetology as well as a friend and mentor.
"I never had the pleasure of meeting Carl Kauffeld (I was not quite 14 when he died)," says Beane. "But I learned a great deal about him through people like Gary, who knew him well, and especially through my close friendship of over three decades with Bill, who spoke of Kauffeld often. Through them and others, I learned that Kauffeld was one of those larger-than-life figures who inspired and influenced many — especially young guys who simply loved snakes."
Kauffeld, often referred to as "a giant in zoo herpetology," built one of the largest collections of living reptiles in the United States while he was curator of reptiles and then director for the Staten Island Zoo. He introduced new techniques for keeping reptiles in captivity, including cage hygiene, odor control when feeding stubborn snakes, the use of ultraviolet light, and humidity controls. Kauffeld also wrote three books, including "Snakes and their Ways" in collaboration with Charles Howard Curran in 1937, "Snakes and Snake Hunting" in 1957, and "Snakes: The Keeper and the Kept" in 1969.
---
For more information about our upcoming activities, seasonal news and ground-breaking research, follow @NaturalSciences on Instagram, Twitter and Facebook. Join the conversation with #visitNCMNS.