For immediate release ‐ July 28, 2021
Contact: Micah Beasley, 919.707.9970. Images available upon request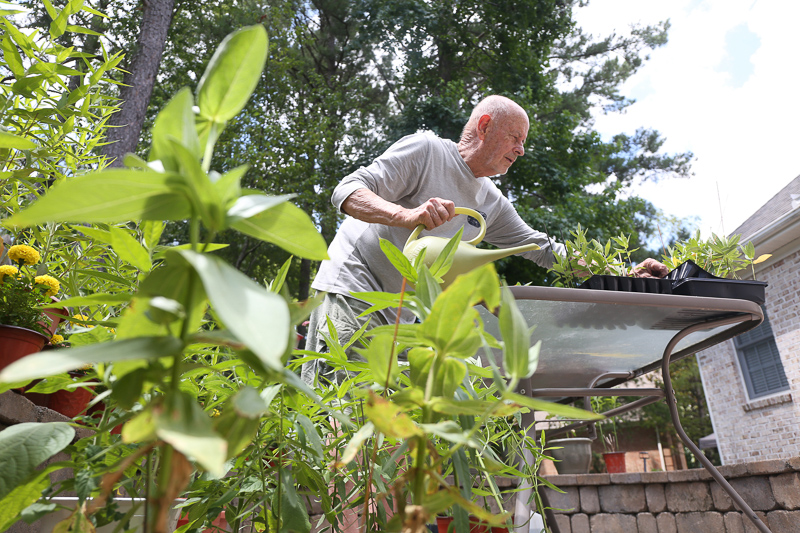 David Gagnon cares for plants he has grown from seed in individual pots that will eventually be transplanted in Monarch Meadow at the North Carolina Museum of Natural Sciences at Contentnea Creek. The milkweed, forefront, will feed the monarch larvae (caterpillars) once they have hatched from eggs. Photo: Deborah Griffin/The Daily Reflector.
By Kim Grizzard, The Daily Reflector
When David Gagnon was growing up, he remembers hunting and fishing near Contentnea Creek outside of Ayden. Decades later, retirement pursuits have brought the former engineer back to his old stomping grounds.
But today he is making use of another kind of bait with an entirely different prize in mind. Rather than hunting and fishing, this licensed North Carolina Wildlife Rehabilitator is helping to feed the threatened monarch butterfly species.
Gagnon, who began growing plants for monarchs at his Greenville home in 2018, is beginning to spread his wings. The result is Monarch Meadow, a butterfly habitat at the North Carolina Museum of Natural Sciences at Contentnea Creek.
"They have a fabulous 3-acre spot," Gagnon said of the grassy area, adjacent to one of four ponds on the property along Contentnea Lane. "It just seemed perfect."
Monarch Meadow contains plots of milkweed and nectar plants needed by the butterflies, whose numbers have been declining for a quarter of a century. The project was hatched by John and Nancy Bray, founders of A Time for Science, which has become one of two Pitt County branches of the North Carolina Museum of Natural Sciences.
Read the full article in The Daily Reflector
---
For more information about our upcoming activities, conservation news and ground-breaking research, follow @NaturalSciences on Instagram, Twitter and Facebook. Join the conversation with #visitNCMNS.