For immediate release ‐ June 07, 2023
Contact: Kerry Irish, 919.707.9823. Images available upon request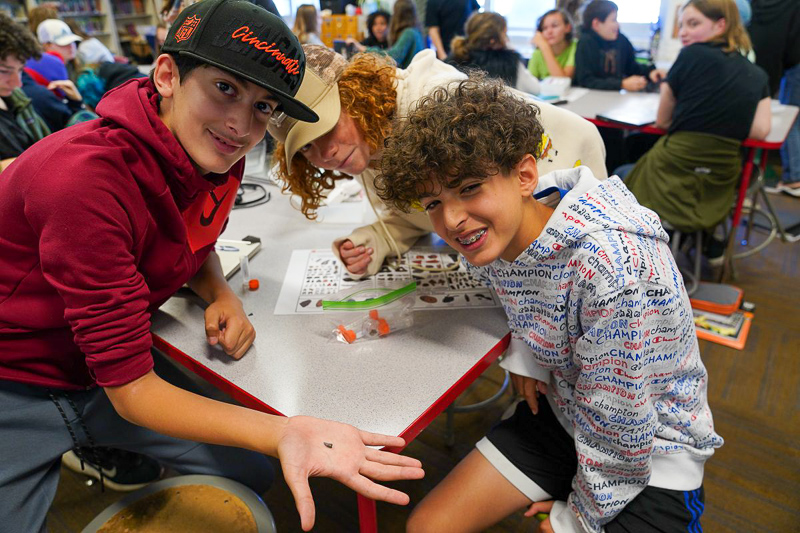 Eighth grade students across the state, like these shown here at Exploris Middle School in downtown Raleigh, have spent the last year studying microfossils as part of the Cretaceous Creatures public science project through the Museum. Photo: Mike Garr/NCMNS.
By Jennifer Allen, CoastalReview.org
More than 4,500 eighth graders during this school year have been helping the North Carolina Museum of Natural Sciences identify hundreds of microfossils.

In its first year, the Cretaceous Creatures public science project, a part of the upcoming "Dueling Dinosaurs" exhibit at the museum, has provided tools and training to 55 classrooms in 32 counties in the state, Project Director Dr. Elizabeth Jones told Coastal Review.

Fully funded by Bank of America, teachers are given lesson plans, presentations, videos and kit materials at no charge, giving students an opportunity to discover fossils and make identifications.
---
Registration for Cretaceous Creatures is now open to 8th grade North Carolina teachers for fall 2023–spring 2024.
---
For more information about our upcoming activities, conservation news and ground-breaking research, follow @NaturalSciences on Instagram, Twitter and Facebook. Join the conversation with #visitNCMNS.