For immediate release ‐ February 18, 2021
Contact: Jon Pishney, 919.707.8083. Images available upon request
By Martha Flanagan, Head of the Living Conservatory and Arthropod Zoo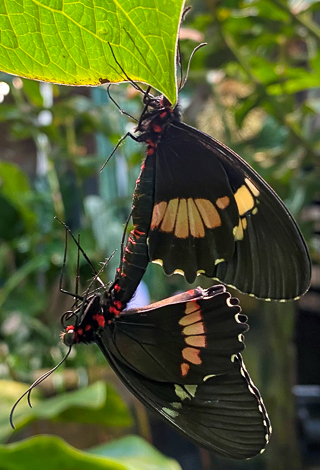 A pair of mating cattleheart butterflies in the Living Conservatory.
This week, couples around the world celebrated Valentine's Day, as did some of our friends who reside in the Museum's
Living Conservatory
.
Guests have regularly observed butterflies mating in the Conservatory but are often surprised to learn there are no eggs or caterpillars within the exhibit.
This is for a number of reasons, including that butterflies are very particular about where they lay their eggs. Butterfly hatchlings, or caterpillars, have specific dietary needs that parents must account for. Each species of butterfly lays its eggs on what are known as host plants, which are edible to growing caterpillars. Host plants vary among different species of butterflies. For example, the well-known Monarch (Danaus plexippus) can only eat milkweed plants (Asclepias spp). On the other hand, the Black Swallowtail (Papilio polyxenes) can eat anything in the carrot family, including plants commonly found in home gardens, such as carrots, parsley, dill and fennel.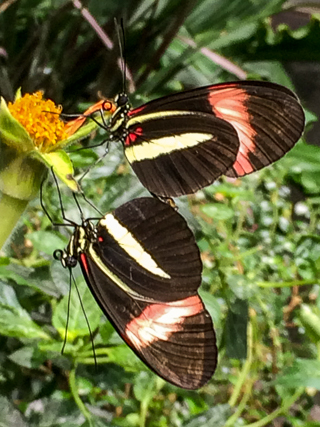 A pair of mating Postman butterflies.
But there's something unique about the butterflies of the Living Conservatory; you could say they're well-traveled! Our butterflies are non-native to North Carolina and come to us by mail as chrysalides from Central America. But welcoming these creatures comes with a catch: the United States Department of Agriculture (USDA) requires that facilities take precautions to ensure that non-native species do not escape, to prevent them from becoming an invasive pest species. In fact, the USDA considers non-native caterpillars to be "plant pests." If a non-native species were introduced into the wild, it could become an invasive pest to a native plant that's not adapted to defend against the species, endangering the plant's survival.
While our entrance and exit doors are sealed, and exit vestibules utilized to recapture the occasional rogue butterfly, caterpillars are an entirely different story. As masters of camouflage, caterpillars could easily catch a ride with an unsuspecting guest exiting the exhibit. Thus, our permit requires that we do not keep host plants in the Living Conservatory.
While the Museum's butterflies continue to mate, they simply retain their eggs throughout their life cycle in this popular exhibit.
Guests are welcomed at the Museum's downtown Raleigh location Tuesday-Sunday, 10am–4pm. Please note that while the Living Conservatory is currently closed to the public, the butterflies (and other animals) can be viewed through the large windows surrounding the exhibit.
---
For more information about our upcoming activities, conservation news and ground-breaking research, follow @NaturalSciences on Instagram, Twitter and Facebook. Join the conversation with #visitNCMNS.