For immediate release ‐ January 16, 2018
Contact: Jon Pishney, 919.707.8083. Images available upon request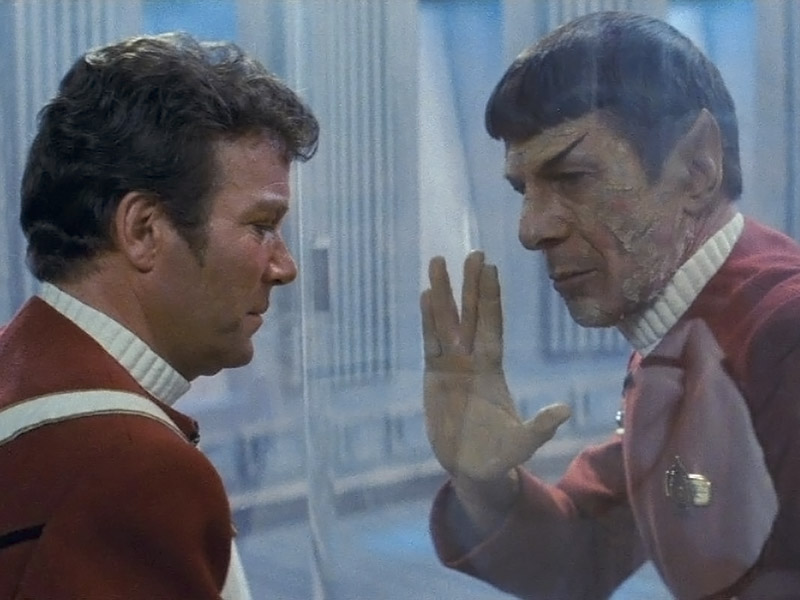 (RALEIGH, N.C.) — Beyond the darkness … beyond the human evolution … is Khan. A genetically superior tyrant. Exiled to a barren planet; banished by a Starship Commander he is destined to destroy. Left for dead, he has survived. And he is more than a little ticked off. Don't miss "Star Trek II: The Wrath of Khan" (1982, PG), showing at the North Carolina Museum of Natural Sciences Friday, Jan. 26 at 7 p.m.
It is the 23rd century. Admiral James T. Kirk (William Shatner) is an instructor at Starfleet Academy and feeling old; the prospect of attending his ship, the USS Enterprise, on a two-week training cruise for cadets does not make him feel any younger. But the cruise becomes a deadly serious mission when his old nemesis Khan Noonien Singh (Ricardo Mantalban) appears after years of exile determined to give Kirk a dirt nap.
"Star Trek II" stars the same lovable Enterprise crew made famous during the all too short-lived television series of the late 1960s, including Kirk of course, plus Spock (Leonard Nimoy), McCoy (DeForest Kelley), Scotty (James Doohan), Chekov (Walter Koenig), Sulu (George Takei) and Uhura (Michelle Nichols). Notable new crew member Saavik is played by Kirstie Alley, arguably best-known for her role as bartender Rebecca in "Cheers" for so many years.
At the time this movie originally hit theaters, Montalban was also popular as the Khan-polar-opposite, white-suited concierge Mr. Roarke in the late 1970s / early '80s television series "Fantasy Island." Montalban later admitted that getting back into the character of Khan, which he first portrayed in the 1967 "Star Trek" episode "Space Speed," was much more challenging than he thought it would be.
Prior to the movie, beginning at 5:30, check out movie-themed science stations to learn everything you ever wanted to know about the science behind the Star Trek saga. After the movie, hear from a guest speaker to find out what "Star Trek II" got right or wrong, scientifically speaking.
This event features the A/V Geeks' Skip Elsheimer guiding a fun night of trivia and tongue-in-cheek commentary on popular science-themed movies as well as samples from his vault of 24,000+ short films. Dinner (such as sliders or tacos), drinks (including NC beer and wine) and popcorn are available for purchase before the show. Doors open at 5:30 p.m., movies and presentations begin at 7 p.m. Admission: $5/person ($2 for Members). For more information or to buy tickets, visit naturalsciences.org/calendar/finally-friday/.