For immediate release ‐ August 26, 2021
Contact: Jon Pishney, 919.707.8083. Images available upon request
As a child she liked to just "go sit in the woods." Her mother enrolled her in the Girl Scouts in third grade, where she was able to go camping, fishing and hiking. For Adrienne Lambert, this was the first time in her young life that she could really be in and learn about nature. According to Adrienne, "this experience set off my passion for wanting to protect the environment and the creatures that lived in it."
Now, as a rising junior at the University of North Carolina at Chapel Hill, Adrienne is majoring in biochemistry, minoring in biology, and has set a clear goal of becoming an environmental toxicologist, a job that focuses on detecting chemicals found in the environment and studying their effects on living organisms and ecosystems.
In summer 2021, she interned in the Mammalogy Unit of the NC Museum of Natural Sciences, working alongside Museum mammalogists Mike Cove and Lisa Gatens. The paid 10-week internship was made possible by the Conservation Trust of NC's Max Internship program, which provides a platform for college students and graduates of color to engage in and help shape conservation work. For Adrienne, it turned out to be "the summer of my life."
In this recording, find out more about Adrienne's summer, from the Museum's "dynamic work experience" – imagine catching bats in the dark and transporting elephant tusks from the NC Zoo – to her discoveries about the real lives of scientists, to dealing with the challenges of being a young Black woman in pursuit of not only a career, but even education and encouragement, in science.
"Adrienne is so passionate and smart and capable," says Lisa. "But everyone currently working in conservation and natural resource fields needs to work harder to assure that there is a space for her, and others like her. A safe space."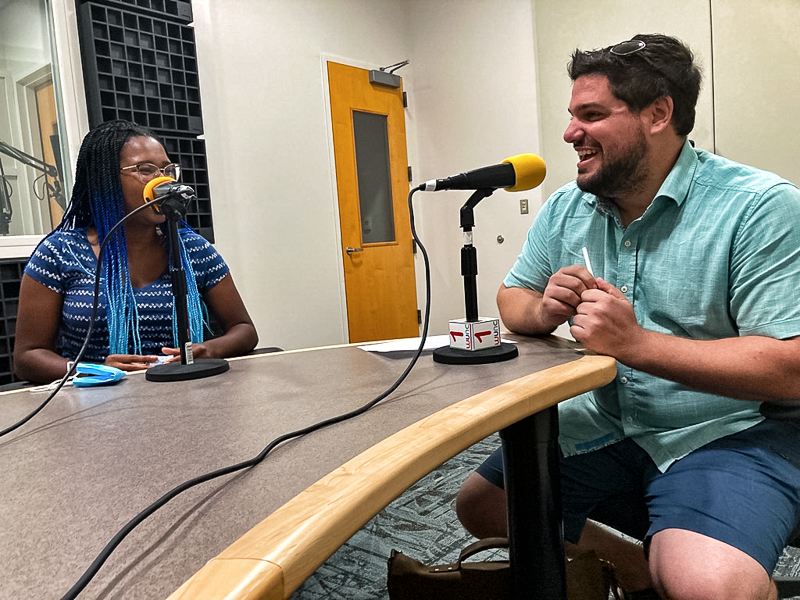 Adrienne talking with Mike.
Audio interview only:
---
For more information about our upcoming activities, conservation news and ground-breaking research, follow @NaturalSciences on Instagram, Twitter and Facebook. Join the conversation with #visitNCMNS.