For immediate release ‐ September 02, 2021
Contact: Micah Beasley, 919.707.8083. Images available upon request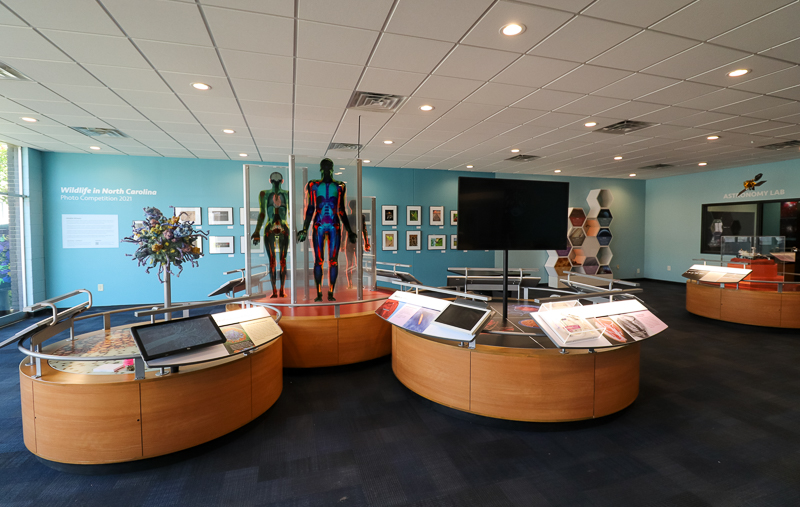 [Greenville, N.C.] — It's time! After a long-anticipated, robust upgrade in exhibits and overall space, the former A Time for Science center on Dickinson Avenue is holding a public celebration Saturday, Sept. 18, 10 a.m. – 4 p.m. The Grand Opening is coupled with a science expo, showcasing displays and activities inside and outside of the museum. "It's going to be a real festival," said Emily Jarvis, Director of the new North Carolina Museum of Natural Sciences at Greenville. "The celebration and the new museum are going to excite people about different areas of science and expose kids to various science careers."
At the Grand Opening, visitors will be able to explore all the new exhibits inside the museum as well as more than 40 science stations outside that will be highlighting a variety of science topics and careers. All stations will have hands-on activities for learners of every age! For example, you can check out ship artifacts provided by conservators from the Queen Anne's Revenge Lab, learn more about 3D printing from students in East Carolina University's College of Engineering & Technology, get up close to live birds with educators from Sylvan Heights Bird Park, or meet WNCT meteorologist Zoe Mintz in the museum's new weather exhibit.
"The museum offers several ways for companies, organizations and individuals to become involved through sponsorship and philanthropic giving," says Jarvis. "With a growing regional presence, aligning with the Museum provides a unique, engaging and meaningful way to support the community."
The Greenville location, in a former Pugh's service station building on Dickinson Avenue, has added about 3,500 square feet of adjoining warehouse space in 2020, more than doubling its size to roughly 6,000 square feet. A slew of new exhibits will cover topics ranging from health to astronomy. Additionally, the museum worked with the city to turn its surroundings into a true green space.
"We're thrilled to add the Greenville and nearby Contentnea Creek facilities to the Museum of Natural Sciences family," said Eric Dorfman, Director and CEO of the parent museum in Raleigh. "One of the Museum's primary missions is to share our love and knowledge of science and nature to people across the state, and this greatly improves our ability to do that in eastern North Carolina."
The Greenville museum will also have an eastern North Carolina flair, from the state's unique shoreline to the dark skies over Lake Mattamuskeet, considered ideal for star gazing. For example, the museum will highlight the science of pirates, particularly in relation to the Queen Anne's Revenge and the coast of North Carolina's infamous nickname, The Graveyard of the Atlantic.
For the museum's youngest visitors, there will be a discovery area, a naturalist center and a weather center. "There will be activities that parents can come in and do with their children on a one-on-one basis, but there will also be scheduled programs for them," said Jarvis. "While the exhibits aren't going to change frequently, the programming that we offer each month will so people can come back and experience different things."
The museum hours are scheduled to be Tuesdays through Saturdays from 10 a.m. to 5 p.m. There will be no charge for general admission, however, there will be a fee for some special programming. For more information about the Grand Opening of the N.C. Museum of Natural Sciences at Greenville, or to find out how you can participate in or support the event, visit atimeforscience.org or contact Emily Jarvis at emily.jarvis@naturalsciences.org or 252.531.7203.
---
For more information about our upcoming activities, conservation news and ground-breaking research, follow @NaturalSciences on Instagram, Twitter and Facebook. Join the conversation with #visitNCMNS.