For immediate release ‐ August 17, 2022
Contact: Micah Beasley, 919.707.9970. Images available upon request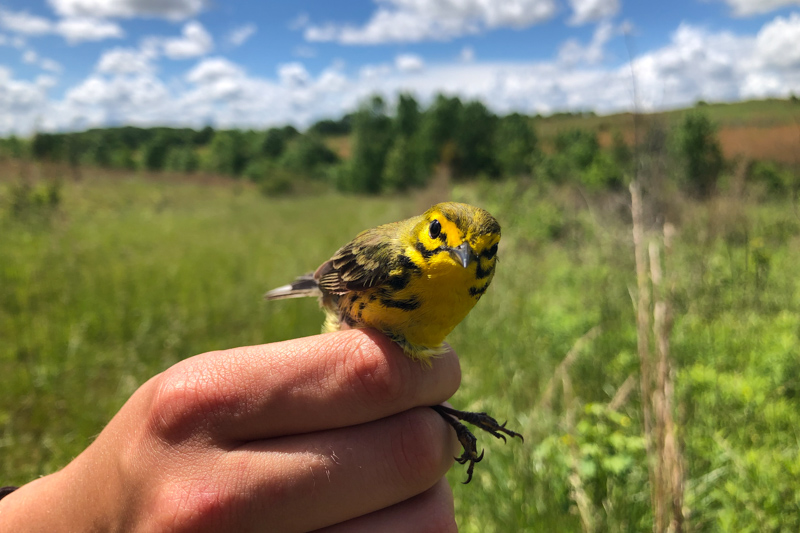 During mating season, migratory Prairie Warblers are found in overgrown shrubs and along the edges of regrown forests throughout the East Coast and much of the Southern United States. Photo: Cameron Stuart.
By Cameron Stuart, NCMNS Marketing & Communications Intern
Museum ornithologist John Gerwin drove his van slowly down a grassy, bumpy path into the green, vast expanse of private lands residing within the Uwharrie region of North Carolina in mid-May, prepared for a weekend of bird banding. This process is a study technique used to help track the numbers and migration patterns of hundreds of bird species.
To get ready for the weekend and meet his team of four by 7:15am, Gerwin woke up that morning at 4:00am. As a bird bander since 1984, he has his morning routine down: wake up, drink coffee, check the weather for the day. With his van packed the night before with most of the necessary banding supplies, Gerwin only had to gather his laptop, binoculars, camera, cooler and additional coffee before setting off on his 1-hour-and-45-minute drive.
The sun began to appear on the horizon off to Gerwin's left as he cruised down Highway 64, and the sky was blue and the air warm by the time he made it to the group's site a few miles southwest of Asheboro.
This property, partially bounded by the Uwharrie National Forest and various farms, is a mix of forest patches and large tracts of upland prairie and meadow. This area was once pasture, until the land owners began working with state and federal biologists in 2006 to convert the pasture into an upland prairie habitat. North Carolina was once home to many pockets of upland prairie in the Piedmont region, though most of these have since been developed for housing or agricultural endeavors. Across the US, these and similar "shrub-scrub" habitats have significantly declined, along with some of the associated plants and animals, leading to the need for projects such as this one in Randolph County.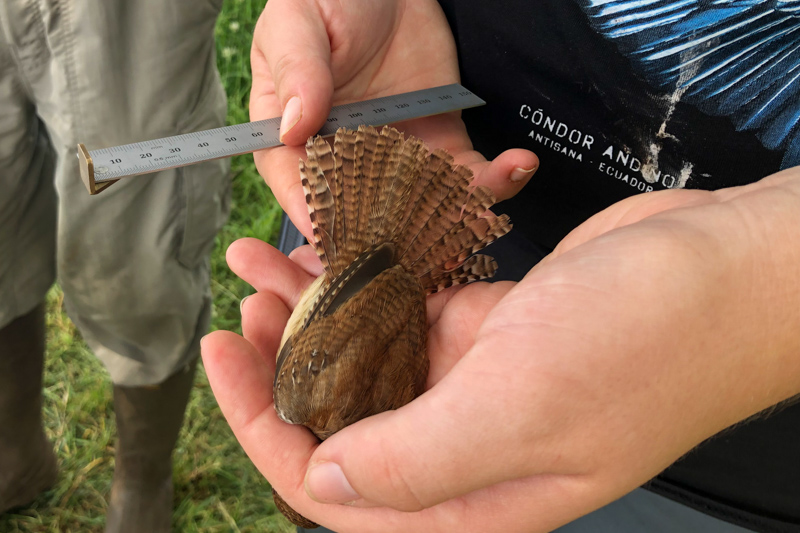 The Carolina Wren does not migrate, instead finding a permanent home in the Southeastern United States, with a range that stretches as far west as Texas and as far north as New York. Photo: Cameron Stuart.
Preparing for the Day
After entering the property through a yellow, metal gate, Gerwin drove down a 300-meter-long path through mud and long grass to the group's central work area, tucked away between one tree and three cars. The station is made up of two plastic collapsible tables, and throughout the day, the tables are covered with various combinations of banding equipment, data sheets, Oreos, water bottles and bird identification books.
They chose this area of the Uwharries due to its shorter vegetation, which is ideal for catching and studying birds. (The birds are captured with fine mesh nets stretched out within the vegetation, where the birds live.) In addition, they are studying the response of the birds to the recent land use conversion from pastures to upland prairies and meadows.
The first activity for the day is opening all the various bird nets. Each of the nine nets, about 40 feet long and 8 feet tall, is located a few hundred feet away from the main station. These mesh mist nets are hung up between two poles and are designed to catch birds that fly into the lightweight, thin netting throughout the day.
Gerwin arrived at the central station as the group was finishing up opening the nets. He set up the tables and gear, opened up some lawn chairs and distributed radios to every group member.
And with that, the day of banding could begin.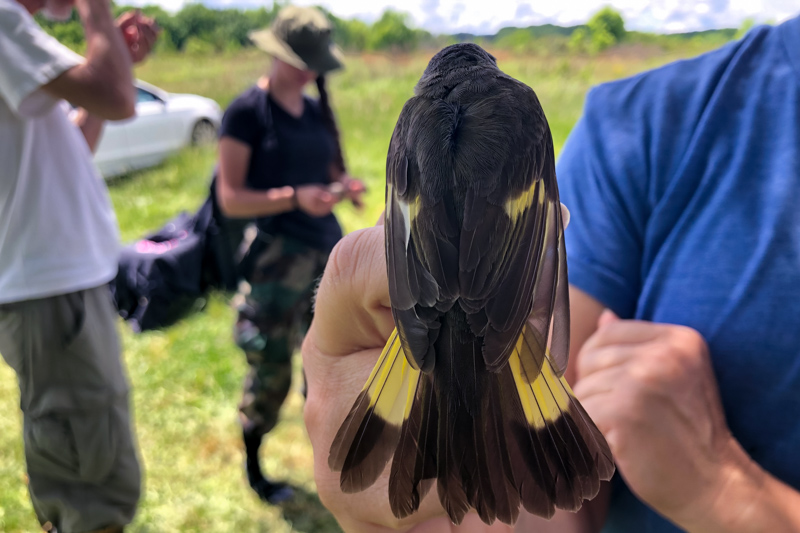 From April to mid-October, you can expect to see the vibrantly colored American Redstart across North Carolina, from the coastal plains to the Appalachian Mountains. Females, like the one pictured here, are mostly gray with yellow feathers, while males are mostly black with orange feathers. Photo: Cameron Stuart.
The Banding Routine
Banding takes place every 30-40 minutes, with time for everyone to collect all of their data and for more birds to fly into the nets. This morning, Gerwin and his team began at 7:30am, and made four more runs until rain began unexpectedly.
Birds have an ability called thermoregulation, which means they are able to maintain a specific body temperature regardless of their environment. However, when they are trapped in a net, they are unable to thermoregulate like normal, leaving them vulnerable to hypothermia in the rain. Because of this, the group had to rush to close the nets as quickly as possible to protect the birds.
After the rain stopped, everyone got back into their familiar routine, with the occasional sandwich or cookie break, "I still eat like a student in the field," Gerwin said, completing four more runs before calling it a day around 4:30pm as the sun continued to shine down onto the meadows and the temperature reached into the 80s.
Despite the rain break and early end to the day, the group processed 131 birds, a record number for them in one day. Some of those bird species included Prairie Warblers, Indigo Buntings, American Redstarts, and Northern Parulas (another type of warbler).
"It was an amazing run of birds for seven hours of work," Gerwin said.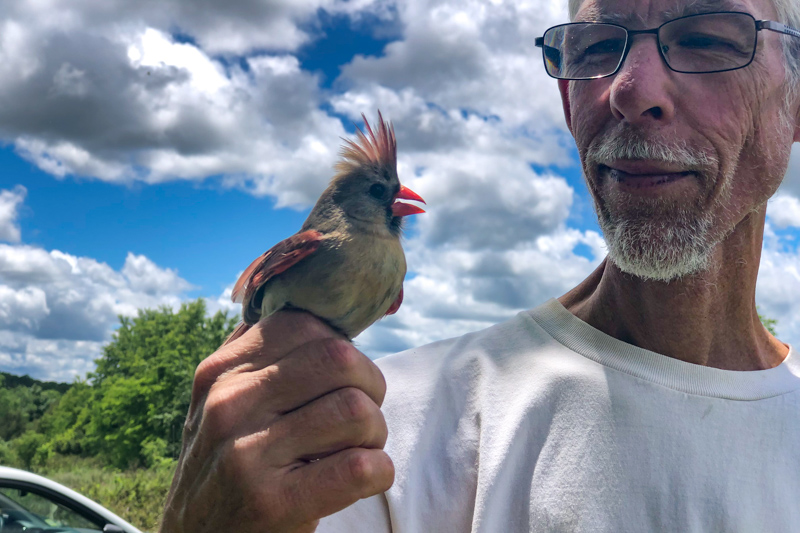 Gerwin holds the North Carolina state bird, a female Northern Cardinal. As nonmigratory birds, they are a regular sight throughout our state. Photo: Cameron Stuart.
A lot of the birds processed on Saturday were recaptures, or birds that have already been banded. This reveals which bird species continue to come back to the same areas year after year. Gerwin recognized some birds that were banded when he originally started bird banding at this site in 2015.
The group went on to process 40 more birds on Sunday. After finishing up for the day, the group closed all of the nets, packed everything up and headed home.
With climate change exacerbating bird habitat loss due to rising temperatures and insect population decline, North American bird populations have decreased by nearly 30 percent since 1970. As species continue to decline, studying today's birds is vital to informing and improving conservation efforts and raising awareness of these unique creatures.
To date, the banding crew has captured over 70 species within their 50-acre study site and have documented additional species in nearby patches of meadow and woodlots. Many individual birds migrate thousands of miles each year, continuing to be recaptured, year after year, near where they were first caught. Some come to breed — some to spend the winter. Either way, the banding crew has shown that this property is an important site for these birds. Gerwin continues to make an important impact by sharing his considerable knowledge and enthusiasm with students across North Carolina, inspiring avian affinity in the next generation.
---
For more information about our upcoming activities, conservation news and ground-breaking research, follow @NaturalSciences on Instagram, Twitter and Facebook. Join the conversation with #visitNCMNS.