For immediate release ‐ September 30, 2021
Contact: Micah Beasley, 919.707.9970. Images available upon request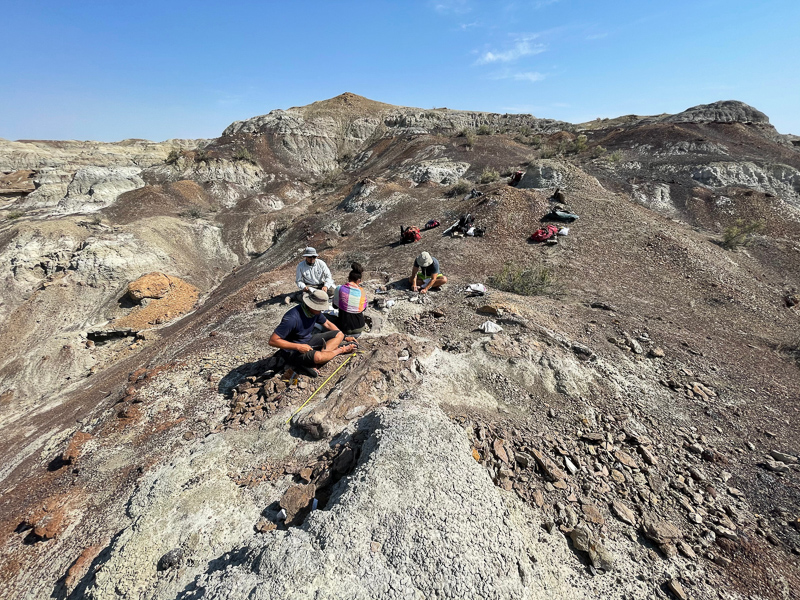 The team excavates a duckbill dinosaur in the San Juan Basin (New Mexico).
By Dr. Lindsay Zanno, Head of Paleontology (Lead author)
Micah Beasley, PR & Marketing Coordinator (contributor)
This summer, the staff and students of the Zanno Lab at the NC Museum of Natural Sciences geared up for our longest expedition yet, logging 90 consecutive days of fieldwork across the American West. Our five base camps were spread across the deserts of New Mexico, Utah and Montana, allowing our crews to explore 100 million years of geologic time for dinosaurs and other ancient animals.
Weather-wise, this was a summer of extremes. We kicked off the season in New Mexico, where we were pummeled by nightly sandstorms amplified by the record drought — tents were shredded, meals uncooked and patience worn thin. At the famous Crystal Geyser Quarry in central Utah, the mercury spiked to 120°, and we laughingly recorded 100-degree temperatures at midnight, whilst desperately trying to get some shut-eye and stay hydrated. (Our 15-person team went through 40 gallons of drinking water each day!)
In late July, we moved to the San Rafael Swell in Utah, where severe flash flooding wreaked havoc on the landscape, miring our vehicles, muddying our quarries and producing Mount Olympus-style lightning storms. That same lightning ignited a forest fire by our camp, forcing us to consider the prospect of a hasty middle-of-the-night evacuation. Soon after, a blanket of smoke arrived from the massive fires in California and Oregon, blotting out the sun and enveloping us in a surreal haze.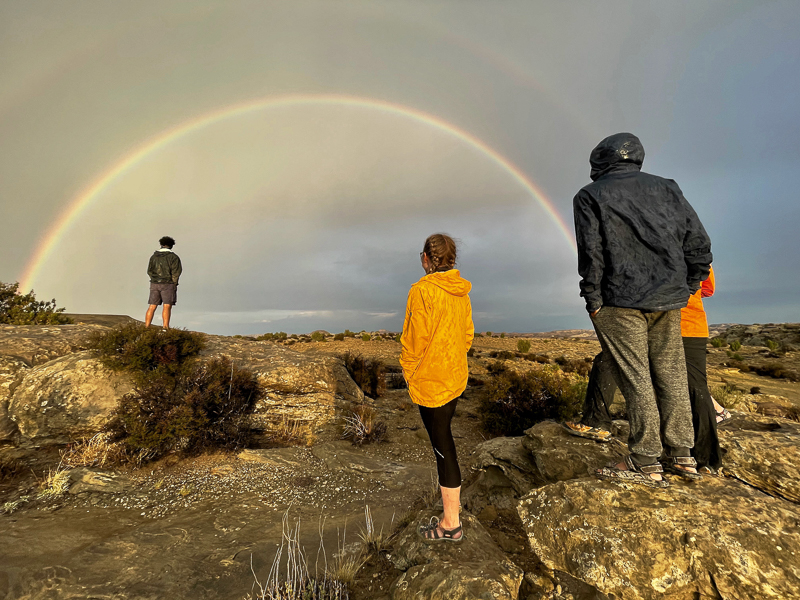 The team observes a double rainbow in Utah.
The best part of all this extreme weather? Incredible double rainbows abounded, and we watched with awe as they slowly arced over the landscape!
Fossil-wise, the trip was an enormous success with its own extremes. The team collected 5-foot long sauropod (long-neck) dinosaur ribs lying next to penny-sized bones of feathered dinosaur hatchlings. We discovered the skeletons of duckbill and horned dinosaurs, and their tyrannical predators. We found new species and collected many new bones from old friends.
Our most unusual find was a dinosaur buried within a volcanic ash layer. The cutest discovery? The remains of a baby Triceratops, unearthed, as usual, as we were packing up to head home. We also collected more than 100 specimens for radiometric dating, chemostratigraphy and paleoclimate reconstructions, adding key data on the Cretaceous Thermal Maximum, one of the hottest intervals in Earth's history. We wrapped up the season with more than 800 specimens in tow and having trained a multitude of graduate and undergraduate students from universities around the United States.
During our expedition, we invited the public to follow our discoveries through four livestreamed events from the field. We also chronicled our adventures in real time on Twitter and Instagram.
Now it's time for you, our guests, to be part of the discovery! Visit the Museum to watch the preparation and study of this summer's haul within the glass-walled Paleontology Research Lab on the third floor of the Nature Research Center.
To learn more about our National Science Foundation-supported research studying climate change in the Cretaceous and to watch archived interviews with the crew in the field, visit www.expeditionlive.org.
---
Check out some of the team's livestreamed events on the Museum's YouTube channel:
Science Tonight: Live from a Dino Dig, posted on June 10, 2021
Live! Video Chat from a Dinosaur Dig, posted on July 20, 2021
Lunchtime Discovery: Live Chat from a Dinosaur Dig, posted on August 4, 2021
---
For more information about our upcoming activities, conservation news and ground-breaking research, follow @NaturalSciences on Instagram, Twitter and Facebook. Join the conversation with #visitNCMNS.