For immediate release ‐ September 05, 2017
Contact: Jon Pishney, 919.707.8083. Images available upon request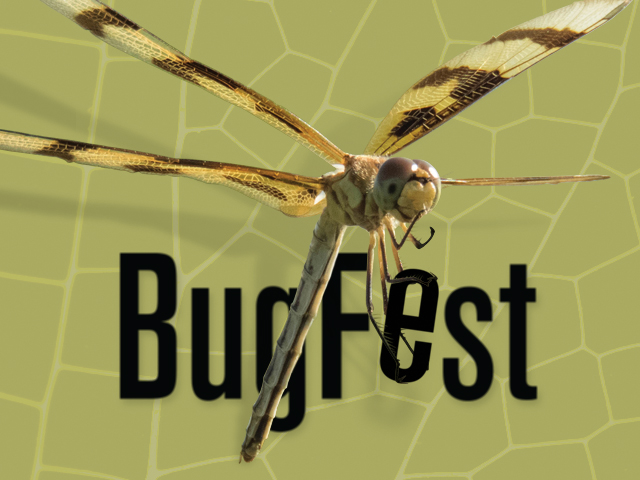 (RALEIGH, N.C.) – Did you know the dragonfly is one of nature's most impressive flyers, and some can fly at speeds up to 35 mph, or even backwards? Did you also know that dragonflies spend most of their lives underwater? Or that some dragonflies have been known to catch and eat hummingbirds?! Discover the wonderful world of dragonflies and more as the North Carolina Museum of Natural Sciences hosts the 21st annual BugFest, Saturday, September 16, 9 a.m. to 7 p.m.
This free event, the largest one-day bug-centric event in the country, introduces visitors to a range of arthropods from North Carolina and around the world. You'll see Mexican red-rump tarantulas, brown marmorated stinkbugs, whip-tail scorpions, Madagascar hissing cockroaches, tobacco hornworm hawkmoths, death feigning beetles and much more. Throughout the day, BugFest offers bugs and bug experts, games and activities, live music, movies and presentations to entertain and educate the entire family.
At 10:30 a.m., learn how you can get your kids involved in our Dragonfly Detectives citizen science project. Watch a live tarantula and scorpion feeding demonstration at noon. Or at 1:30 p.m., enjoy "The Secret Lives of Dragonflies," a presentation by John Abbott, Director of Research and Collections at the University of Alabama. You can also enjoy watching Captain Spalding getting shot from a cannon during the crowd-favorite Alberti Flea Circus, test your balance and tenacity in the Stag Beetle Battles, or place a bet on your favorite cockroach as you watch the Roachingham 500.
If looking at all these insects makes you hungry, you can grab a plate of buggy food at the Café Insecta, where local restaurants offer a variety of free bug-filled fare ranging from Wiggly Biryani to Mongolian Mealworms. Eating bugs might sound weird, but not eating bugs is even weirder. Whether it's Mexican agave worms or South African locust porridge, bug-filled dishes have found their way into the culinary palates of up to 80 percent of countries on Earth. And yes, they're good for you. Whole insects are high in fiber, protein and omega-3 fatty acids.
BugFest is brought to you by Terminix Companies of Eastern North Carolina and BASF.
"Terminix is delighted to sponsor the 21st annual BugFest with its spotlight on some of the most amazing arthropods on the planet," says Jim Haugh, Terminix CEO. "After all, who doesn't love a dragonfly? I am delighted that the company's long-term investment in the Museum and in particular in this event has helped thousands of adults and children to learn so much about our natural world."
"We're fortunate to have the museum in our community because it offers extraordinary educational experiences throughout the year," adds BASF Community Relations Manager Amy Baldwin. "BASF sponsors BugFest because we share the same goal as the museum — to provide unique, hands-on education at no cost to the public. We're also passionate about giving youth the opportunity to interact with entomologists and other scientists to learn about the fascinating world of bugs."
For more information about the event, including a complete list of presentations, exhibits and activities, visit bugfest.org.
---
The North Carolina Museum of Natural Sciences in downtown Raleigh (11 and 121 W. Jones St.) is an active research institution that engages visitors of every age and stage of learning in the wonders of science and the natural world. Hours: Mon.– Sat., 9 a.m.–5 p.m., and Sun., noon–5 p.m. General admission is free. Visit the Museum online at www.naturalsciences.org. Emlyn Koster, PhD, Museum Director.