For immediate release ‐ September 19, 2017
Contact: Jon Pishney, 919.707.8083. Images available upon request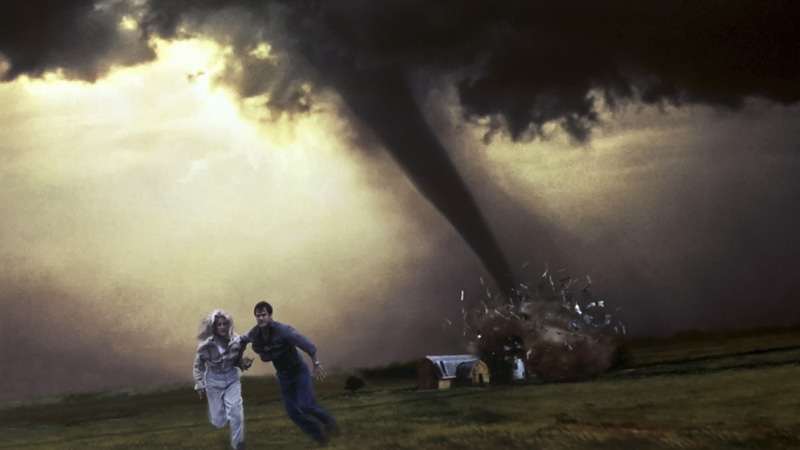 (RALEIGH, N.C.) — There's nothing more American than baseball, apple pie and … tornadoes? That's right, the United States is the cyclone capitol of the world, with an average of 1,000 twisters touching down in the states each year. The second most tornado-prone country, Canada, records just 100 tornadoes each year. So, what makes tornadoes so quintessentially American? Is there something in our climate that makes us prone to this unpredictable form of extreme weather? And how much damage can a powerful tornado really cause? Find out when the North Carolina Museum of Natural Sciences shows "Twister" on the big screen, Friday, September 29 at 7 p.m.
After the film, hear from Brice Coffer, a researcher in the Convective Storms Group at NC State University, who will help separate the science from the "spin" of the film. Just before, beginning at 5:30, check out tornado-themed science stations, enjoy live music, or fill up on sliders and drinks — including local craft beers.
"Twister" (1996, PG-13) follows Bill and Jo Harding, advanced storm chasers on the brink of divorce, as they join forces to create an advanced weather alert system that puts themselves in the crosshairs of extremely violent tornadoes. The film stars the late Bill Paxton as Bill and Helen Hunt (from TV's "Mad About You") as Jo, with an easily recognizable supporting cast, including Cary Elwes (Westley in "The Princess Bride"), Alan Ruck (Cameron in "Ferris Bueller's Day Off") and the late (again) Philip Seymour Hoffman, who 10 years after "Twister" won a Best Actor Oscar for his work in the title role of "Capote" (2005). Paxton had memorable performances as Private Hudson in "Aliens" (1986) and astronaut Fred Haise in "Apollo 13" (1995), but his performance as Wyatt Donnelly's sadistic older brother Chet in John Hughes' "Weird Science" (1985) is truly unforgettable.
In this new Science in the Cinema event, the A/V Geeks' Skip Elsheimer provides a fun night of trivia and tongue-in-cheek commentary on popular science-themed movies as well as samples from his vault of 24,000+ short films. Movies are also complemented by experts and hands-on science stations related to each night's theme. Dinner (such as sliders or tacos), drinks (including NC beer and wine) and popcorn will be available for purchase before the show. Doors open at 5:30 p.m., movies and presentations begin at 7 p.m. Admission: $5/person. For more information, a list of future Science in the Cinema events, or to buy tickets, visit naturalsciences.org/finalfridays.
---
The North Carolina Museum of Natural Sciences in downtown Raleigh (11 and 121 W. Jones St.) is an active research institution that engages visitors of every age and stage of learning in the wonders of science and the natural world. Hours: Mon.– Sat., 9 a.m.–5 p.m., and Sun., noon–5 p.m. General admission is free. Visit the Museum online at www.naturalsciences.org. Emlyn Koster, PhD, Museum Director.