For immediate release ‐ September 07, 2018
Contact: Jon Pishney, 919.707.8083. Images available upon request
NEW DATE: Saturday, Oct. 20, 9 a.m.-5 p.m.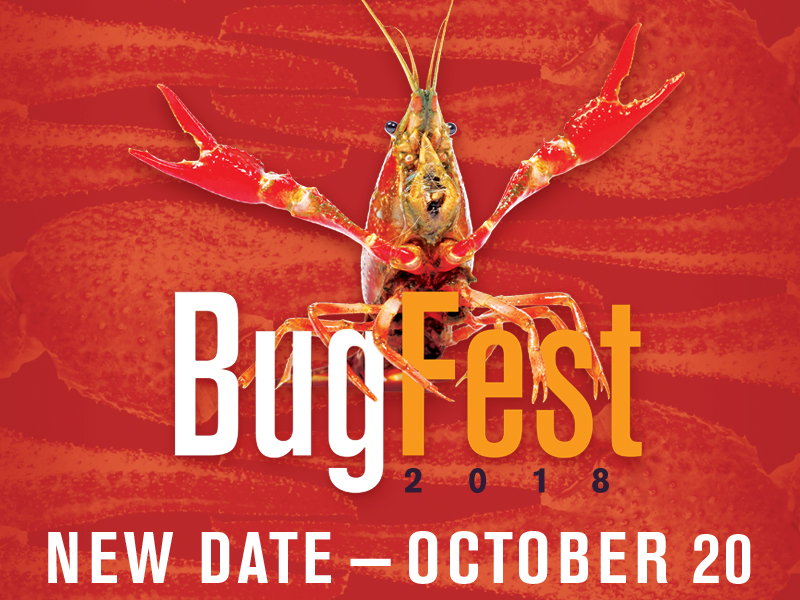 (RALEIGH, N.C.) — Crawfish, crawdad, mudbug, yabby. These all are names for one charismatic critter: the crayfish. The North Carolina Museum of Natural Sciences is home to one of the largest crayfish collections in the world, with more than 60,000 specimens. But why are crayfish featured at BugFest this year? Regardless of the name, this event celebrates all arthropods, a group that includes insects (like butterflies and beetles), arachnids (spiders and scorpions), myriapods (centipedes and millipedes) and crustaceans (where the crayfish belong), as well as true bugs (like cicadas and planthoppers). Come find out how large and diverse the arthropods can be as the Museum hosts the 23rd annual BugFest, Saturday, October 20, 9 a.m. to 5 p.m.
This free event, the largest one-day bug-centric event in the country, introduces visitors to a range of arthropods from North Carolina and around the world. You'll see Mexican red-rump tarantulas, Madagascar hissing cockroaches and Asian tiger mosquitoes, as well as wolf spiders, emperor scorpions, tarantula hawks and much more. Throughout the day, BugFest offers bugs and bug experts, games and activities (like the Stag Beetle Battles and Roachingham 500), live music, movies and presentations to entertain and educate the entire family.
At 1:30 p.m., say hello to the King of Sting, aka the Connoisseur of Pain, aka Justin O. Schmidt, creator of the Schmidt Sting Pain Index (for which he won an Ig Nobel Prize in 2015) and research entomologist at the Southwest Biological Institute. Schmidt will talk about exactly why (and how) he got stung more than 1,000 times by 83 different insects, all in the name of science. In his presentation — "The Sting of the Wild: Stinging Insects Are Beautiful!" — Schmidt will reveal why stinging insects are beautiful … spoiler … because they sting! "Their ability to sting not only makes them conspicuous and beautiful, it also allows them to have fascinating lives," he says. "The Sting Pain Index is one way we can measure our fascination with stinging insects."
If looking at all these insects makes you hungry, you can grab a plate of unique food at the Café Insecta, where local restaurants offer a variety of free bug-filled fare ranging from Live Bait Banana Brûlée to Meal Worm Arancini. Eating bugs might sound weird, but not eating bugs is even weirder. Whether it's Mexican agave worms or South African locust porridge, bug-filled dishes have found their way into the culinary palates of up to 80 percent of countries on Earth. And yes, they're good for you. Whole insects are high in fiber, protein and omega-3 fatty acids.
BugFest is brought to you by Terminix Companies of Eastern North Carolina and BASF.
Jim Haugh, CEO of Terminix Companies of Eastern North Carolina, eagerly anticipates the company's participation in the 23rd annual BugFest. "My colleagues and I are always delighted to support this extraordinary festival with its spotlight on some of the most amazing arthropods on the planet. This year's focus on crayfish and other crustaceans will offer participants a look at a truly fascinating group of creatures, and I am personally delighted that their history and the unique place they occupy in the animal kingdom will be featured. For Terminix and its employees, this event provides a meaningful opportunity that helps us fulfill a core value of Terminix to provide people of all ages accurate information about the animal world."
Noting BASF's appreciation for initiatives that are important to quality of life in the locations where its employees live and work, Community Relations Manager Carrie Gray said, "We highly value the partnership with the Museum; our collaboration creates great chemistry for everyone involved and engages employees in an exhilarating and relevant outreach effort on-site at BugFest. BASF sponsors BugFest because we share with the Museum the goal of providing unique educational opportunities year-round at no cost to participants. We're also passionate about providing young people hands-on opportunities to interact with entomologists and other scientists and to learn about the role we all play in a sustainable future."
For more information about the event, including a complete list of presentations, exhibits and activities, visit bugfest.org.