For immediate release ‐ September 13, 2017
Contact: Emelia Cowans-Taylor, 919.707.9837. Images available upon request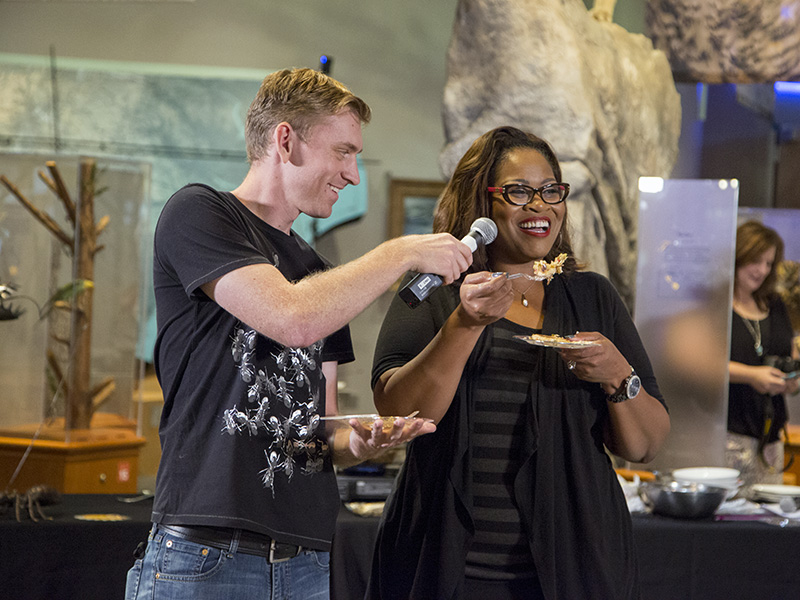 (RALEIGH, N.C.) — The BugFest Critter Cook-off, the official start to BugFest, takes place on Friday, September 15 at 11 a.m. in the main building of the N.C. Museum of Natural Sciences in the N.C. Treasures Hall (1st floor.) The Iron-Chef-style  competition features two local chefs who will go "knife to knife" for the title of  BugFest Critter Cook-off Champ. Chefs this year are Marc Vanscoy of Taverna Agora and Mario Ledezma of Sullivan's Steakhouse.
Both chefs have 50 minutes to prepare an appetizer, entrée and dessert using mealworms, superworms (both a species of darkling beetle larvae), crickets and the mystery ingredient this year — DRAGONFLIES — theme bug for this year's BugFest on Saturday, September 17 from 9 a.m. to 7 p.m.
Each dish will be judged on originality, taste and presentation by a celebrity panel of judges. This year's panel consists of Steve Daniels, ABC 11, Lynda Loveland, WRAL-5, Sean Maroney, WNCN-17,  Karen Clark, Foxy 107/104 and Nigel Arms, the Director of Research and Development for BASF.
The chef with the most yummy and creative concoction wins! Friday's preview will last about an hour, with opportunities for the media to interview the guest chefs and celebrity judges. Parking is available in the visitor parking lot at the corner of Jones and Wilmington streets.  Call 919.707.9837 for more information.
The North Carolina Museum of Natural Sciences (11 W. Jones St. and 121 W. Jones St.) in downtown Raleigh, is the state's most visited cultural attraction. It is an active research institution that engages visitors of every age and stage of learning in the wonders of science and the natural world, drawing them into the intriguing fields of study that are critical to the future of North Carolina. Hours: Mon.- Sat., 9 a.m.-5 p.m., and Sun., noon-5 p.m. Admission is free, however donations are appreciated and accepted. Visit the Museum on the Web at www.naturalsciences.org. Emlyn Koster, PhD, Director; Susi H. Hamilton, Secretary, N.C. Department of Natural and Cultural Resources; Roy Cooper, Governor.