For immediate release ‐ February 11, 2021
Contact: Jon Pishney, 919.707.8083. Images available upon request
Characterizing the community of a reclaimed tropical forest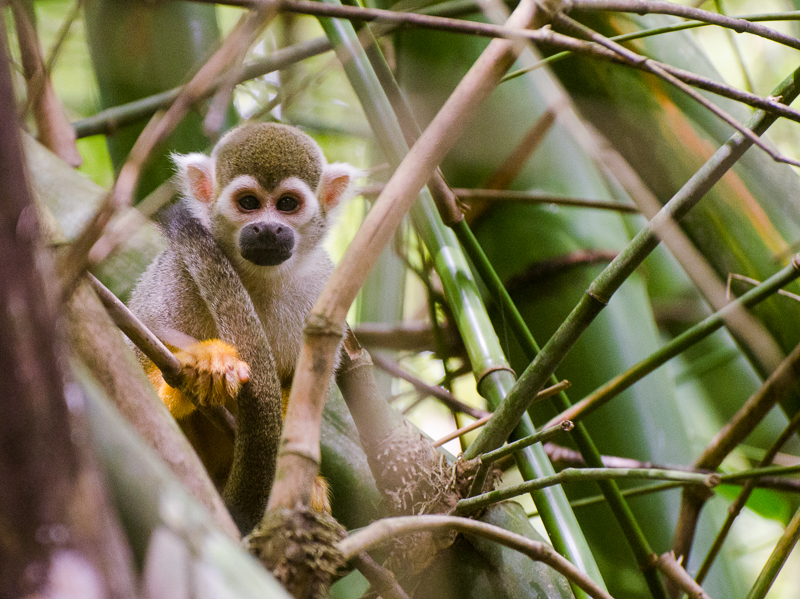 Squirrel Monkey.
Museum ornithologist, Brian O'Shea, and Head of the Biodiversity Research Lab, Roland Kays and colleagues, have published research on the impact of urbanization on mammals in the Neotropics in the journal Tropical Ecology.
---
Museum Ornithologist Brian O'Shea shares some additional information about the bird mark-recapture work that took place in the park at the same time as the camera trapping.
Spotted Puffbird.
Urbanization is widely viewed as one of the greatest threats to biodiversity. The mechanisms by which it acts to reduce biodiversity are numerous, and include direct removal of habitat; reduced reproductive success of animals; increased incidence of human-wildlife conflict; degradation and isolation of remaining patches of habitat; increased persecution of wildlife; and behavioral avoidance (noise effects), to name a few. Yet patches of habitat in urbanized landscapes can also be refuges for biodiversity, especially when connected via corridors or other landscape features. Urban parks and greenspaces can also function more indirectly to protect biodiversity, by fostering cultural awareness and appreciation of nature.
Although "urban ecology" is an entire field within the discipline of ecology, studies of urbanization's effects on wildlife have not been evenly distributed around the world. Most studies have been conducted in the temperate zone, and particularly in North America and Europe. Much less is known about how tropical ecosystems are influenced by urbanization. This knowledge gap is unfortunate, considering that the tropics harbor most of the world's biodiversity.
For more than twenty years, Brian O'Shea has conducted research on birds in the wild Guiana Shield of northeastern South America. The Guiana Shield is one of the world's last great regions of intact rainforest, larger than Alaska and Texas combined, and home to some of the planet's most iconic wildlife including jaguars, Harpy Eagles and Giant Otters. Suriname, a former Dutch colony whose population of roughly 550,000 is concentrated almost entirely along its Atlantic coastline, maintains an astonishing 80% of its original forest cover – a true gem for tropical ecologists and a critical stronghold for wildlife.
On this trip, Brian was in Suriname to initiate a mark-recapture project on birds in Peperpot Nature Park, a 700-hectare reserve situated in Suriname's Commewijne District, just five kilometers from the center of the capital city of Paramaribo, along the east bank of the Suriname River. Peperpot includes all or part of several plantations established in the 17th and 18th centuries to grow coffee and cacao for export to European markets. Many of these plantations went through cycles of abandonment and revival during the centuries that followed, creating a complex mosaic of secondary forest and agricultural land that persists today.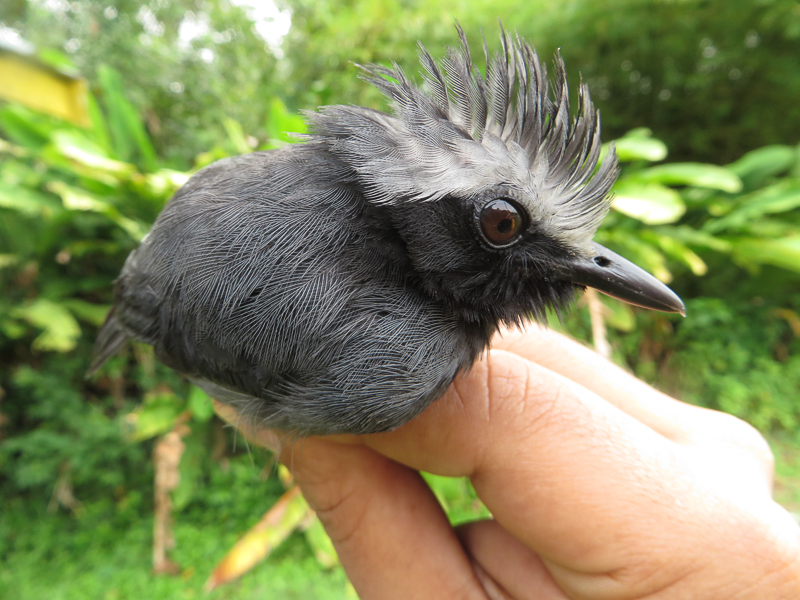 White-browed Antbird.
Brian was interested in documenting the avifauna of this reserve, both to compare the bird community to that found in the rainforests of Suriname's interior, and to assess the potential role of a habitat corridor along the river that effectively connects Peperpot to the interior forests. This habitat corridor is threatened by development: in 2000,  the completion of the 1.5-km Jules Wijdenbosch bridge provided a road link between Paramaribo and Commewijne, triggering a surge of residential and commercial growth in the District that continues to encroach on Peperpot's surroundings. Does this corridor promote dispersal of birds between Peperpot and the interior forests? How do the species composition and ecological attributes of interior rainforest bird communities differ from those in Peperpot's urbanizing, secondary forest? How might severing the corridor impact Peperpot's avifauna?
Brian and the team extended the questions to mammals as well. So they set an array of camera traps in Peperpot to see what they could find. They were fortunate to also have access to camera trap data from a study conducted by Conservation International's Terrestrial Ecosystem Assessment and Monitoring (TEAM) project in the remote Central Suriname Nature Reserve, a 1.5-million-hectare expanse of pristine rainforest roughly 200 km from Paramaribo. This allowed them to easily compare mammal communities of the two sites.
Although the outcomes of the mammal survey indicated there were fewer species and fewer large mammals in the small park, it still had apex predators like jaguars and other species of conservation concern including Lowland Tapir. This shows that small protected areas in South America can still be important for conservation, especially if they maintain some connectivity to other habitats.
The team is very pleased to publish this research and add to the sparse literature on the ecology of urban forests in the tropics, as well as to bring attention to the spectacular biodiversity of the Guiana Shield, one of the great ecological treasures of the world. They are also happy to put Peperpot on the map as a site for urban ecological research in the tropics. Their research will stimulate further studies by students from both Suriname and abroad, and raise the profile of the park as a site for nature education, research, and tourism.
The research was supported through a generous grant to the Peperpot Foundation and WWF-Guianas from the Dutch Postcode Lottery. The team especially thanks Ilonka Sjak-Shie and the staff of Peperpot Nature Park for providing logistical support for the fieldwork.