For immediate release ‐ May 22, 2023
Contact: Micah Beasley, 919.707.9970. Images available upon request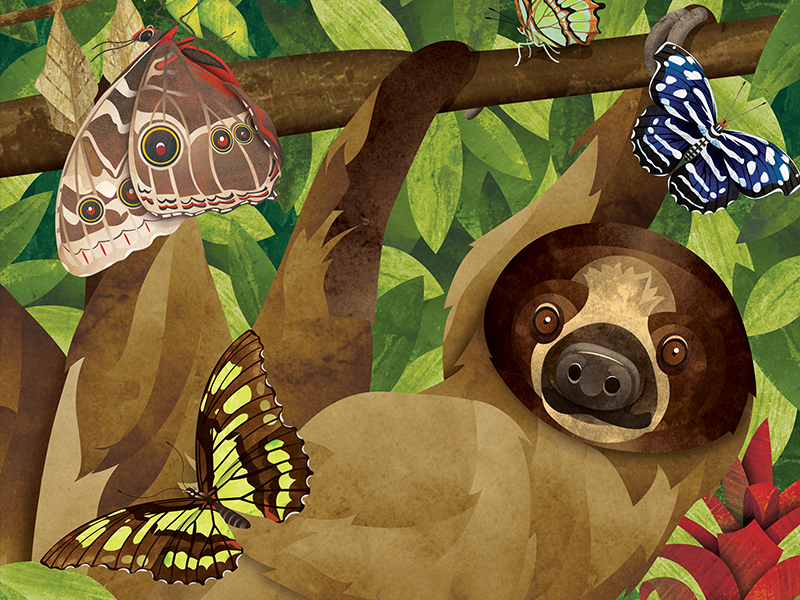 [RALEIGH, N.C.] – The Living Conservatory at the North Carolina Museum of Natural Sciences is reopening Saturday, May 27. The popular exhibit, often referred to as the "Butterfly Room," is modeled after a Central American forest and is filled with live animals. The two-toed sloth is a fan favorite, but the room also houses as many as 200 live butterflies (of course), a tropical milk snake, five ornate wood turtles and a Brazilian black tarantula. Look closely and you can even see Central American cichlid fish circling the 200-gallon pond in the exhibit.
Plant lovers can also discover a real vanilla orchid, mahogany and allspice trees, strangler figs and more. Everything in the room is designed to teach visitors more about North Carolina's connection to the tropics through migration, shared species and products. "I hope that people leave the Conservatory wanting to learn more about something they experienced in the room," says Andy Kauffman, Head of the Living Conservatory and Arthropod Zoo.
The Living Conservatory will be open for regular hours (Tuesday–Sunday, 10:30 a.m. – 12:30 p.m. and 1 – 3 p.m. Closed on Mondays.) through Labor Day weekend, Sunday, Sept. 3.
---
For more information about our upcoming activities, conservation news and ground-breaking research, follow @NaturalSciences on Instagram, Twitter and Facebook.