For immediate release ‐ August 08, 2023
Contact: Micah Beasley, 919.707.9970. Images available upon request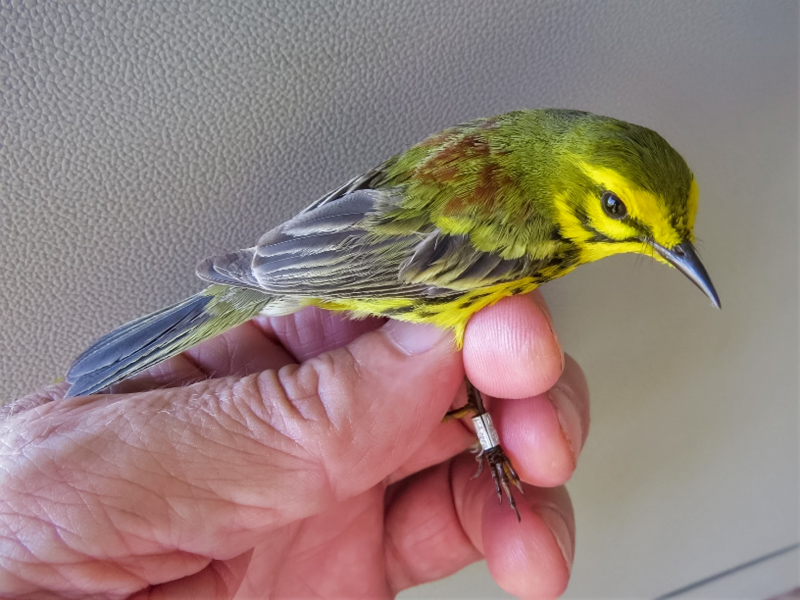 John Gerwin, Research Curator of Ornithology at the North Carolina Museum of Natural Sciences, holds an adult male prairie warbler. The bird models a metal ID band on its leg. Photo: John Gerwin/NCMNS.
By Paige Miranda, WUNC
On a muggy prairie just southwest of Asheboro, Gabriela Garrison and her 12-year-old daughter Eleana huddle around a young cardinal. Eleana holds the bird loosely in place with a 'bander's grip.' The bird's head pokes out from between her pointer and middle finger, while the rest of her hand closes gently over the feathered torso. From this comfortable position, the duo affix an ID band to the cardinal's outstretched leg. In addition to banding, the Garrisons note the age, sex, fat storage, and weight of the cardinal in a logbook.
This cardinal is a particularly plucky bird, and squawks throughout the process.
"Cardinals are so angry!" Eleana exclaims.
"No," Gabriela counters. "They're feisty."
This upland prairie is the site of an active experiment. Every summer, scientists like Gabriela, who is the eastern Piedmont habitat conservation coordinator for the North Carolina Wildlife Resources Commission, journey to this same meadow to band birds as part of an ongoing initiative to learn more about the animals and the prairie they dwell on. The land was formerly a cow pasture but has since been converted to native grasslands, leading researchers to ask how these changes would affect bird populations.
John Gerwin is an ornithologist and research curator at the North Carolina Museum of Natural Sciences. He has led this study since the fall of 2015 and sees this land restoration as an ecological success story.
"If you build it, do they come?" Gerwin asks. "Well, they built it. And yes, the birds are here along with all these other pollinators and these other things that we document while we're here, but it definitely has attracted a lot of different species."
Banding has also enabled the scientists to chart birds' migratory patterns, breeding behaviors, and health over the years near the Uwharrie National Forest, an area that previously did not have an active banding site.
---
For more information about our upcoming activities, conservation news and ground-breaking research, follow @NaturalSciences on Instagram, Twitter and Facebook.