Returning to the Wreck of RMS Titanic
Deep-Sea Science in the North Atlantic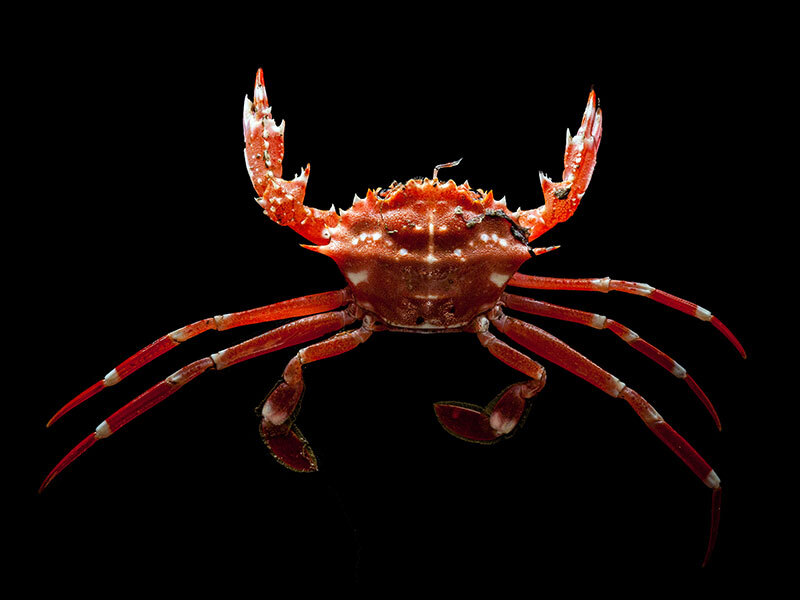 Deep-sea crab. Photo © Art Howard.
About this Lecture
The deep-sea, generally deeper than 200 meters, is the largest ecosystem on Earth and the least known. The RMS Titanic, which lies at about 3,800 meters depth, is an iconic wreck to explore and has been the subject of several expeditions since its location was discovered in 1985. Equipped with a new 5-person submersible called Titan, scientists want to investigate the ecology of the most famous shipwreck and therefore the most famous artificial reef.
Dr. Steve Ross joins us for the second installment of the Challenging the Deep Lecture Series to explore the development of the Titan, his 2021 and 2022 expeditions to the Titanic, as well as new discoveries and exciting achievements from deep-sea science throughout the western North Atlantic Ocean.
Lecture recommended for ages 12 and older.
Tickets are $10; free for Members. Ticket includes lecture with Q&A and an evening exploration of James Cameron – Challenging the Deep. Exhibition open from 5:30-7pm. Lecture begins at 7pm. Not a member yet? Join today!
About our guest
Dr. Steve Ross is a Research Professor at the Center for Marine Science at the University of North Carolina Wilmington. He has served as chief scientist on numerous cruises, including those using submersibles. He is the Chief Scientist for the 2022 Titanic Survey Expedition.  His current work involves community assessment of unique deep-water habitats, such as methane cold seeps. He holds a PhD from North Carolina State University. Dr. Ross is the author of the most peer-reviewed journal articles resulting from ocean exploration missions supported by the National Oceanographic and Atmospheric Administration (NOAA) Office of Ocean Exploration and Research (OER).
---
About the lecture series
Join ocean experts in this special lecture series to dive deep into the knowns and unknowns of our watery world. Each month, we will feature a presentation from a renowned scientist (7–8pm) and an evening viewing of the special exhibition, James Cameron – Challenging the Deep (open 5:30–7pm). Other lecture dates:
February 9: Dr. Kate Davis, Oceanographer with North Carolina State University
April 13: Dr. Sönke Johnsen, Sensory Biologist at Duke University
These lectures are recommended for ages 12 and older.